16 Trump TV Memes & Jokes To Distract You From How Scary This Actually Is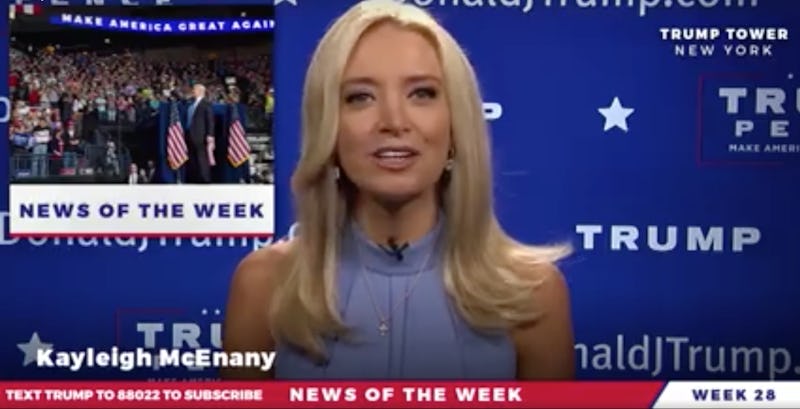 Facebook/Donald J. Trump
Trump TV is back for another episode, but this time a cable news pundit has joined the show. Following the script of Trump's daughter-in-law Lara who launched the web series last week, Kayleigh McEnany spent a few minutes on the president's Facebook page to share all the positive things coming out of the White House this week — and none of the negatives. Some criticized the segment as propaganda, but others took to Twitter just to make light of the show. These Trump TV memes and jokes will distract you from the more frightening aspects of the news channel, if just for a minute.
The minute-long video began with McEnany talking about jobs. She touted the statistic that under President Trump the economy has created one million jobs. But actually that's a rate slower than the last year under President Obama. McEnany didn't mention that.
Instead she moved on to the RAISE Act, which would limit legal immigration and prioritize immigrants that can speak English and meet other "merit-based" criteria. Of course it was billed as a way to improve the economic lot of the American worker. But studies show that increased immigration is actually good for the economy. But you won't see those facts on the "real news." And that's scary to a lot of American citizens. But all I can offer to help are some hilarious Twitter memes and jokes, because at this point, you might just want to take a break and laugh for a second.