16 Weird Face Masks To Up Shake Your Routine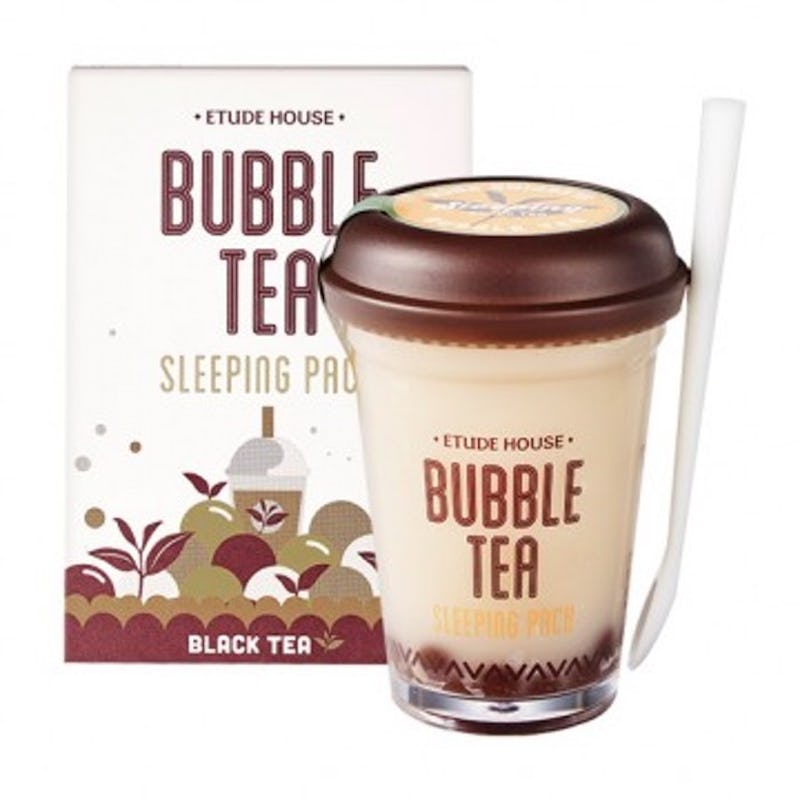 Etude House/0035mm.com
Masks — they're great. I think we can all agree they're the national past time, (sorry baseball) and the feel of smoothing a fixer-upper onto the ol' fatigued dermis is 100 percent satisfying. But given the preponderance of weird face masks out there, I'm currently just a little bored with the more standard options. Put something mud-based on your face, watch the little oil spots grow, wash it off... where's the fun in that? It's time to shake things up.
Of course, I'll have my tub of Aztec Secret Indian Healing Clay until I die — classics are classics for a reason, and there's nothing like bentonite to dry out zits with fervor. But why just switch between that, and a charcoal mask, and a moisturizing mask when there's so much more out there in the masking world? I'm talking cacao mousses, "membraneous jelly," bubble tea mechanisms, egg whites, yogurt, things that aren't even mildly food related. The world's our skincare oyster, and the time's never been more ripe for grabbing a weird mask to shake up your routine.
Here are 16 options to help you spend even more time in your bathroom than you do already. The end result? Glowing skin, and some time literally only thinking about the weird goo you just put on your face. That's all I ask of my masks, really.
URB Apothecary Cacao Mousse Mask, $30, Urban Outfitters
First things first: This mask looks exactly like chocolate mousse. But slap it on your face, and reap the benefits from antioxidants and essential minerals like the magnesium, calcium and iron found in raw cacao powder.
Etude House Bubble Tea Sleeping Pack Black Tea, $18, oo35MM
This looks exactly like bubble tea — good enough on it's own — but it's also so much fun to use. Ladle out some gel and a bubble, then pop it, mix and apply. The brand claims black tea smooths elasticity, and as a bonus, just looking at it is a stress reliever.
Farmacy Honey Potion Renewing Antioxidant Hydration Mask, $56, Sephora
This mask is as fun to use it is packed with bonafides. Relying on everyone's favorite manuka honey, propolis and royal jelly make for a moisturizing, bacteria-nuking cocktail. And it warms!! Unclear why, but I love it.
Blackout Activated Charcoal + Coconut Mask, $17, Urban Outfitters
This compact l'il buddy relies on charcoal to draw out dirt, coconut oil to reduce redness and aloe to heal and treat pimples. Those, and water, are literally the only ingredients, so rest assured you're getting a streamlined formula.
Dr. Jart+ Dermaclear Trans-Foam Clay in Moisturizing Pink, $15, Sephora
Clay, yes — but clay that foams, hydrating while cleaning pores and exfoliating skin. In general I side-eye masks that claim to double up as cleansers — who would waste precious mask product on thirty seconds of cleansing?! — but the added bonus here also ups the convenience.
Pure Smile Art Mask Chihuahua, $4, oo35MM
Listen. I wouldn't care if this mask did anything at all (although it does, with green tea, collagen, hyaluronic acid, and Vitamin E extract). I just want to stare at it, for hours.
Aveda tulasara Wedding Masque Overnight, $65, Nordstrom
According to the brand's description, this was "inspired by the Indian Haldi ceremony, a pre-wedding tradition in which a homemade turmeric paste is applied to the bride and groom for glowing skin on their wedding day." Turmeric doesn't kid around, so color me intrigued.
Skinfood Egg White Pore Mask, $15, oo35MM
This fluff-meister supreme goes right up against marshmallow fluff for best texture in the world, while the albumin-enriched egg white extract sucks dirt from pores.
Perricone MD Cocoa Moisture Mask, $69, Sephora
Also drawing on cocoa, the Moisture Mask changes in color as cocoa-enriched microcapsules hydrate, firm and brighten. It also smells like chocolate, which is very necessary information.
Etude House Fresh Cup Modeling Mask Aloe Smoothie, $6, oo35MM
Just in concept, modeling masks are pretty fun. Add water, mix it up and peel off for that ultra-satisfying feeling. Beyond the visceral pleasure, the powder keeps ingredients stable until use, while the brand claims the formula soothes irritations and strengthens skin's moisture barrier.
Pacifica Vegan Probiotic & Spice Mask, $15, Ulta
Pacifica's extract-packed formula keeps the ingredient list lean, with Ayuvedic herbs, probiotics, and coconut water to decongest and depuff skin. They say black pepper creates heat to loosen impurities, blackheads and blemishes while ginger stimulates skin, and based on the preponderance of probiotics in beauty coming up, this is one to try.
Bonanza Active-Moisture Membraneous Jelly Mask, $35, oo35MM
The crystalline whip of Bonanza's Jelly Mask reminds me of the see-through lipsticks on the rise, but it claims to "restore skin's elasticity, moisturize and whiten." The health benefits of constant hand jiggling to see it move, as yet untested.
Beauty Infusion Hydrating Cream Mask with Manuka Honey + Collagen, $8, Ulta
This creamy variant on a manuka honey mask massively softens skin, with a serum-infused formula that leaves your face ultra-smooth.
Moritaya Tofu Yogurt Mask Pack, $24, oo35MM
Is it tofu? Is it yogurt? No need to choose, and throw in honey and royal jelly for good measure. Abundant in soy isoflavones, the brand says the mask pack "stimulates cellular renewal, while replenishing moisture and nutrients to skin for smooth, bright skin like a freshly peeled egg." That's what I want!
Origins By All Greens Foaming Deep Cleansing Mask, $36, Sephora
This juicy-smelling mask comes into the ring with a highly pleasing green cream texture, then bubbles up into a foam on your face while "drawing out dirt, debris, pollutants," according to the brand. They say it was inspired by detox juicing cleanses — thus the green tea, spirulina, and spinach — and despite that seeming ridic, it really does make my skin look immediately brighter.
Elizavecca Milky Piggy Carbonated Bubble Clay Mask, $20, oo35MM
I'll be honest, the name doesn't do much for this guy. But it bubbles up massively (here's the image search) combining clay's standard pore-clearing benefits with the most fun you can have with bubbling facial substances.
Whichever you choose, go forth. Get weird with your mask self.
Images: Courtesy of Brands