Snow Is No Match For These Blizzard 2017 Memes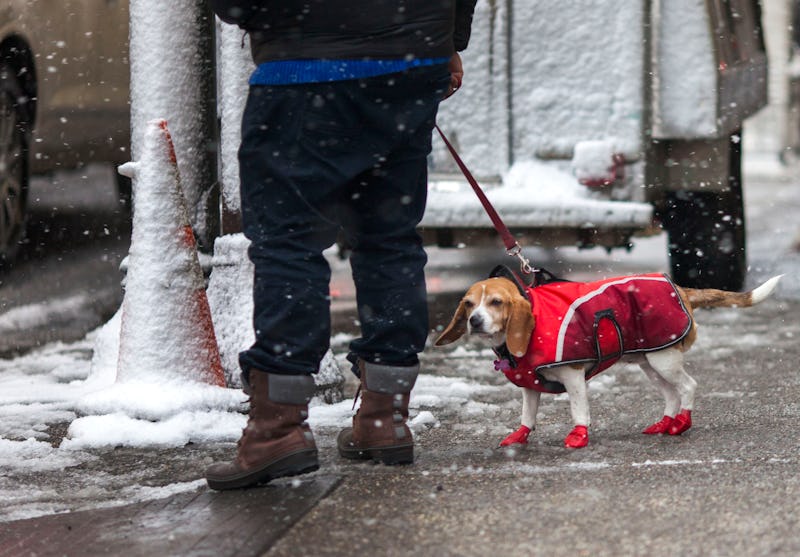 Jessica Kourkounis/Getty Images News/Getty Images
If you'll be in the northeast anytime over the next few days, make sure you're ready for Winter Storm Stella. New York, Washington D.C., Boston and are set to be pummeled by a high-impact snowstorm, bringing up to a foot and a half of snow throughout Monday and Tuesday. If you're going to be stuck inside, you might as well check out these Blizzard 2017 memes to keep yourself occupied while you stay warm.
Stella is expected to hit the northeast on Monday night, and it'll continue throughout Tuesday until the early hours of Wednesday. Winds may reach 50 miles per hour from the New York City metro to parts of southern New England, creating blizzard conditions, and coastal flooding may occur in Jersey Shore, Cape Cod, Long Island and other east coast beaches.
Needless to say, this is going to make traveling a nightmare. Flooding will likely cause road closures, as will downed power lines, trees, traffic accidents and a general absence of visibility. You should also expect major delays at airports throughout the area.
In short: You'll want to stay at home if possible — that is, if it's even an option to leave the house to begin with. If you do find yourself stuck at home, comfort yourself with some memes about the blizzard that's preventing you from opening the front door.
If Only
It's true — this storm had bad timing.
Welcoming The Storm
Not the most unreasonable reaction in the world.
Meanwhile, In Boston
This is pretty impressive as far as meme mashups go.
Getting Impatient
There's a lot going on here.
Make Sure To Prepare
All right, this is less of a meme and more so just a picture of a cute dog in the snow. But you're still glad you saw it, aren't you?
Making It Political
Yeah, it is almost like that! How odd!
Reaction Shot
This is a screenshot from Get Out, and it's especially pertinent given that [spoiler alert] within the world of the film, the character depicted is from New York City.
Bring It On!
I can only hope to one day be as excited about anything as that cat is about the snow.
Maybe It Won't Happen
Unfortunately, Trump has yet to tweet about the storm, so it's probably going to happen.
Don't Overreact, Except Maybe Do
But no, really, this is going to be a huge storm.
The New Normal?
It's not supposed to work this way.
We Deserve This
UGH! But, yeah, basically.
It's Okay To Be Dramatic About This
This is not overreacting.
Stock Up
You know there's a storm coming when the yogurt is gone.
Travelers, Beware
Airports won't be that much fun at all.
At Least Some People Might Enjoy It
Any cat that can deal with the snow is pretty impressive.
The Most Helpful Type Of Forecast
Because that's really the most pressing question, right?
The most important thing during any blizzard is to stay safe. Finding good memes about the blizzard is a close second, though.