17 Awesome Signs From The Protect Trans KidS Rally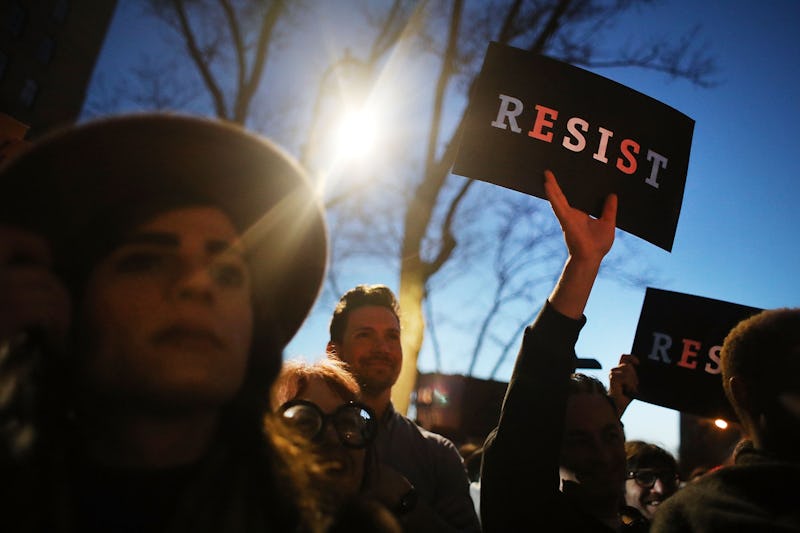 Spencer Platt/Getty Images News/Getty Images
Donald Trump announced Wednesday that his administration would be rescinding Obama-era protections that were intended to protect transgender children in American schools. The most well-known such protection enabled transgender students to use the school bathroom that corresponded with their gender identity, rather than the one they were assigned at birth. The new rules, implemented after a campaign in which Donald Trump actually promised to "fight for" the LGBTQ community, could endanger the safety and even the very lives of transgender children across the country.
The rationale behind these invasive rules? Many conservatives invoke the right-wing myth of sexual predators sneaking into women's restrooms. For the record, exactly zero trans people have ever attacked someone in a public bathroom. They're far more likely to be victims: a recent UCLA survey found that 70 percent of trans people have encountered harassment or violence while trying to use a public restroom.
Suicide attempt rates amongst the transgender community are tragically high: over 40 percent of trans people attempt suicide, a rate often attributed to the intense alienation and bullying suffered by members of that community. Denial of bathroom access contributes to that sense of alienation: a study in the Journal of Homosexuality found a "significant relationship" between denial of access to bathrooms and suicidality.
In defense of one of the nation's most vulnerable communities, protesters turned out in force to the Stonewall Inn in New York City on Thursday night. Stonewall is the site of the riots that are credited with initiating the modern gay rights movement; the riots themselves were arguably started by two trans women, Sylvia Rivera and Marsha P. Johnson.
The event, which was organized by Equality NY, showcased the ability of the LGBTQ community and its allies to come together quickly in the face of turmoil. Many of the signs at the rally, similarly, showcased the ability of that same community to make a serious point with humor. Here are some of the most moving, funny, and meaningful signs from the Stonewall Protect Trans Kids protest.