17 "Families Belong Together" Protest Sign Ideas That Send A Short But Powerful Message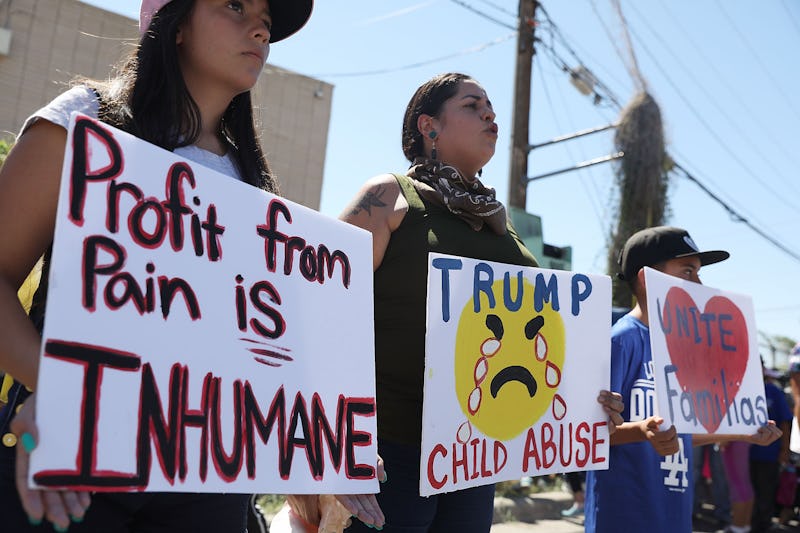 Joe Raedle/Getty Images News/Getty Images
As more stories of the conditions suffered by migrant children detained in Custom and Border Protection facilities come out, public rage over the Trump administration's zero tolerance policy has led to protests nationwide. Thousands across the United States have shown up to voice their fury with a policy that's been widely deemed as cruel and inhumane. If you're planning on attending an end-of-the-month "Families Belong Together" Protest, Twitter has some sign ideas.
While President Donald Trump has signed an executive order to, for the most part, keep migrant families caught crossing the U.S.-Mexico together in detainment, his order does not apply to the thousands of children already separated from their parents. According to CNN, the order does not address any families that have already been split up, and current policies dictate that the burden is on the parent to somehow find their child within Health and Human Services system. Critics also denounce the indefinite time frame under which the executive order would be able to detain families.
On June 30, hundreds of "Families Belong Together" protests are expected to take place in cities across the United States, including Los Angeles, Chicago, and New York City. Even smaller cities like Casper, Wyoming and Myrtle Beach, South Carolina have events planned. The protests are being facilitated by MoveOn.org, along with the ACLU, National Domestic Workers Alliance, and The Leadership Conference. If you don't want to show up empty-handed, here are some ideas from recent protests.