17 French Election Memes To Laugh About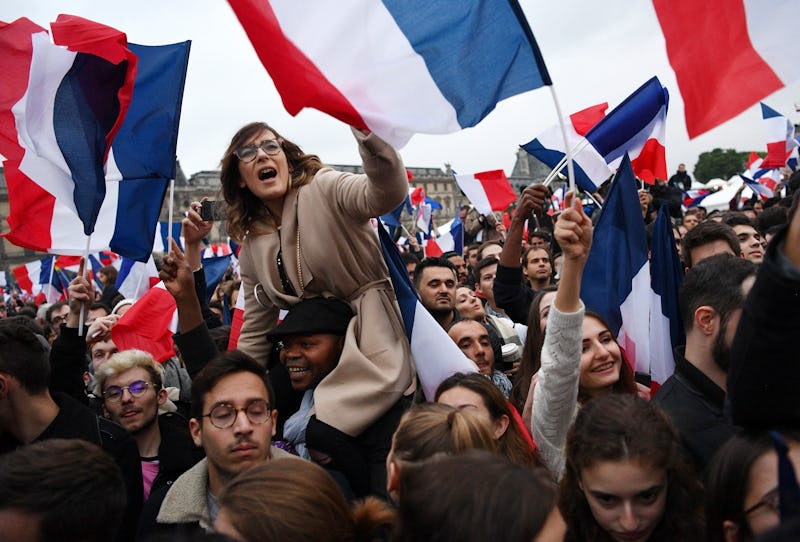 David Ramos/Getty Images News/Getty Images
After a nerve-wracking run-off election Sunday, Emmanuel Macron emerged as the new president-elect of France, achieving a landslide victory over his far-right competitor, Marine Le Pen. The vote was widely being viewed as a globally representative referendum on the conservative wave sweeping through the international political arena, so this win is a relief for liberals around the world in many ways. These memes about the French presidential election are the perfect way to wind down after a few tense weeks of international politics.
Macron's victory over Le Pen comes as such a relief for two reasons: The far-right candidate endorsed some really troubling policies, and the election was a close call. Le Pen had promised to essentially close France's borders and withdraw from the European Union, drawing many parallels to Donald Trump. The move away from the EU could have killed the international political body and put European finance and security at risk, which was cause for concern around the world. Even still, Macron only won the election's first round last month by two points over Le Pen, so it was never a sure bet that she wouldn't win.
Many Americans were also jaded after the shocking results of their own presidential election last November, and withheld their excitement until the votes were finally in. Once the election was called however, ecstatic commentators from around the world hopped on social media to congratulate Macron, and the world, for Le Pen's defeat. Now there are some truly great memes available for your consumption because of it. Vive La France!