17 Inspiring Movies To Stream If You Need A Hand Reaching Your Goals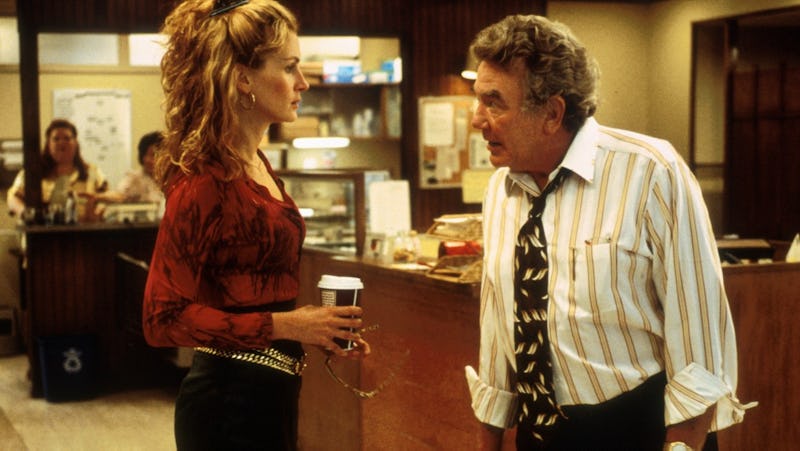 Universal Pictures
For some people, inspiration comes from reading books or listening to music, while for others, taking time off and having a movie night provides all the motivation they need. Movies can be real sources of creative energy for many of us, with stories of characters overcoming obstacles and fighting for their independence helping to shape our own paths. Sometimes, that inspiring movie is a biopic or documentary telling a true story, like Hidden Figures or Erin Brockovich. But even fictional stories can often shake you out of a rut and lift you up when you're struggling hard. If you need some serious motivation, sit back, relax, and stream these 17 inspiring movies.
When you're down on yourself or not feeling like you can accomplish your goals, watching a movie is often a good way to get yourself back on track. Films can help you think outside the box, shed a light on areas of your life that need improvement or healing, and inspire you to fight for what you deserve no matter what challenges come your way. As 2018 gets further and further underway, it can become difficult to keep your mind focused on your goals, but these 17 movies will help you do just that.
1. The Founder
This is the true story of McDonald's founder Ray Kroc (Michael Keaton), a 1950s salesman who met Mac (John Carroll Lynch) and Dick McDonald (Nick Offerman), owners of a burger restaurant in Southern California. Kroc immediately saw franchise potential, and he soon pulled the company from the brothers and created a multi-billion dollar brand.
2. Hidden Figures
Behind one of the greatest moments in American space history were three Black women. Hidden Figures is a biographical film that tells the story of NASA pioneers Katherine Johnson, Dorothy Vaughn, and Mary Jackson, whose work enabled the launch of John Glenn into space. They are truly unsung heroes who broke so many barriers.
3. Erin Brockovich
Erin Brockovich (Julia Roberts) is a woman determined to fight for what's right. When the lawyer discovers that a city's contaminated water is leaving many residents sick, she makes it her personal mission to get them justice. This movie will inspire you to keeping fight through adversity no matter what comes in front of you.
4. Lady Bird
The acclaimed Lady Bird is a story about a high school senior who is preparing to face a new phase of her life, and her story will inspire you to live life like your teenage self always imagined.
5. A League Of Their Own
This story about the real-life All-American Girls Professional Baseball League sheds light on the struggle women had in the 1940s to prove themselves as athletes.
6. Creed
Still holding on to your New Year's resolution of working on your health? The great boxing movie Creed will get you moving, no doubt.
7. La La Land
This romantic comedy musical has a powerful love story, but is really about pursuing your dreams.
8. The Intouchables
Based on a true story, the emotional movie details the powerful friendship between a wealthy paraplegic and caretaker from Paris.
9. Gifted
Frank Adler (Chris Evans) is a single man raising a child prodigy, his niece Mary (Mckenna Grace). This heart-wrenching movie shows that you can work towards your goals, no matter what life throws you.
10. Cool Runnings
If these athletes could train and become an Olympic bobsled team, you can become whatever you want, too.
11. Slumdog Millionaire
Jamal Malik (Dev Patel) answers questions on the Indian version of Who Wants to Be a Millionaire while everyone doubts that he can win. Jamal's life is a moving example of how luck and talent can come together to bring greatness.
12. Mully
This movie revolves around the highs and lows of Charles Mully, a Kenyan business tycoon and founder of the largest children's rescue, rehabilitation and development organization in Africa.
13. Milk
Harvey Milk was the first openly gay man to hold a political office in the U.S. Milk's presence in the political realm was hugely important, and he championed the civil rights of the LGBT community before his tragic death.
14. The Zookeeper's Wife
Dr. Jan Zabinski (Johan Heldenbergh) and Antonina Zabinski (Jessica Chastain) covertly began working against the Nazis by taking in Jewish citizens during World War II and hiding them within their zoo. Based on the true story, the movie shows how they saved the lives of hundreds.
15. Wonder
Wonder tells the inspiring story of August Pullman, a young boy with facial differences who enters a public elementary school for the first time. This movie will have you in tears, and motivated to fight for the people who are deemed different in society.
16. Love & Basketball
Monica (Sanaa Lathan) and Quincy (Omar Epps) meet each other when they were kids, go to school together, and share an infectious love of basketball. This movie is all about the strong, real bond between two people at every stage of life.
17. Freedom Writers
Based on a true story, this film follows Erin Gruwell (Hilary Swank), a high school teacher who is determined to help her students reach great heights of academic achievement. This movie will keep you on track for any school-related accomplishments you are striving to make this year.
When you need an a extra push to reach your goals, put on any of these films and find yourself ready to roll.