17 Mike Pence NASA Memes As Naughty As The Vice President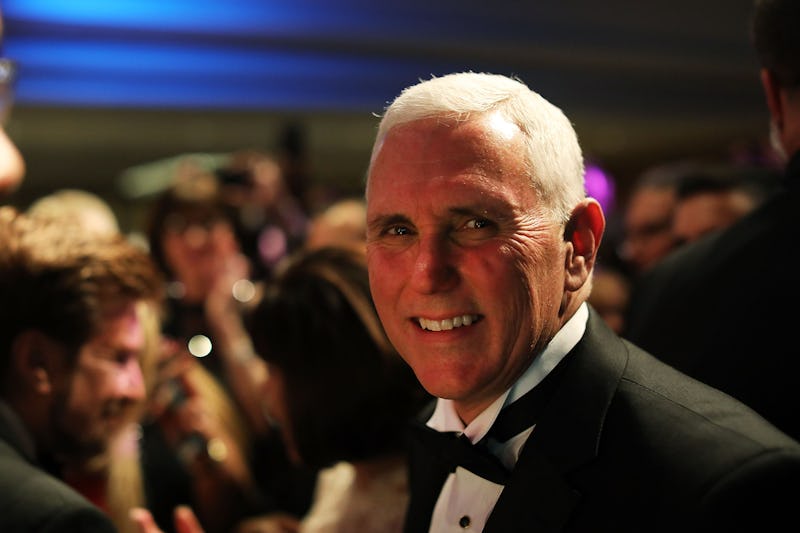 Spencer Platt/Getty Images News/Getty Images
The vice president appeared to have flagrantly broken a sacred "Do Not Touch" rule on Thursday while visiting the NASA's Kennedy Space Center. A photo of Mike Pence touching NASA equipment that he clearly wasn't supposed to set off a round of reactions on social media, which inadvertently turned the moment into a meme.
The photo captures Pence with his hand stretched out against the side of a capsule that he was, in fact, not authorized to touch. According to the sign taped to the side of the space-related hardware, the equipment Pence touched is "critical space flight hardware." And right below those words, in bold red lettering, was the crucial warning: "DO NOT TOUCH."
And yet, Pence touched it. You might even say he was caught red-handed. According to The Verge, the equipment that Pence was not supposed to touch appeared to be the titanium forward bay cover of the Orion capsule.
NBC News reported that spokespeople for both NASA and for Pence did not reply to a request for comment. The most charitable interpretation of events would probably be that Pence simply didn't notice the block letters insisting that nobody touch the sensitive hardware, although given how prominently the notice was displayed, that'd still be a somewhat embarrassing admission. And the world of social media wasn't prepared to let him forget abut the flub just yet.
1. Mike Pence Quietly Envies The Capsule
2. The Official GOP Position
3. Suddenly I Understand
4. We Are All Thinking
5. ... Shiny
6. C'mon, Dude
7. How It Feels When Mike Pence Touches You
8. I Just Wanted To Be A Part Of That Moment
9. Ladies And Gentlemen
10. Compare Your Hand To The President's Hand
11. Any Dumb Argument
12. He Smiled To Himself
13. What The Hell, Mike?
14. In Pence's Defense
15. The Intelligence And Judgment
16. Extremely Relatable
17. Marco Rubio Dared Me To Do It!
As you can see in that final tweet, Pence himself tried to get in on the fun after his ill-considered hardware grab went viral, which actually somewhat dampens the fun of it all ― getting in a few jabs at the rule-breaking vice president is arguably more fun without him cracking any self-effacing jokes. Pence ended up trying to pin the blame on Florida Senator Marco Rubio, and even went so far as to blur everything in the image except for his face, as if he was worried people wouldn't recognize him otherwise. Perhaps the vice president will take a closer look at the rules next time.