This Little Big Town Couple Is So Cute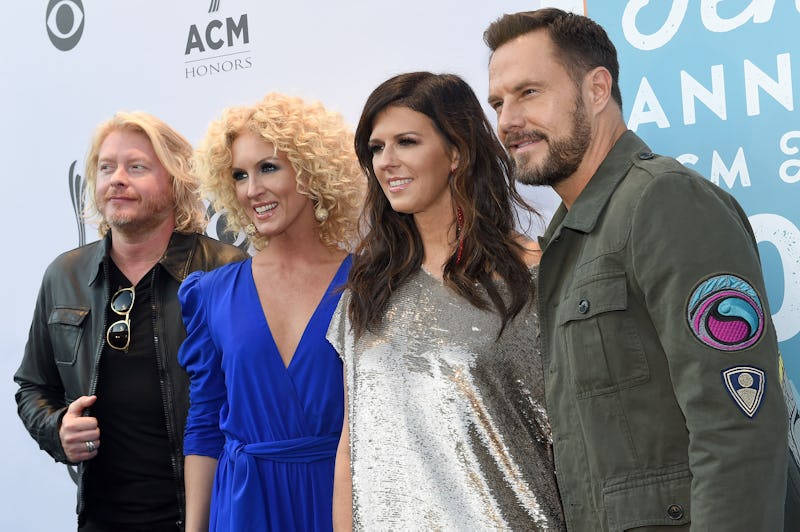 Erika Goldring/Getty Images Entertainment/Getty Images
Little Big Town are country royalty. The group has been a staple on the music scene since 1998, putting out over eight albums and winning numerous awards for their work. In 2016, the group's album Painkiller was nominated for the best country album Grammy, and their song "Girl Crush" won best country group performance, and on Sunday, Little Big Town will once again stop by the Grammys, this time to perform on the big stage. The group will most likely perform "We Went to the Beach", the latest single off their forthcoming album, which will certainly bring some much-needed summer vibes to the February night. After the show, fans can look forward to seeing photos of Karen Fairchild and Jimi Westbrook of Little Big Town on stage together, and watch videos of their favorite country power couple performing alongside one another.
The on-stage chemistry between Fairchild and Westbrook will surely be flying as they perform new tunes. The duo have been married for 10 years, and they are just as magical to watch onstage now as when the band first began. Of course, their #goals relationship isn't limited to the music, and offstage the couple have an adorable family. It's clear that the two are crazy about each other, as both Fairchild and Westbrook share plenty of pics that prove they are one of country's dreamiest couples.
As one would expect, it was music that brought the couple together, and they both post performance snaps to Instagram frequently.
It's clear these two share a special musical chemistry on the stage. Here they are again performing at Disney:
However, every working couple deserves to take a day off. On a casual day away from the music, these two like to hit the stands for some football:
Fairchild and Westbrook know how to share a low key sporty day, but they also seem to enjoy getting all dressed up for events. In another recent pic, the two brought out some serious looks for the CMAs.
Westbrook's caption reads, "My girl. En fuego #cmaawards2016 #cma50thanniversary #ifyouwonderwhyimgrinning". Aww. Fairchild has shared plenty of red carpet style pics on her Instagram as well.
Fairchild's caption reads "last night at bml with my handsome hubby". The two always take the time to give some supportive words for each other, no matter how many red carpets they step out on. Here they are at the ACM's:
They took plenty of selfies together at last year's Grammys:
You would think the duo might get sick of music, but they actually seem to love to go to concerts together. Who wouldn't take the time out from touring to see Beyoncé, though?
I like to think they listened to the queen perform "Daddy Lessons" and got some new song ideas. Beyonce isn't the only show the couple have attended recently, though, as Fairchild also posted a double-date pic from a Coldplay performance:
These performances weren't the only times they could be spotted out on the town this year. The two shared a New Year's smooch on Instagram.
Sometimes the whole band gets into fun shenanigans together, as shown by when, recently, the whole group got to meet one of America's icons: Guy Fieri.
This isn't the only celeb they've been hanging out with, as other snaps from the bands Instagram show the duo goofing around with Taylor Swift.
Of course, the responsibilities of life in the band always come second to Fairchild and Westbrook's family. The two have a 6-year-old son, Elijah, and the trio have shared lots of family moments with fans.
Fairchild wrote "Can't believe my baby is 6 today. Happy Birthday sweet boy". This isn't the only holiday celebration the fam has shared. On Christmas, Westbrook posted an adorable video wishing everyone a happy holiday.
Elijah seems to share his parents' love of sports. Westbrook posted a pic from a father and son day at Fenway Park.
Here is the whole gang on vacation:
Just when you thought this fam couldn't be any more adorable, they adopted the fuzziest puppy:
The newest member of the Westbrooks, this pup named Honey, is also an Instagram regular. I think Honey is the star we really want to see on the Grammy stage on Sunday.
Music is what brought Fairchild and Westbrook together originally, and it still seems like the glue in their relationship. Fans can look forward to some serious fireworks on the Grammy red carpet and stage, where the couple will continue to heat up the country world with their romantic chemistry and summery music.