17 Tons Of Ground Beef Are Being Recalled Because They May Be Contaminated With Plastic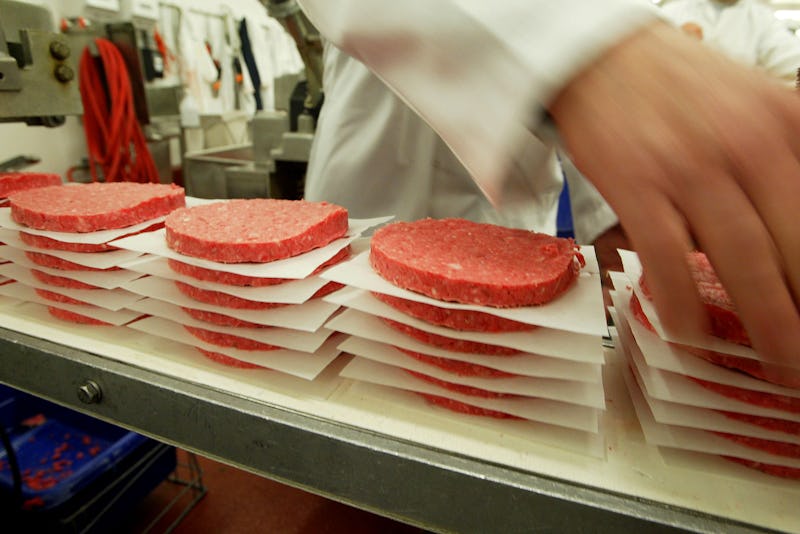 Justin Sullivan/Getty Images News/Getty Images
Make sure to check your freezer because more than 17 tons of raw ground beef — that's a whopping 35,464 pounds — have been recalled due to possible contamination with bits of hard plastic, BuzzFeed reports. The U.S. Department of Agriculture's Food Safety and Inspection Service (FSIS) announced the recall on Wednesday, May 2, according to the U.S. Department of Agriculture's (USDA) official website. The potentially contaminated beef had been sold in Kroger stores, among other locations, and distributed in at least five states with a Sell By date of April 19, 2018, according to the USDA site. The beef is from a Colorado based company called JBS USA, and the recall was prompted at their Lenoir, North Carolina facility when someone reportedly found bits of hard blue plastic in one of their products, according to BuzzFeed.
CNN reports that the beef was produced on March 22, and shipped to distribution centers in Virginia and Indiana for sale in stores throughout those states. The recalled beef is packaged under the Kroger Ground Sirloin, Private Selection Angus Beef, All Natural Laura's Lean Beef, and Kroger Ground Beef labels, and stamped with "EST. 34176" inside the USDA mark of inspection, CNN further states. According to the USDA, Kroger's Ground Chuck is also part of the current beef recall, and is stamped with the same mark of inspection. You can find a full list of the recalled beef on the USDA's website, along with a list of what their respective labels look like.
The good news is that no one has been reported as sick or injured due to eating any of the plastic-contaminated beef, as the USDA also recently stated that "there have been no confirmed reports of adverse reactions due to the consumption of these products." But anyone who's eaten the potentially affected beef, and is concerned about their health, should contact a healthcare provider as soon as they can, the USDA said, according to CNN.
A spokesperson for Kroger Foods, Kristal Howard, told BuzzFeed that the beef was also shipped to Kroger stores in Illinois, North Carolina, and West Virginia, in addition to the Indiana and Virginia stores. "We are aware of the JBS recall and have verified that none of these products are in our stores today," she said. Howard also told BuzzFeed that, even though the contaminated beef has been pulled from supermarket shelves, "we encourage customers to check their freezers for the potentially affected products and not to consume them but to throw them away or return them to their place of purchase for a full refund."
According to the USDA website, anyone with concerns about the recall, or any food safety questions, can access the virtual representative, "Ask Karen," which is available 24 hours per day at AskKaren.gov, or via smartphone at m.askkaren.gov. The toll-free USDA Meat and Poultry Hotline, 1-888-MPHotline (1-888-674-6854) is available in English and Spanish, and can be reached from 10 AM to 6 PM ET, Monday through Friday.
Remember that even though the potentially contaminated beef has been removed from stores, the USDA is concerned that some could be hanging out in people's freezers, so consumers are urged to check to make sure, and throw out or return any beef that's part of the recall — and you can get a full refund for any beef you return. According to the USDA site, FSIS routinely checks up on recall efforts to make sure that consumers are fully informed, and that an affected product is completely pulled from store shelves, but consumers are also advised to take a proactive approach to the product recall and double check to make sure that none of the potentially plastic-laden beef is lingering somewhere in your freezer.