Trump's Hollywood Star Has Officially Launched A New Series Of Memes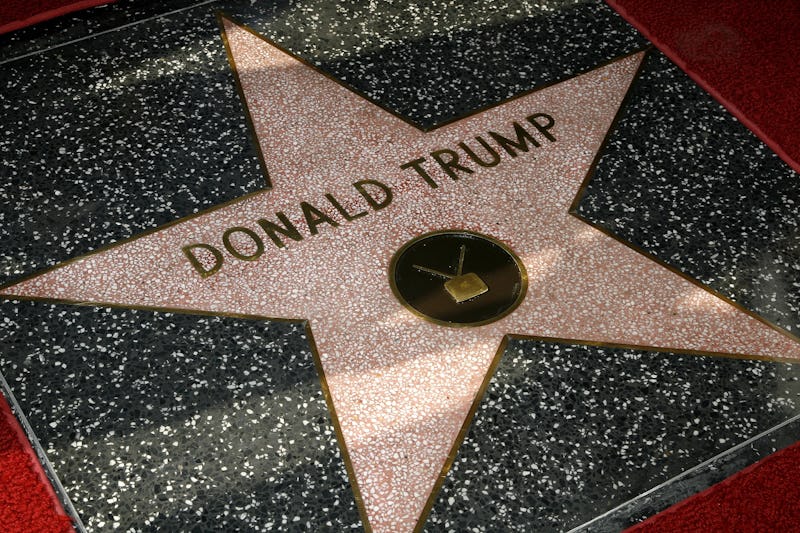 Vince Bucci/Getty Images Entertainment/Getty Images
A college student's tweet of herself cleaning President Trump's Hollywood Walk of Fame star set off a meme that inspired others to share their patriotism over the holiday weekend by recreating the photos with other celebrities.
It all started when one Twitter user uploaded photos of herself cleaning Trump's star with the caption, "Stopped to clean @realDonaldTrump Hollywood Star. Nothing but respect for MY President. #RaisedRight" The president's star had been graffitied since his announcement that he would run for office. People have written the words "racist" and "don't vote" above his name, and have even drawn a mute button on the star.
The woman's tweet went viral, with everyone from Sean Hannity to Eric Trump retweeting it or thanking her for cleaning the star. To give you an idea, it's been retweeted more than 54,000 times and favorited more than 200,000 times so far.
However, there is rarely an action involving Trump without an opposite reaction, and from there a meme was born. Other Twitter users have begun posting pictures next to various celebrities and fictional characters' stars, and using similar captions to the original, especially "Nothing but respect for MY president."
Regardless of your political affiliation, the memes that the tweet sparked are certainly a funny way to poke fun at the president.
1. Julia Louis-Dreyfus
The Seinfield and VEEP actress' star is well tended.
2. Britney Spears
A clean spot for Brit Brit.
3. Shrek
Strangely this star was pretty popular.
4. Danny DeVito
Love for the It's Always Sunny In Philadelphia actor.
5. Walt Disney
He could have been quite the magical president.
6. Nicolas Cage
He did find a national treasure using the Declaration of Independence, after all.
7. Pitbull
Mr. Worldwide for president 2020?
8. Meryl Streep
Queen Meryl treated right.
9. Matthew McConaughey
Would the True Detective have a chance?
10. James Franco
Just the man we need.
11. Tom Cruise
Risky Business in the White House.
12. Charli XCX
Perhaps a pop star would fit the role.
13. Jackie Chan
Or a legendary man who taught the Karate Kid a thing or two.
14. Donald Duck
A different Donald in the White House to mix things up.
15. Julianne Moore
An award-winner in the highest office.
16. Godzilla
He could do some serious damage, and perhaps even protect the United States from invading nations.
17. Michael Jackson
He is the King of Pop, after all.
18. Winona Ryder
Stranger Things have happened, right?
The jokes are all in good fun to lighten up the national mood this holiday weekend.