This One Texas County Just Elected 19 Black Women Judges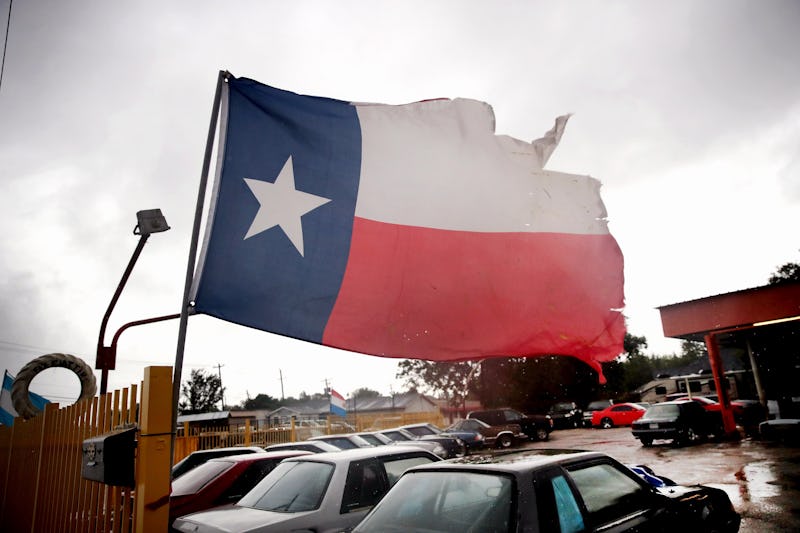 Scott Olson/Getty Images News/Getty Images
An election in Houston on Tuesday night resulted in a remarkable victory for black women judges in Texas. All 19 Harris County candidates won their elections, and their wins — and a memorable photo of them in their robes — have led to the internet dubbing the group as the #Houston19.
For the people who had been rooting for progressive Democrat Beto O'Rourke, who was vying for the Senate, this Harris County victory may give them hope for more progressive politics and diversity at the county judicial level. Although O'Rourke lost his Senate bid to the GOP incumbent Sen. Ted Cruz, Cosmopolitan reported that the #Houston19 could still take progressive politics forward by having judicial candidates who reflect the racial and political makeup of the local populations and listen to their needs.
The Harris County candidates' wins could improve the larger representation of women of color in judicial seats as well. According to a study by the progressive nonprofit legal organization, the American Constitution Society, non-white women comprise less than 20 percent of judicial forces at the state level.
If you're a local in Harris County, the third largest county in America, it's worth knowing who your incoming judges are. The candidates who won on Tuesday are Ramona Franklin, Germaine Tanner, Sandra Peake, Maria Jackson, Angela Graves-Harrington, Cassandra Holleman, Latosha Lewis Payne, LaShawn Williams, Dedra Davis, Tonya Jones, Linda Dunson, Toria Finch, Ronnisha Bowman, Lucia Bates, Erica Hughes, Michelle Moore, Lori Chambers Gray, Shannon Baldwin, and Sharon Burney.
Although a county judge does not have statewide power, this person is still responsible for and influential over a variety of critical issues. When it comes down to matters related to local races, election finance, bonds, court operations, district issues, and more, a county judge is the person you turn to.
According to the Texas Association of Counties guide, "The duties of a county judge vary depending on the population of the county. In most rural counties, the judge has broad judicial responsibilities and is often the principal source of information and assistance."
Timely to the topic of elections, a county judge is also the same person who has access to the results of an election and has the power to announce these developments as well. Whether it's about looking into matters about canvassing and petition issues or certifying race results, a county judge often has the power to decide the political future for their local population. It's a big title.
One of the elected judicial candidates, Williams, wrote on Facebook in August, "This entire time, I've thought of what I'd say the day we were able to share this moment in history with everyone. But I'm really humbled."
The elected candidate said that she never thought she would run for the position and eventually "become a part of a club of phenomenal black women, sisters-in-law, gifted, brilliant, strong" people. "It is with great pride and excitement that I share this 'Black Girl Magic' with you! Congratulations, you are truly black girl magic," Williams wrote back then. It looks like her dream to be a county judge came true after all.