Dogs At The Women's March With Feminist Signs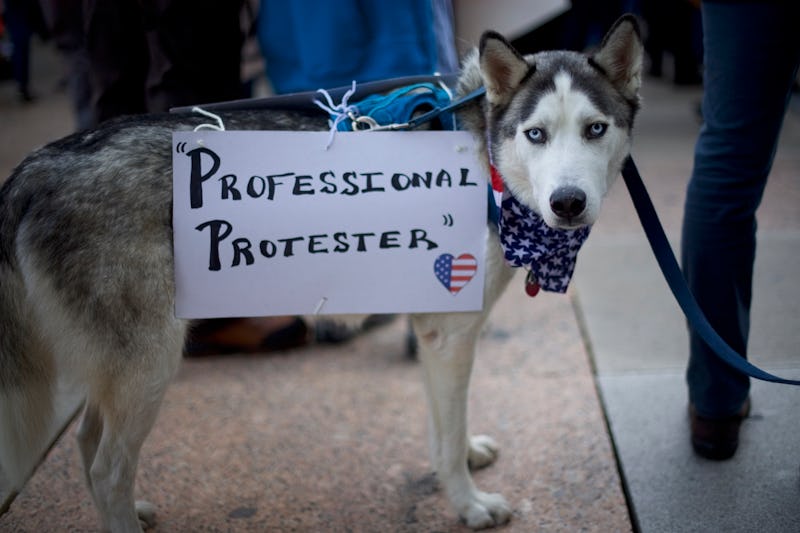 Mark Makela/Getty Images News/Getty Images
On Saturday, hundreds of thousands of people across the globe marched for equal rights, one day after President Donald Trump was officially sworn into office. Not only did humans show up and stand up for women's rights, but they brought some furry friends along as well. Plenty of dogs were spotted at the marches carrying feminist signs in a show of solidarity to their owners and to women across the globe.
The dogs joined the estimated 2.6 million women marching worldwide. Some were probably there simply because their owners were attending, but others were therapy or service dogs — although, let's be honest, the ones that weren't there specifically for therapy probably provided it in the form of cute pupper faces. Even John Kerry took his dog for a walk at the Women's March on Washington. Like their humans, both male and female dogs participated in the historic event.
Not only did the dogs provide joy to those around them, some of them wore important messages either on their clothing or on signs made by their owners. Others wore pink or pussy hats in silent solidarity. Regardless, all of them look adorable and ready to lead the revolution.
1. No Pussy Grabbing
2. I'll Piss On Your Wall
3. Bite The Power
4. Strong American Bitch
5. Marching For Bitches
6. Trump Is Not A Good Boy
7. Bitches Got Rights
8. Puppers Against Trump
9. Even I Know No Means No
10. Proud To Be A Bitch
11. I'm Not A Pussy
12. Not Your Bitch
13. Nasty Bitch
14. Bitches Rule
15. I Will Never Be Trump's Poodle
16. I'm A Dog And Even I Don't Grab Pussy
17. Pussy Protector
18. Proud To Be A Bitch
19. Bitches Against Fascism
Hopefully the people marching enjoyed the presence of these adorable dogs as they stood up for equality. Since dogs can help reduce stress, it's likely their attendance at the march provided some self care for some of the participants. But they also spread some empowerment in the form of their feminist signs.