19 LGBTQIA+ Millennials On How Straight People Can Be Better Allies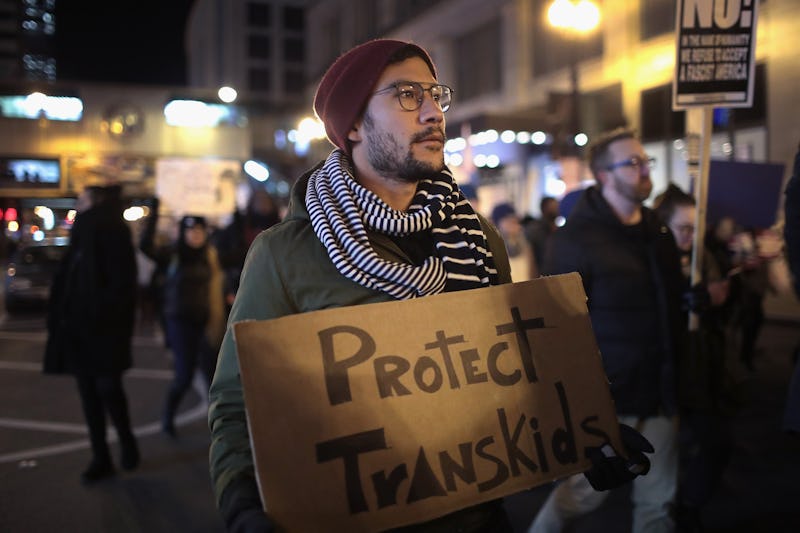 Scott Olson/Getty Images News/Getty Images
Ally. It's a word that gets thrown around a lot, especially in the age of Trump. People are feeling really motivated to step outside of their own privilege and get involved in movements that are lifting up oppressed people. And that's great! But allyship is complicated and, unfortunately, it's pretty easy to do more than harm than good if you're not being conscientious about it. So, in honor of Pride month, I'm asking: What can straight* people do to be better allies?
The answers I got were as varied as the gender and sexuality spectrums of the people I spoke with, but one thing that stood out is how important it is to take ego out of the equation. A great ally is there to support and amplify, not take the spotlight themself or try to bring attention to their own issues. Another big one was not relying on LGBTQA+ people to educate you on the issues when Google is a thing — and it's free. Be conscientious of the emotional labor that goes into constantly explaining things to and do your own research.
But those were just two highlights. Here are responses from 19 Millennials who fit all over the LGBTQA+ spectrum on how straight* people can be better allies is Pride month.
*(or non-LGBTQA+ people because — as I was thoughtfully reminded by an awesome trans person — trans people can also be straight.)