These March Beauty Launches Require Your Immediate Attention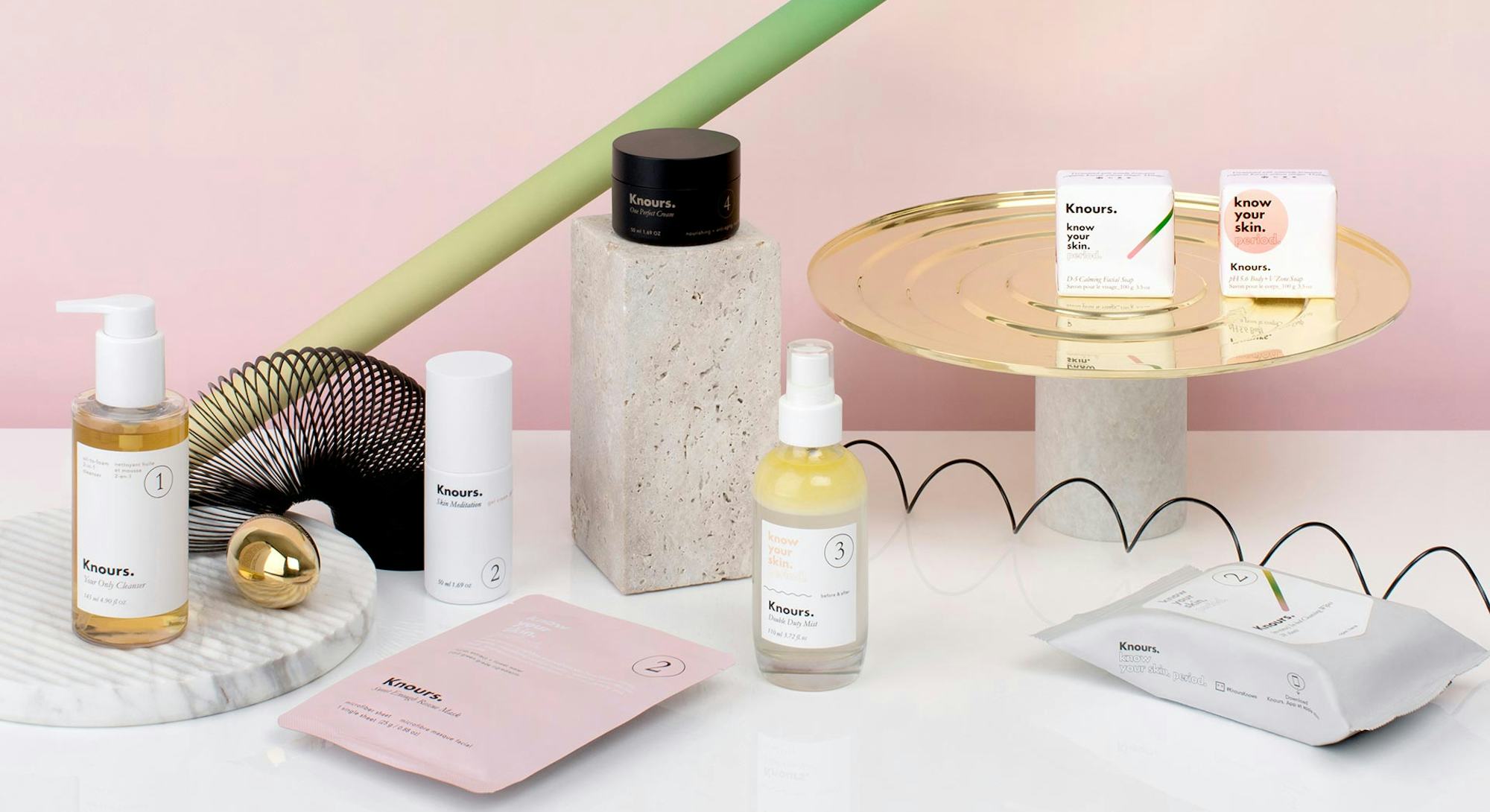 Courtesy Knours.
I write one of these beauty editorials every month (feel free to check out January and February 2018 if you're in need of even more products to shower yourself with). Sometimes, I get worried that there won't be enough newness to share — especially because I am nothing if not fussy and selective. There are always plenty of less-than-great products out there, the kind that are okay but not perfect and I probably wouldn't buy twice unless someone forced me to. and if someone was forcing me to buy beauty products I would likely have far bigger problems than what to put on my face.
For me, it feels more productive to share the good things and keep the negative opinions to myself — after all, wouldn't you rather be told what to buy than what not to buy? That said, the March 2018 beauty launches presented me with a quite a predicament: There were so many good ones, it was difficult for me, one to try them all. Somehow, I did it, and like your mother always told you, I did it for your own good.
March 2018 has a healthy mixture of skin care, cosmetics, fragrance, and bath products. They range in price point and purpose, and not every product will work for everyone (unfortunately for our storage spaces and wallets, beauty is all about trial and error). Finally, there are not one but two sheet masks on this list, which should give you a pretty good idea of how much I love sheet masks. Check them out — and the rest of March's finest beauty wares — below.
Knours. Collection
Knours. Skin Care Collection, $6-$48, Knours
It's been a minute since a skin care launch intrigued me as much as Knours. Created by a team of dermatologists, herbalists, and tech experts in Korean the brand was created to address hormonal changes in skin linked to the menstrual cycle. Drawing inspiration from both Korean skin care innovation and traditional methods to treat hormonal skin, the eight-piece collection is made with natural ingredients to combat breakouts around the time of your period. Perhaps most interesting tin the collection is the Double Duty Mist: Before your period, you're instructed not to shake the two layer product. After your period, shake away: The oils floating on top mix with the soothing mist below to hydrate and nourish your skin.
Too Faced Summer 2018 Collection
Too Faced Summer Naturals Collection, $22-$28, Sephora
Too Faced's Summer 2018 collection launches on March 15, and it's all about neutral and earth-toned shades that enhance your natural beauty. The naturals collection includes a rich, matte Chocolate Soleil bronzer (infused with real cocoa powder) and the Sun Bunny bronzer, which mimics the flush of a real tan. It also includes a Natural Eyes palette (nine multi-finish shadows), Natural Matte Palette (seven creamier shadows), and the Natural Face palette (two highlighters, two blushes, and two bronzing veils). And what would a summer cosmetic collection be without lipstick? Too Faced's Natural Nudes come in 10 shades with a creamy satin finish, perfect for that not-too-much-but-just-enough summer makeup vibe.
MARA Algae + Moringa Universal Facial Oil
MARA Algae + Moringa Universal Facial Oil, $72, The Mara Beauty
I treat my facial oils like precious collectibles, storing them in a visible spot in my apartment (they're just so gorg) and using different ones each night (which doesn't make my skin freak out, because oil is #incred). MARA's Algae + Moringa Universal Facial Oil is a welcome addition to my collection. It's loaded with algae, plankton extracts, and superfood plant oils (moringa, bilberry, baobab, and Kalahari melon), all of which work in tandem to flood your skin with vitamins, fatty acids, and antioxidants to give you an all-over glow.
Dermalogica Sound Sleep Cocoon
Dermalogica Sound Sleep Cocoon, $80, Dermalogica
If you're as obsessed with nighttime beauty products as I am, prepare yourselves; Dermalogica's Sound Sleep Cocoon night cream takes the experience of an overnight treatment to a new level. In addition to the gel-cream formula optimizing skin's overnight recovery process, the product promises a more restful night sleep by "utilizing motion-activated technology that releases French Lavender oil, calming Sandalwood, and Patchouli" that move around while you sleep. That's right: This is a motion-activated nighttime skin care product. The future is now.
Pat McGrath Labs MTHRSHP Eye Palettes
Pat McGrath MTHRSHP Eye Palettes, $55, Sephora
All legendary makeup artist Pat McGrath has to do is wave her makeup brush in the air, and suddenly, there are cosmetics powerful to make beauty enthusiasts fall to their knees and weep. Of course, a lot more time and planning goes into it — but McGrath's new MTHRSHP Eye Palettes make it feel like magic. There are three palettes in the collection: Subliminal (Platinum Bronze), Sublime (Bronze Ambition), and Subversive (La Vie En Rose), each of them offering totally different color stories, all with the most excellent, McGrath-approved quality pigments.
MILÈO Monte D'Oro
MILÈO Monte D'Oro Facial Oil, $275, MILÈO New York
I always like to include at least one splurge product in my monthly beauty editorials, because sometimes we just need to throw financial caution to the wind and treat ourselves. MILÈO's Monte D'Oro facial oil is that splurge for March 2018. Inspired by the titular mountain in Corsica (which is said to look gold at sunset), the formula repairs sun damage, lifts toxins, and strengthens the overall structure of the skin. It's so pretty, you won't want to use it — but you should, because it's really something.
Gigartina Therapy Bath
OSEA Gigartina Therapy Bath, $48, Osea Malibu
When OSEA CEO Melissa Palmer told me that this bath soak would overtake my body and put me right to sleep, the serious (and well-rested) look on her face made me believe her. I tried it for myself, and can confirm that the OSEA Gigartina Therapy Bath is a restorative bath soak that energizes and hydrates the skin, all while giving you the full-body nighttime relaxation you deserve. The fragrance is a combination of lavender (natch) and plumeria, which gives the classic nighttime scent a fresher feel. In other words, Gigartina Therapy Bath could put all of your other nighttime products to shame.
Pinrose Secret Genius Shimmer Mist
Pinrose Secret Genius Shimmer Mist, $42, Sephora
Perhaps it is not appropriate for me, a 32-year-old woman, to douse her body in glitter. But with Pinrose's Secret Genius Shimmer Mist, I shall do so unapologetically. The fragrance company's new product is like the glitter gel you used to put on in middle school, only all grown up: The glitter is super fine and not totally perceptible (it comes out as more of a shimmer, for real), the scent is incredible, and the bottle will look most excellent on your nightstand.
Jo Malone English Fields Fragrance Collection
Jo Malone English Fields Collection, $70 each, Nordstrom
When I received Jo Malone's English Fields fragrances, I actually gasped: The bottles are color-blocked in light hues (and fellow fragrance lovers know how important packaging can be), and the scents are truly reminiscent of a jaunt in the English countryside. I love every scent in the collection, but Oat & Cornflower might be my favorite — it's warm and masculine, with just the right amount of nuttiness.
CoverFX Power Play Foundation
CoverFX PowerPlay Foundation, $44 each, Sephora
I am skeptical of most foundations, and rarely experiment with them. So when I say that CoverFX's Power Play Foundation packs a punch (and makes an impact on even the most foundation-critical beauty lovers like myself), you know it must be something special. The formula is sweat, water, and transfer-proof (not to mention totally vegan) and comes in a 40 shades, so everyone can find their perfect match. The formula is matte, but blends weightlessly into the skin, and feels like you're wearing absolutely nothing at all.
Dove Exfoliating Body Polish
Dove Exfoliating Body Polish, $6, Target
I am highly preoccupied with body scrubs at the moment (blame my scaly, dry winter skin) and Dove's Exfoliating Body Polish is pretty impressive. The scent is strong (just a warning for those who prefer lighter fragrances) but it's also delicious, and the formula scrubs away dry skin while leaving behind a ton of moisture. At this price point, the formula simply cannot be beat.
Neogen Dermalogy Real Cica Pads
Neogen Dermalogy Real Cica Pad, $20, Soko Glam
The Neogen Dermalogy Real Cica Pad is unlike any other product I've tried — each pad is soaked (and I mean soaked) in an essence made with cica extra, which exfoliates skin without causing irritation. In other words, this is an exfoliating pad that's gentle enough to use daily, and it's packed with an ingredient meant to keep your skin supple (not to mention a ton of collagen and hyaluronic acid to help plump and moisturize). I use these before my nighttime serum and cream, and wake up with a ridiculous glow in the morning.
ThisWorks Evening Detox Collection
ThisWorks Evening Detox Collection, $41-$59, This Works
I've loved every product I've tried from ThisWorks, but the new Evening Detox Collection is an undeniable favorite. The three product collection was designed for skin that's spent the day navigating polluted city air, the smoggy likes of which can congest pores and damage the skin. The products are formulated with eucalyptus, palmarosa, patchouli, and frankincense, and include a cleansing water, spray-on-exfoliant, and clay mask. In addition to the promise of clean, protected skin, there's nothing quite like putting a cooling, invigorating set of products like this on your face after a long day slogging through the streets. City dwellers, this is one you won't want to miss.
Tatcha Luminous Dewy Sheet Mask
Tatcha Luminous Dewy Sheet Mask, 4 for $45, Sephora
According to the brand, the new Luminous Dewy Sheet Mask was inspired by a Japanese beauty treatment: Heating and steaming kimono silk with enriched oils and elixirs for the skin. Using the mask isn't quite as elaborate of a process as all that, but it does feel luxurious, and delivers 20 ml of hydrating, soothing serum directly to your skin.
Kiehl's Instant Renewal Concentrate Mask
Kiehl's Instant Renewal Concentrate Mask, $32, Kiehls
Praise the almighty gods of skin care, Kiehl's has created its very first sheet mask. The oil-infused hydrogel-biocellulose mask has blend of three cold-pressed oils from the Brazilian, all of which promise to hydrate and soften the skin over time. The sheet mask comes in two pieces (which I prefer, as I can adjust them more comfortable) and only has to be worn for 10 minutes, ideal for those who don't have 30 or 40 minutes to get their glow on.
Bliss Collection
Bliss Beauty Products, prices vary, Bliss
There are plenty of new products in Bliss' new collection — some of them new, and some of them reformulations to go along with Bliss' rebranding. "The world-leading spa brand is shaking up the mass beauty aisle by making it easier and more affordable than ever before to find your bliss with spa-powered, innovation-driven formulations and products," Bliss writes in a statement. It's true: The 36-product collection is offered at Ulta and Target, and comes at a lower price point than in the past (all while maintaining the efficacy of the original products). This launch is exciting for Bliss devotees, sure — but it's even better for people who have yet to try it.
L'OCCITANE Amande Baume Corps Plaisir
L'OCCITANE Amande Delightful Body Balm, $39, Loccitane
I am obsessed with L'OCCITANE's Almond Body Care collection (shoutout to anyone who has stayed in the shower for an hour just to stand in the glory of the body wash), so I was thrilled to learn that the brand was introducing the Almond Delightful Balm, a rich but non-greasy body moisturizer. Like the other products in the collection, it's made with almond oil from the south of France, and the balm melts into the skin immediately, leaving behind a light, almond fragrance that is, in a word, stupéfiant.
BECCA Hydra-Mist Set & Refresh Powder
BECCA Hydra-Mist Set & Refresh Powder, $38, Sephora
BECCA's new Hydra-Mist Set & Refresh Powder is the kind of product you have to try for yourself to fully appreciate. Sure, it looks like a normal setting powder, but it actually has a cooling effect. I was skeptical, but when I tried it myself, it was just about as refreshing as a fine mist to the face — and set my makeup extraordinarily well, too.
Sleek Makeup Distorted Dreams Highlighting Palette
Sleek Makeup Distorted Dreams Highlighting Palette, $15, Ulta
Every so often, I'll come across a product from a brand that I'm unfamiliar with, and it will make me want to try everything else the brand makes. Sleek Makeup's Distorted Dreams Highlighting Palette is that product. It includes five holographic shades (two powders and three creams) with serious color payoff — the celestial shade in the center of the palette will make you look downright supernatural.
Anastasia Beverly Hills Amrezy Highlighter
Anastasia Beverly Hills Amrezy Highlighter, $28, Sephora
This limited edition highlighter is, to put it frankly, f**king stunning. The compact itself is beautifully weighted, and the product is poured into the palette in a wave formation that makes it look like an optical illusion. It's almost too pretty to use — almost. The universal gold-toned highlighter looks beautiful on the high points of the face, or mixed in with your facial oil for an all-over glow.
.