"She Persisted" Tattoos Make Activism Permanent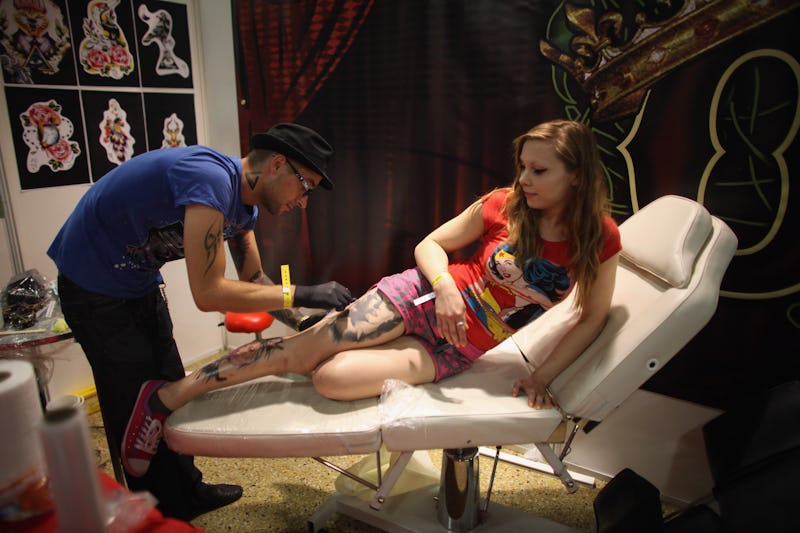 Christopher Furlong/Getty Images News/Getty Images
Who knew hundreds of women would tattoo the words of Sen. Mitch McConnell on their bodies? Certainly not the Senate majority leader, who used the phrase, "Nevertheless, she persisted," when he moved to silence Sen. Elizabeth Warren on the Senate floor during debate on Jeff Sessions' nomination for attorney general in early February. Although McConnell's intent was to silence one woman's voice, his words became a rallying cry for women. Since McConnell first uttered the phrase, it has been emblazoned on T-shirts, jewelry, mugs, buttons, tote bags, and now, tattoos. Hundreds of women across the country have made their resistance permanent with "nevertheless, she persisted" activist tattoos.
During debate on Sen. Sessions' nomination to attorney general, Republican senators — led by McConnell — voted to invoke Rule XIX in order to keep Sen. Warren from reading a letter Coretta Scott King had written against Sessions in 1986 when he was nominated to a federal judgeship. "She was warned," Sen. McConnell said. "She was given an explanation. Nevertheless, she persisted." His words immediately struck a chord with liberal and progressive women who have since used them as a symbol of women's ability to endure and resist oppression.
Here are 21 "she persisted" tattoos that celebrate the resilience of women around the world.
As If Typed By A Typewriter
Instagram user @amydhd said she chose to have her "nevertheless, she persisted" tattoo done in a typewriter script as a nod to the Coretta Scott King letter Sen. Warren had attempted to read on the Senate floor.
Thanks You Sen. Warren
Although the tattoo quotes Sen. McConnell, Twitter users @paigewolf thanked Sen. Warren for inspiring the piece.
Simple But Powerful
Instagram user @cleverkate said her simple but powerful "nevertheless, she persisted" tattoo was the first tattoo she's ever gotten.
A Daily Reminder
The perfect compliment to the morning's caffeinated beverage? A little feminist body art.
Part Of The Persisterhood
Instagram user @yogranola got her "nevertheless, she persisted" tattoo at a fundraising event organized by author Nora McInerny at Minneapolis tattoo studio Brass Knuckle Tattoo Studio. Proceeds went to Women Winning, an organization aimed at helping pro-choice women in any political party run for local, state, and national office.
In Celebration Of Women
Instagram user @a.bjartmarz showed off her "She persisted" tattoo to celebrate International Women's Day.
Girl Power
Twitter user @abbeychiavario used Sen. McConnell's words in a tattoo featuring the raised fist of power inside the women's symbol.
Hand Or Foot
However and wherever you choose to have your "she persisted" tattoo done –Instagram user @terrajayneb's foot placement is perfect for anyone working in an industry where visible tattoos aren't well accepted — it's a reminder of women's ability to create change through resistance.
She Persisted In Starting A Movement
Author Nora Borealis accidentally started a movement when she made a Facebook event inviting her friends to join her in getting "She persisted" tattoos at Brass Knuckle Tattoo Studio in Minneapolis public rather than private. According to CNN, the event drew about 150 women to the tattoo studio, where three artists were able to tattoo 70 of them in the event's 10-hour period to raise more than $4,000 for Women Winning.
Inked In Inspiration
Instagram user @rboughton94 celebrated International Women's Day with a bit of feminist-inspired body modification.
Good Morning, Persister
The placement of Instagram users @gina_lola's "she persisted" tattoo makes it a subtle, easy-to-see reminder to keep persisting.
A Symbol Of Persistance
Instagram user @cassfuentes3 dedicated her "nevertheless, she persisted" tattoo, which forms the women's symbol, to her grandmother, a woman whose history of persistence and resistance inspires her.
Inspiration To Continue To Persist
While Instagram user @thekim's "nevertheless, she persisted" tattoo design is simple, it holds significant meaning to her. While Sen. McConnell didn't mean them as such, @thekim called his words "one of the most empowering phrases I've ever heard regarding a woman's perseverance" and claims they inspire her to "push forward no matter who is trying to stop me." I couldn't have said it better.
For All The Women Who Persist
Instagram user @steph_koehne got her "nevertheless, she persisted" tattoo in honor of all the women around the world who persist in so many different ways.
It Looks Good On You
Twitter user @nerdgasming showed her "nevertheless, she persisted" tattoo off to Sen. Warren on the microblogging social media network.
And Now In Latin
Instagram user @angbancreative translated "nevertheless, she persisted" into Latin before having it tattooed around an Old School anchor.
A Forever Reminder
Twitter user @ALHaffly claims her "she persisted" tattoo is a personal reminder to persist in pursuing her dreams.
On The Shoulders Of Giants
Instagram user @cindykuehl opted to have her "she persisted" tattoo placed on her shoulder.
A Temporary Tattoo For a Permanent Resistance
If the idea of a permanent tattoo leaves you a little more anxious than thrilled, fear not. You can show your support for the persisterhood with a temporary tattoo as Twitter user @dramagal has.