19 Women On What Planned Parenthood Did For Them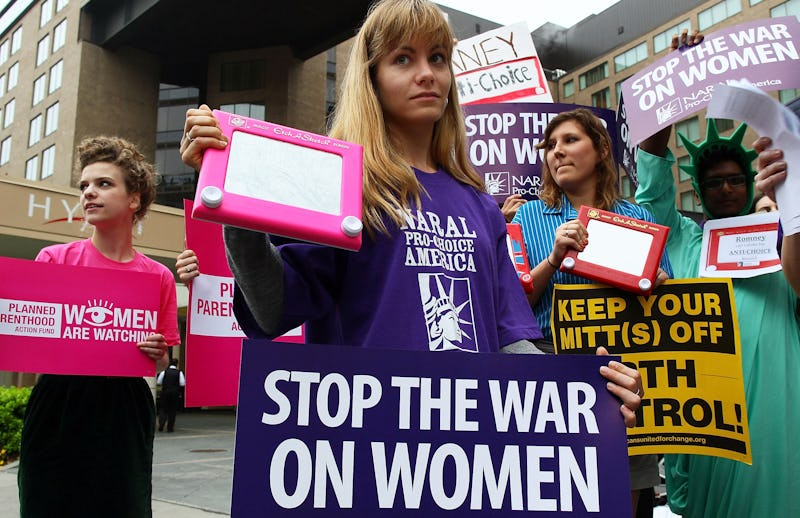 Mark Wilson/Getty Images News/Getty Images
There are only a few (very important) things about my life that I can't imagine not having. My career is high up on that list. So is my partner of almost four years, and my 2-year-old son. I also can't imagine living without safe, affordable, comprehensive reproductive health care from Planned Parenthood; the kind of care that has afforded me the opportunity to pursue my career, find my partner, and have my son. I also know I'm not alone. So, I asked women what their lives would be like without Planned Parenthood, especially now that Republican House Speaker Paul Ryan has stated that the GOP will work to strip Planned Parenthood of its federal funding as part of repealing the Affordable Care Act.
Ryan's comments came Thursday afternoon at a weekly news conference on Capitol Hill. "Well, the Planned Parenthood legislation would be in our reconciliation bill," Ryan said, speaking about the provision that would be included in the GOP's repeal of Obamacare. As I read Ryan's comments, I started thinking about what my life would be like without Planned Parenthood and the essential services they provide. It was a thought that also crossed my mind in 2015, when the Republicans led the fight to defund Planned Parenthood in a massive government spending bill. A thought woven into the overwhelming anger, fear, and sadness I felt when a man opened fire in a Planned Parenthood clinic in Colorado Springs, killing police officer Garrett Swase, a father of two; Army veteran Ke'Arre Stewart, a father of two; and Jennifer Markovsky, a mother of two. It's a thought that's sure to remain as women (and men) across the country gear up for a fight to protect Planned Parenthood and women's reproductive freedom.
I was 23 years old, a recent college graduate, in a horrible relationship, and living paycheck-to-paycheck when I found out I was pregnant for the first time. It was at a Planned Parenthood in Bellingham, Washington (a few miles from where I lived), that I had a safe, legal, and affordable abortion. It was also at that Planned Parenthood that I realized I had the right to be in control of my body and my future. That realization was life-changing. A week later, my unhealthy, unfulfilling, and dead-end relationship ended, and my future essentially started. I started writing, I started demanding better from those around me (and myself), and I started believing that I deserved more than the bare minimum life has to offer.
Three years later, I met my partner and (little did I know at the time) the father of my son. When we found out I was pregnant, I knew that not only could I be a mother, I wanted to be a mother. A little less than 40 weeks later, our perfect son was born, and a little over a year after his birth, my family of three moved to New York City so I could take my dream job as a writer and editor. None of the amazing things that make my life what it is now would have been possible without Planned Parenthood and their care. I wouldn't have met my partner. I wouldn't have had my son. I wouldn't have had the freedom to follow my dream to the other side of the country, building a better life for myself, my partner, and my son.
My story, of course, is not unique. Planned Parenthood provides countless services — from STD testing, to providing birth control, to administering cancer screenings, to offering counseling for sexual assault survivors — to a reported 2.5 million women and men in the United States each year. This care is paramount, and without it, the lives of countless women (and men) would be drastically altered.
Women deserve the right to make their own choices about their own bodies. Women deserve the right to write their own stories. Women deserve health care providers like Planned Parenthood, because they've helped people, like the following women, in countless ways: