196 Congressional Democrats Plan To Sue Trump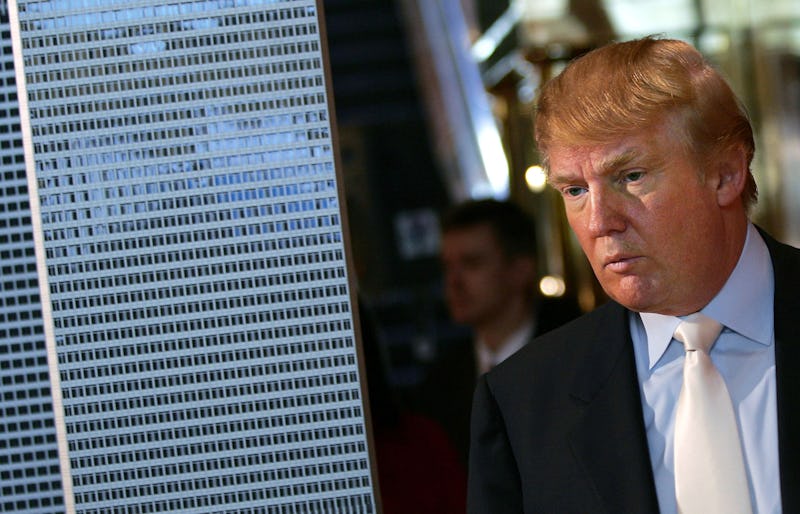 Chris Hondros/Getty Images News/Getty Images
The third in a series of lawsuits against President Donald Trump is anticipated to be filed on Wednesday (his birthday, no less). In it, a considerable number of congressional Democrats are suing Trump for allegedly violating the Constitution's Emoluments Clause but continuing to hold stake in his family businesses. As early as November 2016, Trump has denied that his business empire poses any conflict of interest. And though other similar lawsuits have been filed in the past, this one stands out in a few ways.
For one, some of the previous lawsuits came from Trump's business competitors (the Justice Department has agreed to defend the president in these cases). And on Monday, the Democratic attorneys general in Washington, D.C. and Maryland sued Trump, alleging he had violated the Constitution. However, this most recent expected lawsuit has 196 confirmed plaintiffs — all of them Democratic members of Congress. According to The Washington Post, this case would see more congressional plaintiffs in a legal action against a president than any other previous legal action.
According to a copy of the complaint obtained by the Post, the plaintiffs state that Trump should have to answer to members of Congress on matters of the "foreign emoluments clause" because the clause requires a president needs "the consent of Congress" prior to accepting gifts.
And their case may see some results. Incoming Dean of University of California Law School Erwin Chemerinsky told The Washington Post:
The Framers of our Constitution gave members of Congress the responsibility to protect our democracy from foreign corruption by determining which benefits the president can and cannot receive from a foreign state.
Further, Chemerinsky notes that the congressional lawmakers "have a duty to reserve the constitutional order" by taking the president to task if they believe he hasn't revealed the benefits he's received or asked for the "congressional consent before accepting them."
Meanwhile, some other legal scholars told the Post that the Democrat-only list of plaintiffs won't help their standing. Andy Grewal, a law professor at the University of Iowa, told the paper that "because this is individual legislators who don't have any individual injuries," he believes "it will be hard for them to get standing."
While the White House reaction to the recent D.C. and Maryland lawsuit was, per comments from Press Secretary Sean Spicer, to attribute it to "partisan politics," this next case comes at a time where the president and his cabinet are under increased scrutiny, making it much harder to dismiss.