The Marvel Universe Will Soon Add 2 LGBTQ Characters, & It's About Time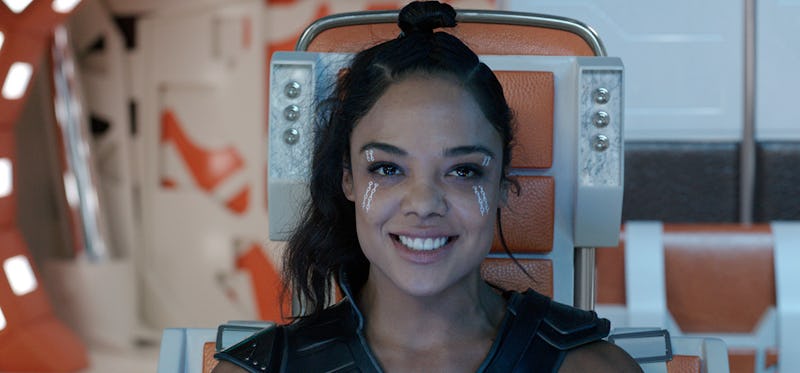 Walt Disney Studios Motion Pictures
Now that the MCU has completed its first three phases and released 19 superhero movies, it's time for a change. The lack of LGBTQ heroes has long been criticized, and the Disney-owned Marvel Studios has heeded those critiques. In an interview with The Playlist, Marvel Studios president Kevin Feige revealed that at least two LGBT characters will join the MCU. The always hush-hush studio didn't quite name who those heroes would be, but Feige did reveal that the LGBT heroes won't all necessarily be added to the MCU as new characters. When asked who the LGBT characters would be, Feige said, "Both [characters] you've seen and ones you haven't seen."
The Playlist pointed out that one of those characters will likely be Valkyrie (Tessa Thompson), because she almost had a scene in Thor: Ragnarok explicitly revealing the character's romantic relationship with another woman. That scene was cut, as Collider reports, but that didn't stop either Thompson nor Ragnarok director Taika Waititi from celebrating Valkyrie's bisexuality. In an interview with The Playlist last Oct., Waititi joked, "I would say Valkyrie is try-sexual. She'll try it on with anyone." Then, he more straightforwardly explained, "I think there is reference to that in the comic as well that Valkyrie is bi."
When a fan pointed out to Thompson that Valkyrie was queer in the Marvel comics on Twitter, the actress also confirmed that the movies' character was as well. "She's bi. And yes, she cares very little about what men think of her. What a joy to play!" Thompson tweeted.
The scene in Ragnarok that didn't make the movie apparently showed a woman leaving Valkyrie's bedroom, Thompson said in to an interview with Rolling Stone. According to the interview, Thompson pitched Valkyrie's bisexuality to Waititi herself, and it sounds like the actress was a fan of her comic book character's love story. "There's this great illustration of them in a kiss," Thompson told Rolling Stone when describing the comic book's love story between Valkyrie and an anthropologist named Annabelle Riggs.
Still, it's unclear whether or not Valkyrie will even be in future MCU movies, especially considering that she didn't appear in Avengers: Infinity War, causing some to worry that she died in between Ragnarok and Infinity War. But the chances that the character will return in future films seem high, especially since one of the directors of Infinity War confirmed that Valkyrie survived Thanos' seizing of the Asgardian ship (which happened in the post-credits scene of Ragnarok). According to Inverse, Infinity War director Joe Russo clarified at a high school Q&A session that Valkyrie escaped the ship in a pod before Thanos could wreak havoc for the Asgardians. As for Thompson's explanation for her absence from Infinity War, she provided a likely alibi for where the alcohol-loving character might be on Twitter.
Assuming that Valkyrie returns in her out-and-proud form, that means at least one new MCU character is going to represent the LGBT community. Fortunately, there are a few upcoming movies that might serve as prime opportunities to improve Marvel's LGBT representation. Ant-Man and the Wasp comes out July 6, and then the next slated movies include Captain Marvel (March 2019), Avengers 4 (May 2019), and then Spider-Man: Far From Home (July 2019).
While the MCU is free to introduce their own new LGBT characters, the chances that the upcoming queer heroes could be from the comics seem high. After all, Valkyrie's sexuality is founded in the comic books, so why wouldn't the next out character's be too? If you look at Marvel's Wiki for a list of gay or lesbian characters, there are plenty to choose from, like America Chavez, aka Miss America, who is a young queer Latinx superhero. (Wouldn't she have incredible banter with Peter Parker?)
Whichever queer character the MCU chooses to add to the mix, as long as they make an effort to make the character more than just a token of representation, it will make a huge difference. Marvel audiences deserve to see greater representation in superhero movies, and hopefully even more than two LGBT characters will join the fight for justice, maybe even as an Avenger, in the future.