2 Women Behind The Instagram Accounts That Inspire Adventure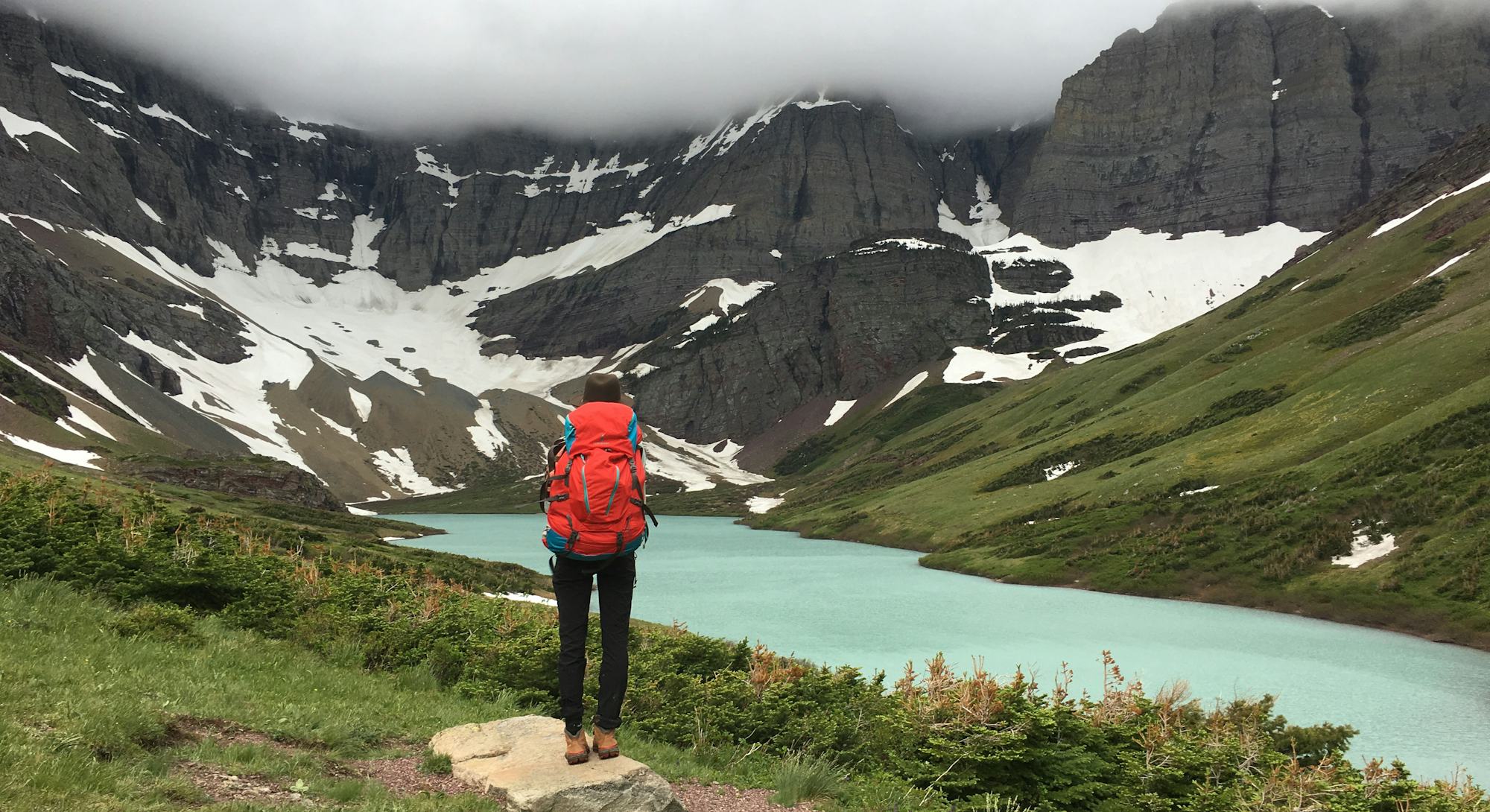 Katie Boue
Let's be real: It's easy to experience FOMO when scrolling through your social media feeds. You know what I'm talking about! From accounts that show individuals hiking in the picturesque mountains one week and lounging on the beach (in a different country, I may add) the next, to other feeds that portray an exotic, artistic lifestyle extremely different from your own, it's hard not to imagine how the other half lives. It's easy enough to jump to conclusions about how the people behind these accounts got to where they are today. Admittedly, I like to think that their lives really are as beautiful and glamorous as they appear through filters — but I know that isn't always the case.
The truth is, a lot of these social media mavens are just like you and I. Sure, they have way more followers (like, thousands more). Yet while some have nontraditional careers, others have full-time, 9-to-5 desk jobs not unlike my own. However, what all of these people do have in common is their devotion to planning ahead and prioritizing adventure above just about everything else.
We've teamed up with Merck on Her Life. Her Adventures., an educational campaign aimed to encourage women to know their options and set priorities, including talking with their doctor about family planning and birth control, to help them feel better prepared for whatever lies ahead. Together, we profiled two women behind social media feeds that seriously inspire adventure. Read on to learn about how they got started, what they plan to do in the future, and why living life on your own terms is the key to success.
Anna Rice: The Weekend Jetsetter
It's easy to write off people who quit their jobs and travel the world as people who don't need to work or focus on a career. Yet for Anna Rice, quitting her job in public relations wasn't an option, financially — so she made it her mission to travel the world on weekends. With just 10 vacation days to work with, Rice didn't have much wiggle room. But she decided to make the most of it, and pursue her dream of traveling anyway.
"I strategically planned out those 10 days as best as I could, looking up deals for where I could go, and which flights had a convenient schedule of flying out Friday after work, and returning Sunday night or Monday morning," Rice explained.
Using long weekends to her advantage, Rice traveled from New York City to countries like Colombia and Norway, and cities like Miami, Denver, and San Antonio without taking any days off. She leveraged holiday weekends, combining them with a vacation day or two to create four- and five-day trips to places like Iceland, Ecuador, France, Italy, San Francisco, and Nashville. Rice began her blog, The Weekend Jetsetter, to tell her story and inspire others to travel without totally disrupting their day-to-day lives.
"People kept asking me, 'How do you afford it? How are you not tired? How do you find the places you go?'" Rice says. "I had a fashion blog at the time, so I rebranded it as a travel blog. Now, I get contacted by people who tell me they've used my blog to plan a trip, or used my advice and got inspired to travel alone. It's really rewarding."
Since starting her blog in 2013, Rice has since relocated to the West Coast, started pursuing her MBA, changed jobs, and upgraded to a position with more vacation days and more flexibility to work remotely. Yet her passion for traveling and adventure hasn't dwindled.
"I've made traveling my priority because it's something I really like to do," Rice says. "Right now, I'm focused on my career and education, and having a family isn't a current priority."
Rice's unique priorities make it important to have a plan in place, including family planning and birth control, to help her feel better prepared for whatever lies ahead.
"It's great to have the flexibility to plan my life on my own terms."
Katie Boué: The Outdoorist
Through the lens of social media, Katie Boué's life looks like the ultimate outdoorsy adventure — full of picturesque camping trips, beautiful hikes, and scenic escapades. Yet while the the full-time freelance social media campaign manager and outdoors activist wouldn't trade her life with anyone else's, she admits that not every breathtaking picture she posts has a beautiful story attached to it.
"It's important for influencers to be transparent — we're inspiring people, and we must do it honestly," Boué says. "When I post a rad photo of me climbing, I make sure my caption includes the truth behind the photo. I might look strong and confident, but I was probably trying to move through shaky legs and feeling scared."
Boué started her blog, The Morning Fresh, in 2009 during a college writing workshop, and expanded to social media in 2011 when she embarked on a yearlong climbing trip. The interaction, spontaneous meetups, and connections she made through social media during her travels inspired her to continue sharing her travels and adventures — even the more mundane ones, like her weekly trips to the local farmer's market — with the online community. Today, Boué's work focuses on public lands advocacy and outdoor activism, and social media continues to be a powerful tool for activating her community. Of course, she likes leaving room for a little adventure, too.
"You are never too busy for adventure," Boué says. "As a full-time freelancer, I'm lucky to be able to make my own schedule and take off at anytime — but some of the best adventurers I know are 9-to-5, city-dwelling, mortgage paying weekend warriors. I have a friend in Seattle who regularly summits Mt. Hood — before work on a weekday. It's all about prioritizing adventure, and making room for it in your schedule."
As for the future, Boué hopes to continue making a positive impact on public lands and environmental issues — like advocating for local recreation areas and promoting good outdoor stewardship. Yet she also hopes to eventually settle down and start a new kind of adventure.
Boué hopes to one day grow her family and become a caretaker to mini outdoor advocates. But for now, she enjoys having a plan in place that includes birth control.
"I used to think I'd never have children because travel and adventure are such priorities for me, but I've realized that having children and getting married is actually an important part of my vision for my future," she says.
Beyond The Pictures
Want to tag along on their future adventures? You can get some major inspiration by following each of these women on Instagram. And remember: your own experiences are waiting to take off, too! With the right plan in place, which may include talking with your doctor about your family planning and birth control options, your life — and your next adventure — is completely up to you.
This post is sponsored by Merck.
Visit HerLifeHerAdventures.com to learn more about the campaign, get information, and get involved by sharing your own adventures. And, check out our Her Life. Her Adventures. Facebook and Instagram channels!