2 Women Have Been Arrested After Recording Themselves Vandalizing A Mosque With Their Kids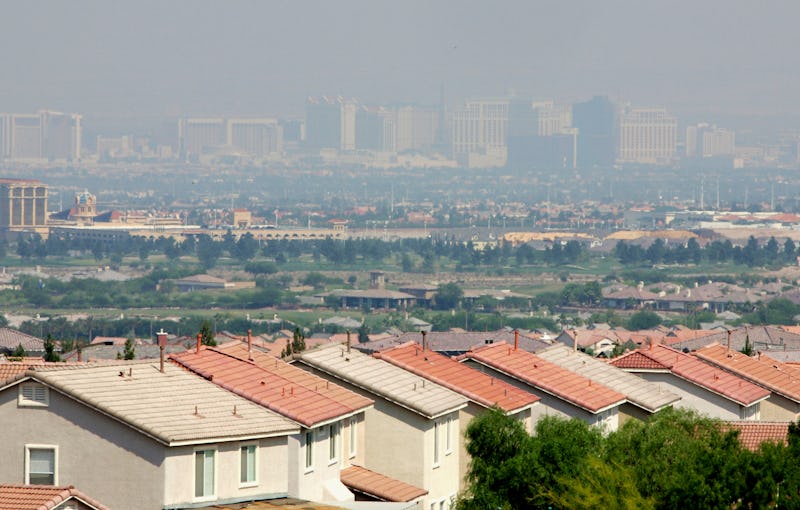 Ethan Miller/Getty Images News/Getty Images
A disturbing live video from March 4 showed two women vandalizing and trespassing on a Tempe, Arizona, mosque along with three children, calling Muslims a range of Islamophobic insults and removing brochures from around the mosque, according to Huffington Post. On Thursday evening, the Associated Press reported that the women had been arrested and were under investigation for possibly committing third-degree burglary. The Tempe Police Department identified the women as Tahnee Gonzales and Elizabeth Dauenhauer.
In the self-recorded video, Gonzales drives to the Islamic Community Center of Tempe, Arizona, and says, "Look at this mosque, this ugly mosque here in our backyard in America." Prior to entering the mosque, Gonzales notices a sign at the entrance prohibiting firearms on the premises and instructs one of the children to take her gun back (it's not clear where), as Huffington Post reports.
"I have to take my gun out of my backpack," she says.
Then, Gonzales enters the mosque with Dauenhauer, the two boys, and her daughter, and says that the mosque is proof of Muslims "coming in and destroying America." She adds that "Muslims are nothing but devil Satan worshipers." In the video, Gonzales' young daughter is captured making denigrating comments about Muslims, too.
Gonzales shared the mosque video as a live feed on Facebook. A total three videos were posted on her profile, but she has reportedly deleted two of them. Neither woman has responded to Huffington Post's request for comment. The Tempe Police Department told USA Today's AZCentral that Gonzales and Dauenhauer could also face trespassing charges.
In a second video from the same day, Gonzales can be seen harassing Arizona politician Deedra Abboud, who is running on a Democratic platform for a seat in the U.S. Senate. Gonzales and Dauenhauer are seen screaming insults at Abboud, calling her a "sellout" who hates the United States, and that "God is going to strike her down."
"You ain't gonna make it. You support Muslims who hate America! Shame on you," Gonzales is heard yelling.
After the incident took place on Wednesday, Abboud shared Gonzales' video on her own profile and condemned it. Abboud said,
I don't usually share negativity on my [Facebook] because I prefer to focus on solutions. However, I am sharing this video because the end hasn't been seen and demonstrates that this is just about hating. She targeted everyone, no limits.
In a third video, Gonzales reportedly sings a song about building Donald Trump's border wall.
Much of the criticism on social media highlighted the children repeating Gonzales' hateful commentary and spewing some of their own. The religious leader of the Islamic Community Center of Tempe, Ahmad Al Akoum, told Huffington Post, "What really affected me the most is seeing those young children getting real-life lessons in hate, that was the thing that made me really, really upset with those people. Those innocent five [or] six-year-old children are now really learning hate from their parents. It's really disheartening."
Unsettling as the content was, this isn't the first time a mosque has been targeted in the past year. According to research by the Council on American-Islamic Relations, Islamophobia in the United States increased by 91 percent in the beginning of 2017, months after Trump won the presidential election. For people like the director of the Arizona chapter of the Council on American Islamic Relations, Imraan Siddiqi, the video showed hate take place "in real time."
While speaking to Huffington Post, Siddiqi said, "The most jarring thing about the video is clearly the fact there are children involved, indoctrinated to hate people based off their belief system or what they look like or the color they are," he said. "You can see that unfolding in real time."