These Are The 20 Best-Selling MAC Celeb Collaborations Of All Time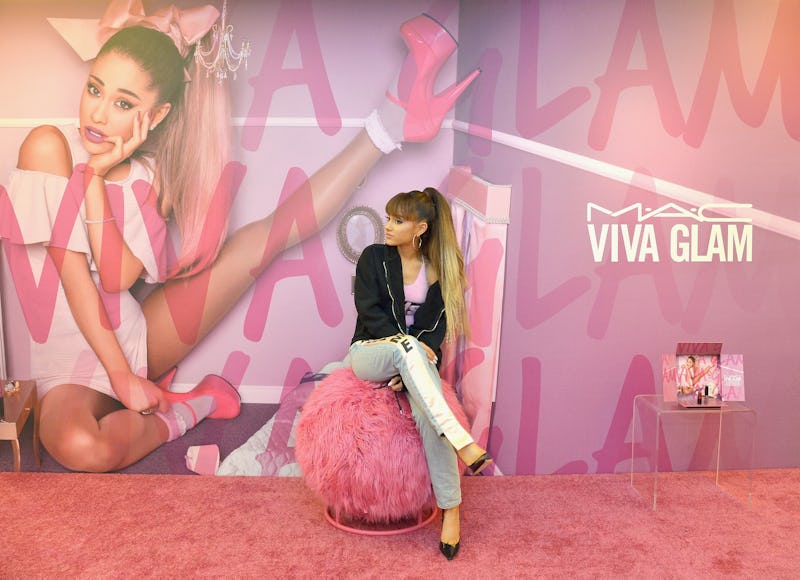 Charley Gallay/Getty Images Entertainment/Getty Images
Any celeb who loves makeup wants their name emblazoned across MAC's famous brush sets, color palettes, lipstick tubes, and compacts, but only a few lucky legendary ladies (and two gentleman) actually got their own line, so far. The late Queen of Tejano music, Selena Quintanilla-Pérez, currently holds the title for the best-selling collection of all time, while Mariah Carey, Rihanna, Nicki Minaj, and Sharon and Kelly Osbourne come after her, rounding out the top five coveted spots. Even Cinderella and Barbie made the top 10, with others like Raquel Welch, Taraji P. Henson, Brooke Shields, and Lorde nabbing places in the top 20.
Just what do you need to qualify for consideration though? "I like to think when we collaborate we're just pulling in members of an extended family — some of them might be strange aunts, strange uncles, but they all somehow belong and seem to fit," says MAC Cosmetics Senior Vice President & Group Creative Director, James Gager. "The experience is very intimate. We ask people to bring in their makeup bags and spill out products." Um, I'd love to sit in on those meetings.
Check out the full list below to see which collections were most popular and make your guesses for who you think will be the next major celebrity collaboration. (My money is on Cleopatra — those liquid liners would be dope.)
1. Selena
It's easy to see why Selena's was the best-selling collection of all time. In addition to being a music icon lost too soon (with millions of loyal followers that still celebrate her to this day), the collection itself is gorgeous. Look at those lipstick shades!
2. Mariah Carey
The diva's 2016 collection sold out within 24 hours, making it the second highest selling celeb launch in M·A·C history.
3. Rihanna
RiRi Hearts MAC was the only celeb collab to take on not one, but three back-to-back seasonal collections: Summer, Fall and Holiday. Rihanna's famous RiRi Woo shade, a play on the brand's iconic Ruby Woo color (four are sold every minute around the globe), sold out within three hours of the first launch.
4. Nicki Minaj
Minaj personally designed a limited-edition lipstick dubbed "Pink Friday" to celebrate the release of her album of the same name. Apparently everyone was into wearing pink on Fridays (in addition to Wednesdays) because it landed her the number four spot.
5. Cinderella
Famous for undergoing one of the prettiest makeovers in Disney history *and* her own MAC line.
6. Kelly & Sharon Osbourne
The cheeky mother-daughter collab was inspired by their signature red and violet color palettes and the fact that they love makeup *almost* as much as Ozzy.
7. Barbie
I mean, #OBVIOUSLY.
8. The Toledos
The first husband-wife duo to land a MAC collab was fashion designer Isabel Toledo and her illustrator artist husband, Ruben. Their whimsical packaging was just as fun as their bold mascara and eyeliner hues.
9. Catherine Deneuve
As a former muse of Yves Saint Laurent, French actress Deneuve earned herself the number nine spot. Très chic.
10. Giambattista Valli
Valli is the only other designer to make the top 20 list. Couture gets you places.
11. Liza Minelli
Pretty sure if your career spans six decades and you have EGOT status (have won an Emmy, Grammy, Oscar and Tony), you deserve a MAC collection. Oh and those lashes.
12. Raquel Welch
Still serving you a flawless face at age 76.
13. Diana Ross
That hair, those lips, those lashes...#QUEEN.
14. Marilyn Monroe
Given the fact that Ms. Monroe was known for having perfect bone structure and cheekbones, she should rightly have a blush called "The Perfect Cheek" in her makeup repertoire.
15. Taraji P. Henson
Obviously it was only a matter of time before Empire's Cookie received her MAC makeup medal of honor. Products for flawless skin and the ultimate nude lip were among the stars of this collection.
16. Ellie Goulding
The English princess of pop scored herself a roundup of gorge pinky-beige bronzers, shadows, pencils and glosses.
17. Brooke Shields
The iconic American actress, model and former child star also got the MAC treatment. Punchy bold hues stole the show in her 2014 assortment.
18. Lorde
Lorde's dark purple lip obsession set off a frenzied goth makeup wave reminiscent of the '90s with her "Pure Heroine" lipstick launch.
19. Iris Apfel
When it comes to statement jewelry, major eyeglasses and a HBIC attitude, Iris wins. So does her MAC collab.
20. Beth Ditto
Gossip front woman Beth Ditto worked with the brand to create one of their quirkiest collections, perfectly suited to her unique sense of style.
Who do you think deserves to have a MAC makeup collection next?