20 Great Signs From Pro-Planned Parenthood Rallies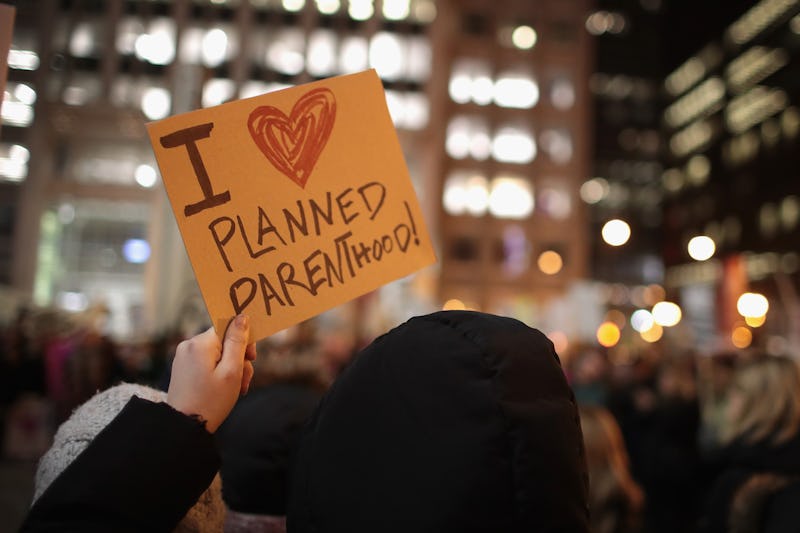 Scott Olson/Getty Images News/Getty Images
Anti-abortion protests demanding the government defund of one of the nation's leading providers of affordable health care sparked nationwide counter protests Saturday as reproductive rights advocates rallied in cities across the country in defense of Planned Parenthood. Energized by the election of Donald Trump, a man who has vowed to overturn Roe v. Wade, anti-abortion activists have launched an aggressive effort to push for more restrictive abortion legislation at both national and state levels. In turn, however, they've also energized abortion rights advocates intent on defending Planned Parenthood.
In an effort to urge legislatures to defund Planned Parenthood, a national anti-abortion coalition known as #ProtestPP claimed to have organized 225 protests – spread over 45 states – against the health care provider this weekend. But Planned Parenthood has a lot of friends. And many of those friends showed up to counter protest #ProtestPP.
"[#ProtestPP rallies] are designed to intimidate patients seeking basic health care services at Planned Parenthood," Mary Alice Carter, interim vice president of Planned Parenthood Federation of America, said in a statement released Saturday. "Patients don't go to Planned Parenthood health centers to make a political statement. They go to receive quality care from a provider they know and trust. That's what we're focused on today and every day."
In celebration of Planned Parenthood, here are 20 of the best signs spotted at Defend Planned Parenthood rallies around the country:
1. If My Uterus Shot Bullets
One sign spotted at a Planned Parenthood support rally in Peoria, Illinois read, "If my uterus shot bullets you wouldn't bother to regulate it."
2. Bitch, It's My Uterus
"Bitch, it's my uterus," read one sign decorated with hearts and flowers at an I Stand With Planned Parenthood rally in California.
3. Uteruses Before Duderuses
The sign game was strong at a Planned Parenthood support rally in San Antonio, Texas, where signs read "uteruses before duderuses" and "vaginas are more regulated than guns."
4. I Am Not Ovary-Acting
A group of Planned Parenthood advocates – including one woman carrying a sign that read "I am not ovary-acting" – reportedly outnumbered those who had showed up for an anti-Planned Parenthood demonstration in Fresno, California.
5. A Free Woman
"No woman can call herself free who doesn't control her own body," read one Planned Parenthood supporter's sign at a rally in Encinitas, California.
6. Fallopians 4:28
At an I Stand With Planned Parenthood rally in Ferndale, Michigan, a woman held a sign bearing a tongue-in-cheek spin on biblical verses – Fallopians 4:28 "Thous shalt not mess with women's reproductive rights."
7. No Uterus? No Opinion
A woman at a Planned Parenthood support rally in Roseville, California made her disdain for male legislatures' attempts to regulate women's bodies known.
8. God Bless Planned Parenthood
What's better than one clever I Stand With Planned Parenthood rally signs? Three clever signs touting the greatness of Planned Parenthood!
9. Think Outside My Box
"Think outside my box," one woman at a Planned Parenthood rally in Michigan asked legislatures.
10. Love. Resist. Persist.
One woman used a beautiful illustration of Lady Liberty and Lady Justice to show her support for Planned Parenthood's life-saving work.
11. Get The Elephant Out Of The Womb
A supporter carried a sign emblazoned with "get the elephant out of the womb" at a Defend Planned Parenthood rally held in New York City's Washington Square Park.
12. A Woman's Place Is In Your Face
Another sign spotted at the Defend Planned Parenthood rally in New York City's Washington Square Park reads "a woman's place is in your face."
13. Alternative Facts
In Grand Rapids, Michigan, one Planned Parenthood supporter made good use of an arrow and the Trump administration's "alternative facts" argument at a demonstration countering an anti-abortion protest.
14. Separate Cooch And State
One Planned Parenthood advocate demanded separation between cooch and state at a rally in Fort Collins, Colorado.
15. I See What You Did There
One man opted to fight for Planned Parenthood with puns, urging people to "get in-vulva-ed" and "be estrogen-erous with donations" to the health care provider.
16. Electile Dysfunction
One woman gave a name to male legislatures' need to regulate women's bodies at an I Stand With Planned Parenthood rally – "electile dysfunction."
17. I Love My IUD
Just as thousands of kids once loved their MTV, thousands of women love their IUDs, as one women at a Defend Planned Parenthood rally in Poughkeepsie, New York, noted.
18. Hex Sexists
A few politically conscious witches toting signs that read "hex sexists" and "witches for reproductive freedom" came out to stand with Planned Parenthood in Minneapolis, Minnesota.
19. Keep Your Theology Off My Biology
One woman demands legislatures keep religion out of health care at a rally to support Planned Parenthood in San Francisco, California.
20. That Awkward Moment
One Planned Parenthood supporter at a rally in Minneapolis, Minnesota, got right to the point with a sign that read, "That awkward moment when you care more about a potential person than an actual person."