20 National Cheese Pizza Day Instagram Captions That Will Make You So Hungry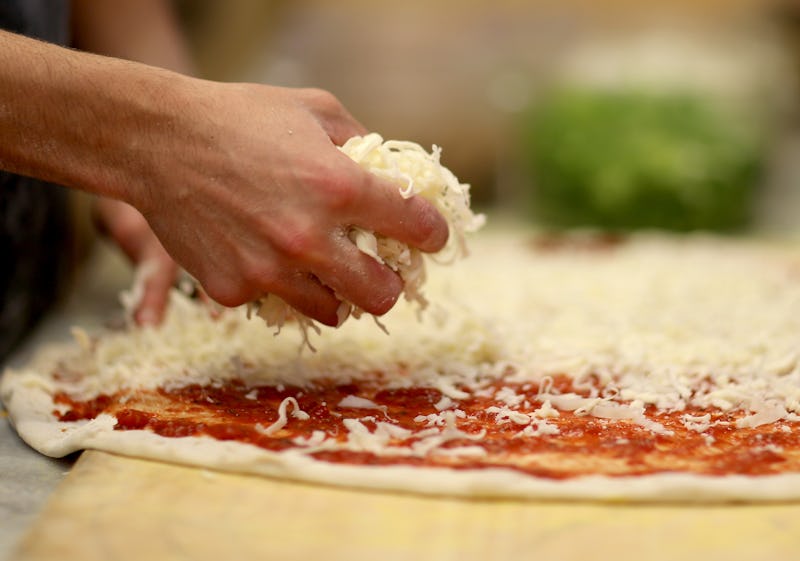 Joe Raedle/Getty Images News/Getty Images
Forget Christmas, forget birthdays, forget Halloween, forget National Kitten Day and the Fourth of July, National Cheese Pizza Day is the best holiday of all time — I'm not gonna let you finish! On Wednesday, September 5, cheese pizza is what's for dinner (and breakfast and lunch, if you're willing). Aside from eating as much cheesy toasty goodness as you can handle, you'll want to collect some pizza Instagram captions for National Cheese Pizza Day 2018, because if you don't post a picture, did you even eat a slice?
Considering the fact that pizza is the most popular Instagrammed food on the planet, you're going to need an epic caption to make your photo stand out. Especially on a day when literally everyone in your feed will be debuting their holiday slice, a funny or #relatable quote will help your post to get the credit and love it deserves. Here I've rounded up a collection of pizza-themed quotes that are short enough to use in your stories, funny enough to use as captions, and relatable enough to hit the spot. Happy Cheese Pizza Day to you, may you find the cheesiest piece of pizza, and may you take the most epic #foodporn cheese pull shot of your dreams.
"The world is an intense and overwhelming place and we create things like pizza so that being in the world can feel a little less harsh." - Andrew W.K.
"There's no better feeling in the world than a warm pizza box on your lap." - Kevin James
"The radiation left over from the Big Bang is the same as that in your microwave oven but very much less powerful. It would heat your pizza only to minus 271.3 Celsius - not much good for defrosting the pizza, let alone cooking it." - Stephen Hawking
"Pizza makes me think that anything is possible." - Henry Rollins
"You can do irrefutably impossible things with the right amount of planning and support from intelligent and hardworking people and pizza." - Scott M. Gimple
"I think one of my favorite things to do is just lock myself up in a small room and listen to music and watch films for a day. Also I just like seeing my friends. We have pizza parties which means I get four friends round, we eat a pizza and we're really lazy and we play PlayStation." - Daniel Radcliffe
"I'd rather have leftover pizza than leftover feelings." - Sarah Burgess
Those pizzas I ate were for medicinal purposes." - Amy Neftzger
"My love is pizza shaped. Won't you have a slice? It's circular, so there's enough to go around." - 
Dora J. Arod
"Anyone who says that money cannot buy happiness has clearly never spent their money on pizza." - Andrew W.K.
"The perfect lover is one who turns into a pizza at 4:00 a.m." - Charles Pierce
"I want pizza with my face on it." - Jennifer Lawrence
"Pizza is like the entire food pyramid!" - Madeline Oles
"You better cut the pizza in four pieces because I'm not hungry enough to eat six." - Yogi Berra
"I would never win an award for not loving pizza." - Dwayne Johnson
"The closest thing I use to beauty products is the grease on the pizza from John's Pizzeria." - Mark Feuerstein
"I love pizza. I want to marry it but it would just be to eat her family at the wedding." - Mike Birbiglia
"But magic is like pizza: even when it's bad, it's pretty good." - Neil Patrick Harris
"Every pizza is a personal pizza if try hard and believe in yourself." - Bill Murray
"That was one of the best pizzas I have ever eaten in my life. The cheese was so good it made me faint." - Elvis Presley