Here's What It Looks Like When 2,000 Americans Don't Have Health Care (Just Imagine When There Are 32 Million)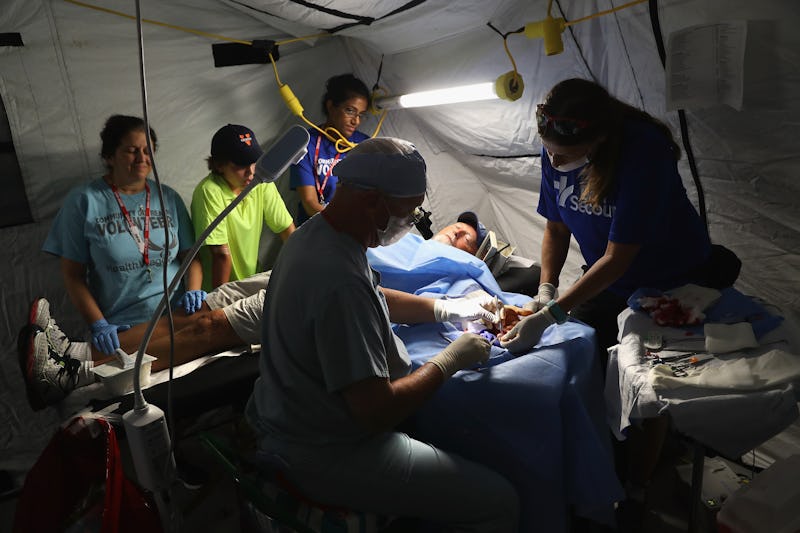 John Moore/Getty Images News/Getty Images
The country's largest free, pop-up medical clinic opened its doors over the weekend to more than 2,000 people lacking access to basic health services. Photos of the Remote Area Medical Expedition, held at a county fairground in a small town in Virginia, illustrated a huge draw of folks from across the Appalachia desperate for medical assistance.
People sought out treatments ranging from dental procedures to eye exams in makeshift examination rooms set up in tents and sheds across the fairground.
Even with the implementation of the Affordable Care Act four years ago, 29 million people across the country still lack health insurance — a figure that will only skyrocket if the GOP successfully repeals and replaces Obamacare. On Tuesday, Senate Republicans will take a procedural vote that, if it goes in their favor, could pave the way for a repeal.
Senate Majority Leader Mitch McConnell needs 50 out of 52 Republican Senators to vote in favor of repeal. If the GOP successfully repeals Obamacare without a replacement, the Congressional Budget Office predicts 32 million Americans could lose health insurance.
In Virginia, the situation is especially dire: the state opted not to expand Medicaid to childless adults among the working poor. As a result, many low-income people struggle to afford the costs to access healthcare. Despite this, the region still voted overwhelmingly for President Trump.
Patricia McConnell told The Washington Post that she drove eight hours from her home in Maryland to attend the clinic and have four teeth pulled. McConnell, who is disabled and voted for Trump, said that she does have health insurance, thanks to Medicaid, but the plan doesn't include dental services.
Gov. Terry McAuliffe of Virginia told The New York Times that if the Republican-controlled General Assembly in Virginia's State Capitol expanded Medicaid, 400,000 low-income Virginians would receive critical assistance.
"The people of this area have been told by the politicians and President Trump that coal is coming back. They believe that. They've been told that Obamacare is no good. They believe that. They believe that Trump is going to bring them Trumpcare," said Dr. Joseph Smiddy, a lung specialist who volunteers at the clinic, in an interview with The New York Times.
"We all know when we take 32 million people out of the system, that these people will be the first to go," Dr. Smiddy added.
Only sixteen percent of patients at the clinic were employed full-time, 25 percent were disabled, and 92 percent were white, according to data collected by Remote Area Medical.
On Monday, Trump mistakenly claimed that Obamacare has been wreaking "havoc" on Americans for "17 years," even though the law was only passed in 2010.
"For the past 17 years, Obamacare has wreaked havoc on the lives of innocent, hard-working Americans," he said in a speech at the White House that berated Republicans for failing to repeal and replace the Affordable Care Act — which he also called a "nightmare" in that speech — thus far.
As the GOP continues to bicker over healthcare, and Trump tweets about the need to "end the Obamacare Nightmare," scores of sick and disabled people from the country's most rural regions will continue to do whatever it takes to seek relief.