How Democrats' Fundraising Could Give Them An Edge In Some Of The Most Crucial Races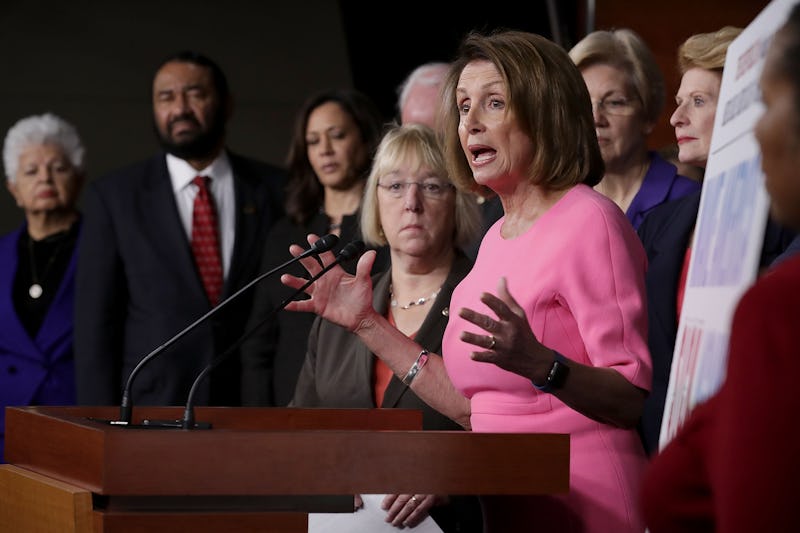 Chip Somodevilla/Getty Images News/Getty Images
As midterm elections draw nearer, 2018 midterm fundraising numbers suggest Democrats may have an edge over Republicans in a host of key races. As USA Today reported, Democratic candidates have recently significantly out-raised Republican contenders in 30 House races that are viewed as tossups between the two parties, potentially increasing the chance for Democratic victory.
USA Today further broke down the fundraising numbers to illustrate the vast fundraising disparity between the two parties. As the outlet reported, in the aforementioned House races, some Democratic candidates' fundraising in a three-month period was two or more times that of Republican candidates. This fundraising difference is especially notable considering that Republicans are incumbents in 21 of these races. Historically, incumbents are far more likely to win elections, the Washington Post explained.
Politico reported that Republican fundraisers very aware of this financing disparity — and are strategizing to counter it as much as possible. Ken Spain, a former National Republican Congressional Committee staffer, touched on this topic with the outlet, saying:
The Democratic fundraising surge is emblematic of the intensity we have seen mounting for some time now ... The only thing the NRCC [the National Republican Congressional Committee] and the outside groups can do at this point is to do what they are currently doing – consolidate resources, cut bait in unwinnable districts and build a firewall that can hopefully hold through Election Day.
The New York Times reported that Democratic candidates have not only outpaced Republicans in fundraising in recent months, but also over time — since the 2016 elections, to be precise. As the paper described, in 32 of the 45 closest races for the House of Representatives, Democrats have raised significantly more than Republicans. Indeed, in these races, the total fundraising margin (which has been measured since Nov. 2016) is $154 million to $108 million.
In order to regain control of the House, Democrats need to win at least 23 seats that are currently held by Republican incumbents. While increased funding certainly does not guarantee victory, it often does help increase candidates' chances of winning. As Bob Biersack, a campaign finance expert, described to the New York Times, "You don't buy your way into office, but this kind of money makes victory possible in scenarios where it otherwise might not have been."
One example of a race that epitomizes the fundraising disparity between the two parties is that of the 3rd District in Iowa, as USA Today described. Cindy Axne, the Democratic challenger, raised over $2.5 million in the third quarter alone, compared to the over $600,000 raised by incumbent Republican Representative David Young. Axne also spent almost double what Young spent on campaigning during that same quarter ($1.7 million to $900,000). Young has served in Congress for two terms, though his race against Axne is considered a toss-up, according to Real Clear Politics.
Fundraising disparities have also potentially caused difficulties for Republican incumbents in other races as well. As CBS reported back in September, the Congressional Leadership Fund (CLF), a PAC that works with Republican leadership in the House, stopped funding two Republican incumbents, Representative Mike Coffman of Colorado and Representative Mike Bishop of Michigan. As Politico reported, their Democratic challengers, Jason Crow and Elissa Slotkin, have significantly out-raised the two men. CBS suggested that the CLF ending funding in these races could mean that the GOP is accepting them as likely losses. However, CBS also noted that the National Republican Congressional Committee is still spending money in Bishop's district, meaning that the party has likely not completely ruled out that race.
Overall, it seems as though Democrats' fundraising successes could give them an edge in the midterm elections, especially when it comes to obtaining a majority in the House of Representatives. Notably, though, strong campaign financing does not guarantee victory, as voters will make the final determination for candidates when they head to the ballot box on Nov. 6.