Protests Against Trump's Wall Could Be Happening Near You This Presidents Day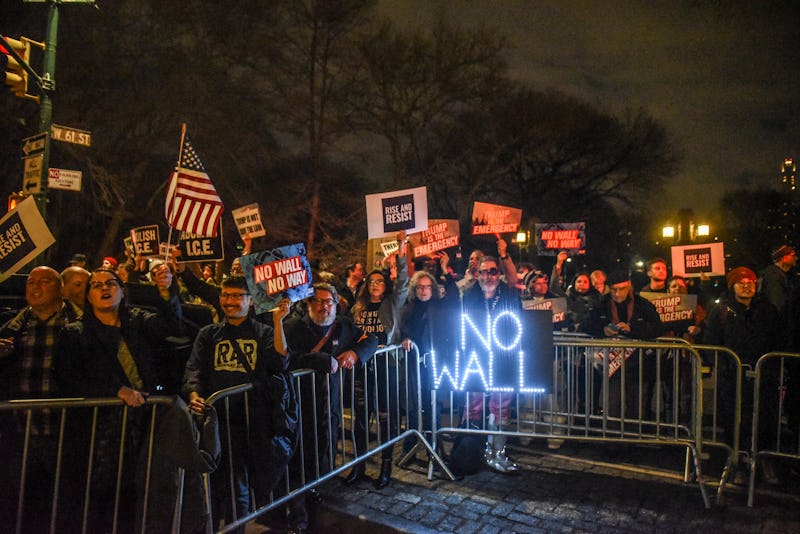 Stephanie Keith/Getty Images News/Getty Images
On Monday, to coincide with 2019 Presidents Day, protests against Trump's wall will take place around the country in response to him declaring a national emergency. Social justice activism groups Indivisible, Win Without War, and MoveOn.org, along with others, have a map of the scheduled protests, and as of Sunday evening, there are more than 250 around the country.
"We are mobilizing on Monday (Presidents Day) with nonviolent rapid-response events to stand up to defend our democracy and immigrant, Muslim, black, and brown communities from Trump's dangerous national emergency power grab," MoveOn.org's site states.
The protests are in response to Trump's move to declare a national emergency along the southern border on Friday, saying there was "an invasion of drugs and criminals" in states near Mexico. "We're going to confront the national security crisis on our southern border, and we're going to do it one way or the other," Trump said in a statement, according to The New York Times.
USA Today reported that a national emergency declaration, along with "other measures", could free up to $8 billion for Trump's plan to build a border wall. During the longest government shutdown in history, Trump demanded more than $5 billion to build a wall, one of his central campaign promises.
Many of Monday's events will start at noon in their respective locations, according to TruthOut. Previous rallies staged by this coalition of social justice groups have included rallies as well as a march component, but attendees should check with the local organizers for schedule and what to expect.
The multi-city idea developed in a similar fashion to previous anti-Trump rallies. Emma Einhorn, campaign director for MoveOn told TruthOut that Monday's actions will follow the same energy as those actions.
"The American people demanded a course correction in the 2018 election, and poll after poll reaffirms a majority want to build an America that welcomes immigrants and people seeking asylum," Einhorn told TruthOut. "MoveOn's millions of members have continued to act alongside immigrant communities by taking hundreds of thousands of actions, including opposing Trump's Muslim Ban, defending immigrants who Trump put into risk of deportation by ending DACA and TPS, and standing with all immigrants facing deportation."
These aren't the first anti-Trump protests to take place on Presidents Day. In 2017, there were a series of protests across the country called Not My Presidents Day. NBC News estimated that thousands attended Not My Presidents Day rallies in major cities like Atlanta, Los Angeles, and New York. In fact, the New York protest specifically congregated outside the Trump International Hotel near Columbus Circle in Manhattan, according to NBC News.
Olga Lexell — an organizer of the rallies in New York, Los Angeles, and Chicago — told CNN in 2017 that the rally in mid-February was to "keep the momentum" between the Women's March in January and the Tax Day March in mid-April. "I feel like we are getting that done. I feel like this whole movement in general has been successful," Lexell told CNN.