21 Cheap Gifts For Your Brother In 2016 That Are Still Personal & Fun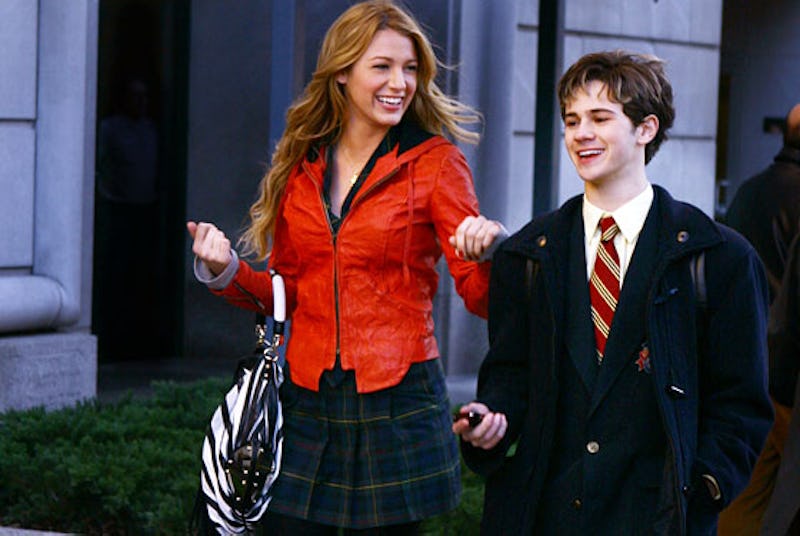 If you give your brother a pair of faux leather gloves every holiday and he gives you one of those gift certificates you buy in-line at the grocery store, you're well aware of the struggle of sibling gifts. There's this internal conflict that arises; you both want to get them something you know they'd love, and you want to save money and give them a card that says IOU. Because, #family. But there are plenty of cheap gifts for your brother that you can get without breaking the bank, that still make him appreciate you put some thought into making it personal.
Besides, your brother doesn't want you to sell the shirt off your back so that you can leave something for him under the tree, but he also probably doesn't want another pair of gloves. Because think about it, how many times have you seen him even wear gloves? He probably just regifts them to his friends anyway.
This year, get your brother something that he'll love and actually use. Get him something that will inspire him to step up his gift giving game. You know, get him the types of gifts you want him to give to you!
The Hungover Cookbook
It's pretty self-explanatory, and it's pretty obvious that this cookbook will get used more than any others. You don't have to be hungover to enjoy the delish recipes in this book.
Hungover Cookbook, $10, Mod Cloth
The Tao Of Bill Murray
Yes, this exists, and it might be the only book your brother reads all year. It's funny, it's light, it's seasonally on-point.
The Tao Of Bill Murray, $18, Mod Cloth
Bike Repair Kit
If your brother rides a bike, this is a staple kit that should always be with him while he's riding. It's compact and straightforward.
Bicycle Repair Kit, $30, Mod Cloth
Classy Flask
You can never have enough swanky flasks. This smooth, oval booze vessel is perfectly discrete for holiday parties, if you know what I mean...
Oval Flask, $40, Mod Cloth
Hot Sauce Kit
This creative gift not only gives your brother some quality hot sauce, but it gives him the tools to develop a new hobby. Suggest making it together for an excuse to hang out.
So Spicy Hot Sauce Kit, $50, Mod Cloth
Nail Kit
He's more likely to use these nail clippers than the ones from the drugstore that are rusty and stuck to the shelf in the bathroom.
Manicure Kit, $25, Mod Cloth
Proper Beanie
This wool-blend beanie is stylish but will also actually keep his head warm, so he's likely to use it quite a bit.
Donegal Edward Hat, $39, Club Monaco
Toasty Socks
These are super festive and cozy. They're great for around the house and when he's feeling like amping up his holiday dress sock game at work.
Anonymous Ism Fair Isle Grade, $26, Club Monaco
Wool Scarf
This scarf is super warm and chic. And it's totally timeless — he can wear it for years.
Abraham Moon For J.CREW, $59, J. CREW
Fancy Slippers
These cozy slippers are a mix of suede and leather, and are probably fashion-forward enough to wear out of the house.
Suede And Leather Slippers, $59, J. CREW
Beer Bottle Hanger
This innovative kitchen feature is a magnetic strip that you attach to your fridge, so that you can hang your beer bottles and leave room for the important stuff.
BottleLoft, $38, UncommonGoods
Men's Hygiene Kit
A unique and manly mix of scrubs, salves and soaps for the brother who hates anything that smells remotely like fruit or vanilla.
Working Man's Hygiene Kit, $50, UncommonGoods
Shoe Shine Kit
All guys who wear nice shoes need a shoe shine kit, but most of them probably don't have one at home. They either go somewhere to get it done or they walk around with scuffs. This will fix that. Plus, it's kinda fun to use.
All Natural Shoe Shine Kit, $55, UncommonGoods
Wool Runners
If you're looking to splurge and seriously impress your brother this year, these wool sneakers will do the trick. There's nothing like them!
Allbirds Wool Runners, $95, Allbirds
The OG Nintendo
Talk about throwback! This gem will bring back some major nostalgia and give you and your brother to do together over the holidays.
NES Classic Edition, $60, Nintendo
Tetris Lamp
Sure, it looks cool — but what's super cool about this gift is that the lamp is interactive, and you can stack the pieces and move them around.
Tetris Stackable LED Desk Lamp, $34, Think Geek
Lightsaber Chop Sticks
This is simply genius. Even if your brother doesn't like sushi, I'm sure he'll swap out forks for this gem.
Star Wars Light Up Chop Sticks, $15, Think Geek
Star Trek Sweater
For the Trekkie brother, this is the perfect holiday gift. You can't even tell it's Star Trek from far away, if the two of you decide to go boldly where no man has gone before.
Star Trek TOS Ships Holiday Sweater, $30, Think Geek
BB-8 Car Charger
You can never have enough car chargers, and who doesn't love BB-8?!
Star Wars USB Car Charger, $20, Think Geek
3Doodler
Doodling is no longer for kids. This 3D doodler pen is super Jetsons and super easy to use. Your brother will love it.
3Doodler Start Kit, $49, Think Geek
Images: The CW, Mod Cloth, UncommonGoods, Nintendo, Think Geek, Club Monaco, J.CREW