21 First-Time Marathoners Share Their #1 Tip For Making Running More Fun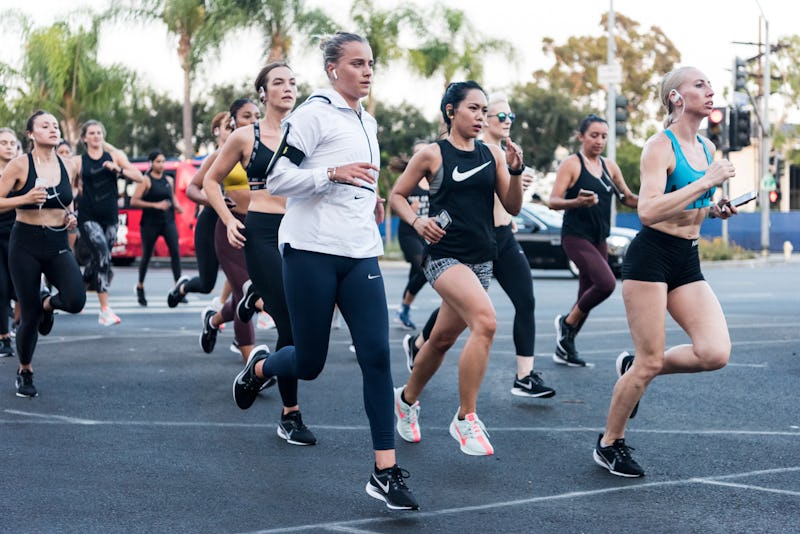 John Jefferson
On a wet, rather ominous-looking morning, 35 women huddled around each other in Chicago's Grant Park — myself included. Draped in ponchos, we nervously wiggled our toes in our sneakers, ready to embark on something we hadn't ever done before. Thunderous clouds loomed over our heads, but no amount of rain could dampen our spirits. We had spent the last four months together as part of the Nike Women Marathon Project, dedicating every waking (and sleeping) moment for this morning. We were ready to run our very first marathon, and nothing could stop us, especially not a few raindrops or puddles.
But we didn't always feel this ready. There were countless moments of doubt and fear throughout our grueling training process, regardless of our running levels. Some of us had run half marathons before, but many others hadn't run farther than three miles in our entire life. The idea of tackling 26.2 miles in one day was beyond daunting — it was seemingly impossible. However, with the guidance of our coaches Blue Benadum and Bec Wilcock (who have run more than 90 marathons, ultra marathons, triple marathons, and ultra relays combined), we were able to push through our uncertainties, learning lessons that not only prepared us for the starting line that morning, but made us better runners in general.
Whether you're gearing up to run your first marathon or running for the first time ever, my fellow first-time marathoners and I are sharing some important tips we want you to remember along your journey.