21 Inspirational Instagram Captions To Post On Giving Tuesday This Year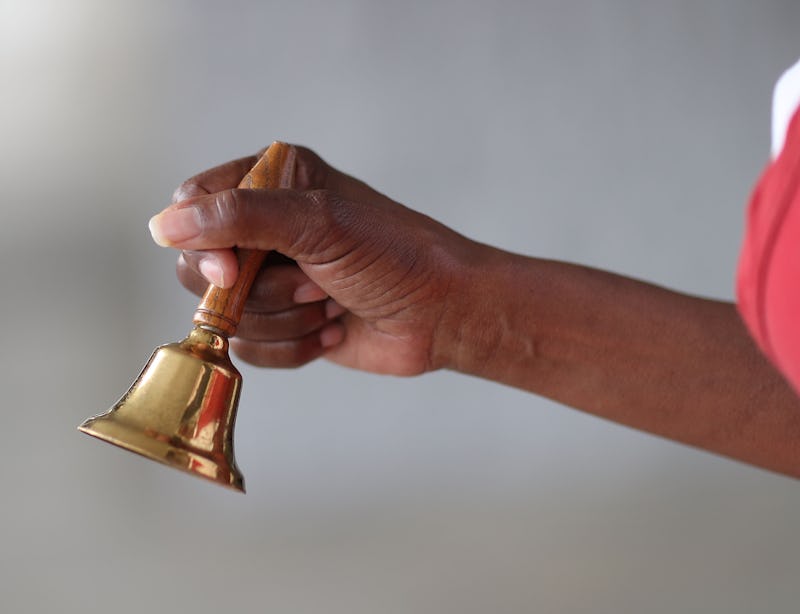 Joe Raedle/Getty Images News/Getty Images
Before we have a chance to recover from our turkey induced sleepiness, we're enticed out of bed for Black Friday and Cyber Monday deals. While enamored with 20 percent off and free shipping, the meaning of the holiday season can be lost in a dash to the last electric kettle on sale. Enter Giving Tuesday, a campaign that revitalizes what this season is all about. You might want to spread the good vibes you're experiencing to your social media following. Why not have some inspirational Giving Tuesday 2018 Instagram captions in your back pocket? It might just ~inspire~ your friends to join in on the giving.
Now in its seventh year, #GivingTuesday will take place on Nov. 27. The mission is in the hashtag. But the official website eloquently elaborates, "#GivingTuesday connects diverse groups of individuals, communities and organizations around the world for one common purpose: to celebrate and encourage giving." Wherever you are, there are plenty of ways to participate in giving.
Whether you're donating your time by volunteering or your money to charitable organizations, the act of giving is certainly sharable content. You'll want to plaster the ways your getting involved in #GivingTuesday all over your Instagram. Get all your Instagram followers motivated and inspired to give back on Nov. 27 and beyond.
"Giving is the master key to success, in all applications of human life." — Bryant McGill
"Remember that the happiest people are not those getting more, but those giving more." ― H. Jackson Brown Jr.
"For it is in giving that we receive." — Francis of Assisi
"Since you get more joy out of giving joy to others, you should put a good deal of thought into the happiness that you are able to give." ― Eleanor Roosevelt
"The wise man does not lay up his own treasures. The more he gives to others, the more he has for his own." — Lao Tzu
"We make a living by what we get. We make a life by what we give." ― Winston S. Churchill
"No one is useless in this world who lightens the burdens of another." ― Charles Dickens
"Nothing else in all life is such a maker of joy and cheer as the privilege of doing good." — James Russell Miller
"It is every man's obligation to put back into the world at least the equivalent of what he takes out of it." ― Albert Einstein
"The best things to do with the best things in life is to give them away." — Dorothy Day
"When we give cheerfully and accept gratefully, everyone is blessed." — Maya Angelou
"Those who are happiest are those who do the most for others." — Booker T. Washington
"Think of giving not as a duty but as a privilege." ― John D. Rockefeller
Jr.
"I have found that among its other benefits, giving liberates the soul of the giver." ― Maya Angelou
"The best way to find yourself, is to lose yourself in the service of others." — Mahatma Gandhi
"Giving is not just about making a donation. It is about making a difference." — Kathy Calvin
"When you learn, teach. When you get, give." — Maya Angelou
"It's not how much we give, but how much love we put into giving." — Mother Teresa
"There are those who give with joy, and that joy is their reward." — Khalil Gibran
"The degree of loving is measured by the degree of giving." — Edwin Louis Cole
"To do more for the world than the world does for you – that is success." — Henry Ford