These 21 Nasty Women Are Leading The Resistance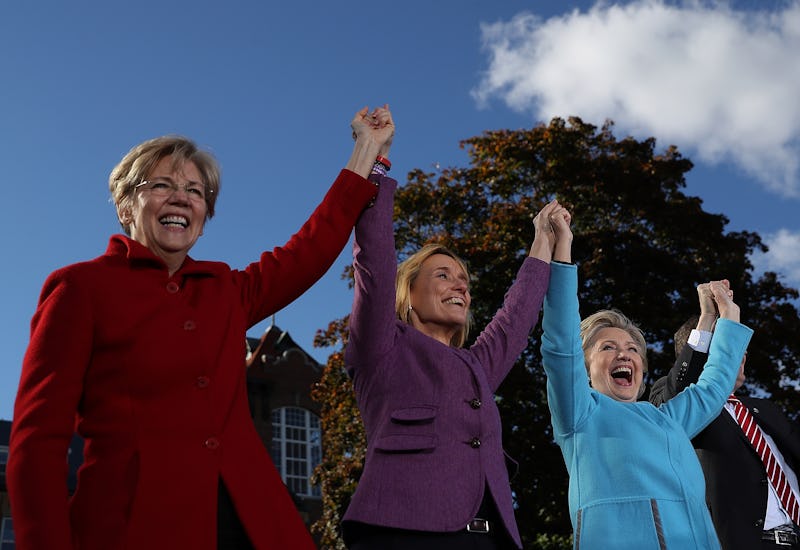 Justin Sullivan/Getty Images News/Getty Images
Massachusetts Sen. Elizabeth Warren is in the news for resisting the confirmation of Attorney General Jeff Sessions; Republicans may have silenced her on the Senate floor, but her message has been heard loud and clear. And she's not alone — there are so many other "nasty women" who are resisting right now.
Senate majority leader Mitch McConnell described the decision to silence Warren like this: "She was warned. She was given an explanation. Nevertheless, she persisted." And now the words that were meant to disparage Warren's actions have become a rallying cry for feminists. "Nevertheless, she persisted," is a phrase that can be used to describe the existence of women and feminine-identifying people everywhere; many times, just showing up is an expression of resistance, such as in the case of activist Malala Yousafzai, who has continued speaking up for women's rights even after an attempt on her life.
Pretty much as far back as anyone can remember, women have been told to make ourselves smaller, to talk less, and to be more obedient. But these brave women are making it clear that women and members of traditionally marginalized communities will not stand for being treated like second-class citizens. Regardless of the circumstances, they are persisting.
Sen. Elizabeth Warren
You had to know she would be part of this. Warren is known for her outspokenness, especially in the face of injustice, and her actions on the Senate floor that night were an incredible act of resistance.
Laverne Cox
Laverne Cox is known for her acting on Orange Is The New Black, but the actress is also a powerful LGBT rights activist.
Sen. Kamala Harris
The California senator is a proponent of many important feminist causes, including civil rights, reproductive rights, and combatting climate change, to name just a few.
Cecile Richards
Many Republicans are actively trying to defund Planned Parenthood, but its president isn't letting the organization go down without a fight. Richards stands for reproductive rights, especially for low income people and people of color.
Hillary Clinton
The former secretary of state may not have won the presidency, but she's shown us she isn't done with her public service career just yet. She recently gave a video statement for the MAKERS conference, encouraging women everywhere to make a difference in the world.
Naomi Klein
We may have a climate change skeptic as the head of the Environmental Protection Agency here in the United States, but Canadian author and filmmaker Naomi Klein is continuing her worldwide activism to fight global warming while exploring the links between climate change and capitalism.
Ibtihaj Muhammad
Ibtihaj Muhammad is an Olympic medal-winning fencer who incidentally was the first Muslim American woman to wear a hijab while competing at the Olympics. Muhammad recently shared that she was detained by U.S. Customs. She discussed Trump's travel ban and how it impacts her as a Muslim woman with POPSUGAR, saying, "I know that people talk about this having a lot to do with these seven countries in particular, but I think the net is cast a little bit wider than we know. And I'm included in that as a Muslim woman who wears a hijab."
Jessica Williams
You may have heard about the uncomfortable dialogue at a female filmmakers lunch where Williams, a comedian and former Daily Show correspondent was basically told her experience as a black woman — rather than just a woman — was invalid. But despite all of this, Williams kept her head up and continued to resist.
Rihanna
Rihanna is known for her hit music and her strong personality, but she's also a philanthropist through her the Clara Lionel Foundation, which she founded in 2012. She was also spotted at the New York City Women's March.
Sally Yates
Former Acting Attorney General Sally Yates was fired for refusing to go along with Trump's travel ban. And apparently it's not the first time she stood up to a politician; no, she has a long history of that.
Chrissy Teigen
Model Chrissy Teigen may well be the queen of Twitter clapbacks, from everything to her post-baby body to civil rights. Also, she's apparently been trolling President Donald Trump for six years, which is quite the accomplishment.
Beyoncé
Beyoncé needs no introduction. The singer keeps her private life famously guarded; she rarely gives interviews. But she's been out here contributing to movements like Black Lives Matter, the Women's March on Washington, and generally making important feminist statements through her art.
Ellen DeGeneres
"I don't get political," comedian and talk show host DeGeneres said, before completely taking down Trump's travel ban on people from seven majority Muslim countries.
Constance Wu
Besides owning an adorable bunny and being all-around hilarious, actress Constance Wu of Fresh off The Boat isn't afraid to risk her career for the sake of speaking up against injustices.
Rowan Blanchard
Blanchard, an actress best known for her time on Girl Meets World, is so young, yet so woke. She's an intersectional feminist, an activist, and her Twitter feed is full of resistance.
Amandla Stenberg
Stenberg, an actress, identifies as non-binary and an intersectional feminist. She made a video called "Don't Cash Crop My Cornrows" about cultural appropriation, and she is a prime example of Black Girl Magic.
Janet Mock
Mock is a writer and transgender rights activist. She was a speaker at the Women's March on Washington, and she has released a book about her experiences titled Redefining Realness.
Michelle Obama
Former First Lady Michelle Obama was the first black First Lady — and the most educated. Obama's words and campaigns have inspired and comforted so many. It's hard to forget the iconic, "when they go low, we go high" speech.
Malala Yousafzai
I mentioned the amazing Malala Yousafzai earlier, but she really is amazing. Despite threats on her life, and actual guns held to her face, Yousafzai continued her resistance and her pursuit for equality and education for women. Not to mention she's the youngest ever Nobel laureate.
Aparna Nancherla
Nancherla is a stand-up comedian who isn't afraid to take on racists and misogynists on through Twitter clapbacks. She's also spoken candidly about depression and race.
Leslie Jones
Jones is a comedian and actress known for her work on Saturday Night Live and the new Ghostbusters. She was also the victim of a phone hack and a hate campaign based in misogyny and anti-blackness. Still, Jones kept her head held high and faced her situation with positivity. "At a certain point you stop being embarrassed and start being you," she said on SNL.
This list is by no means comprehensive; women and feminine-identifying people all around the world consistently stand up for themselves and for each other. Hopefully these amazing women will inspire you to keep your head up, and to keep persisting.