21 Christmas Instagram Caption Ideas That Are Actually Unique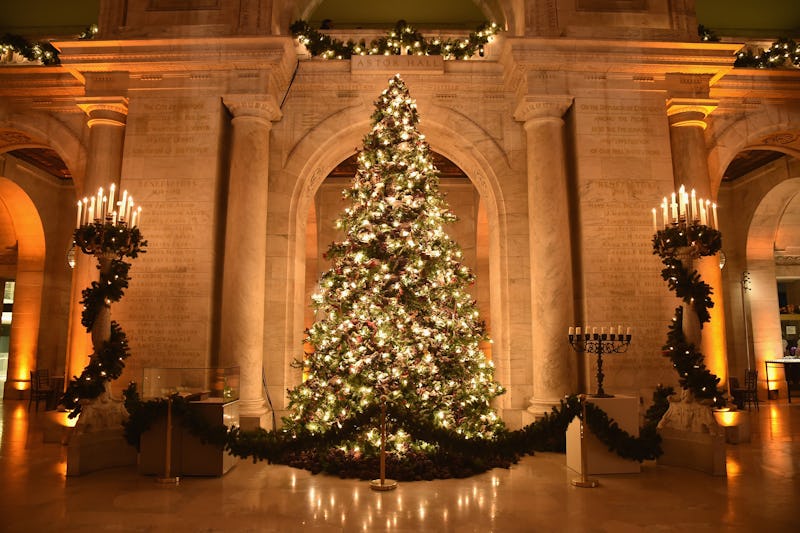 Bryan Bedder/Getty Images Entertainment/Getty Images
If there's anything that's harder than picking out a filter for your photos, it's thinking up a caption. So, if you're in need of a little Christmas caption inspiration, then these 21 unique Christmas 2017 Instagram caption ideas should be of some major help, as they quickly and elegantly get to the heart of Christmas in only a few words.
There's a lot to be said about Christmas, and whether you're posting a photo of a tree, a gift, a party, a stocking, a sled, or a plate of cookies (with a glass of milk), there's a quote in this batch of Instagram caption ideas that will do your image justice. You'll find the likes of Charles M. Schulz, Bob Hope, and Charles Dickens in this lineup of thoughtful quotes below.
Now enough chit chat, it's time you get to reading. You're going to need all the extra time you can get this holiday season to spread love in a world that needs it more than ever. Don't waste anytime concerning yourself over Instagram captions — instead, let these guys do the work for you.
1. "Christmas waves a magic wand over this world, and behold, everything is softer and more beautiful." — Norman Vincent Peale
2. "Christmas is doing a little something extra for someone." — Charles M. Schulz
3. "Gifts of time and love are surely the basic ingredients of a truly merry Christmas." — Peg Bracken
4. "The best of all gifts around any Christmas tree: the presence of a happy family all wrapped up in each other." — Burton Hills
5. "Christmas isn't a season. It's a feeling." — Edna Ferber
6. "Every gift which is given, even though is be small, is in reality great, if it is given with affection." — Pindar
7. "Christmas is the day that holds all time together." — Alexander Smith
8. "Christmas Eve was a night of song that wrapped itself about you like a shawl. But it warmed more than your body. It warmed your heart...filled it, too, with melody that would last forever." — Bess Streeter Aldrich
9. "My idea of Christmas, whether old-fashioned or modern, is very simple: loving others." — Bob Hope
10. "I will honor Christmas in my heart, and try to keep it all the year." — Charles Dickens
11. "Christmas is a bridge. We need bridges as the river of time flows past. Today's Christmas should mean creating happy hours for tomorrow and reliving those of yesterday." — Gladys Taber
12. "Blessed is the season which engages the whole world in a conspiracy of love." — Hamilton Wright Mabie
13. "At Christmas, all roads lead home." — Marjorie Holmes
14. "Our hearts grow tender with childhood memories and love of kindred, and we are better throughout the year for having, in spirit, become a child again at Christmas-time." — Laura Ingalls Wilder
15. "I truly believe that if we keep telling the Christmas story, singing the Christmas songs, and living the Christmas spirit, we can bring joy and happiness and peace to this world." — Norman Vincent Peale
16. "When we recall Christmas past, we usually find that the simplest things — not the great occasions — give off the greatest glow of happiness." — Bob Hope
17. "Christmas is like candy; it slowly melts in your mouth sweetening every taste bud, making you wish it could last forever." — Richelle E. Goodrich
18. "He who has not Christmas in his heart will never find it under a tree." — Roy L. Smit
19. "Happy, happy Christmas, that can win us back to the delusions of our childish days; that can recall to the old man the pleasures of his youth; that can transport the sailor and the traveller, thousands of miles away, back to his own fire-side and his quiet home!" — Charles Dickens
20. "Christmas! 'Tis the season for kindling the fire of hospitality in the hall, the genial flame of charity in the heart." — Washington Irving
21. "Christmas will always be as long as we stand heart to heart and hand in hand." — Dr. Seuss