21 'Washington Post' Slogan Memes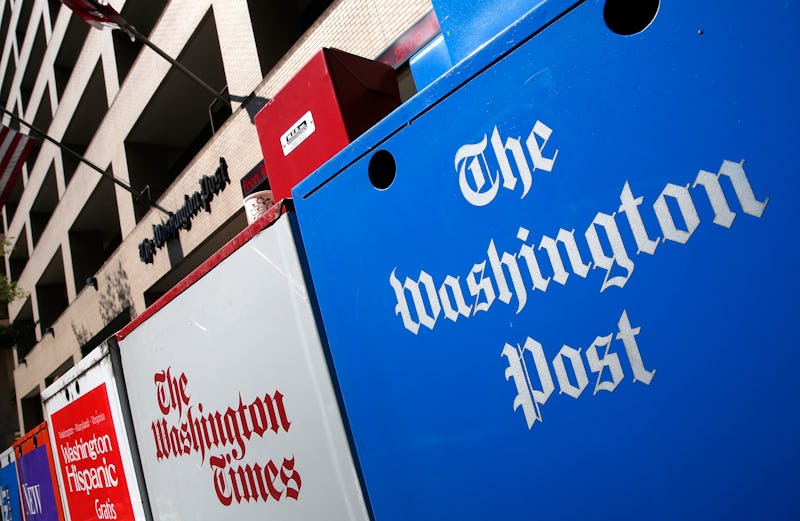 Win McNamee/Getty Images News/Getty Images
If you're an avid consumer of print and digital journalism, then there's a pretty good chance you've already heard about the dramatic four words now included in the Washington Post's masthead. Namely: "Democracy Dies in Darkness." Feels rather appropriate, right? And, just like you might expect, it's generated a fair amount of reaction on social media. Here are some reactions to the Washington Post's new slogan ― as it turns out, a lot of people have opinions on the statement about democracy and journalism.
The change was made on Tuesday, Feb 21, and it didn't take long for people to notice its striking new motto splashed across the masthead. Some have interpreted it as a strictly anti-Trump message, which isn't surprising ― it's now taking center stage just one month into the Trump administration, and the new president is nothing if not hostile to the press. The quote itself is reportedly a favorite of journalist and author Bob Woodward, who comprised one-half of the Post investigative duo that helped exposed the Watergate scandal in the early 1970's, and brought down former president Richard Nixon.
According to The Hill, Washington Post spokesperson Kris Coratti described the new motto as "a good, concise value statement that conveys who we are to the many millions of readers who have come to us for the first time over the last year." Here are some reactions it spurred on Twitter.
1. Democracy Dies In Darkness
2. Nice Try
3. The Bee, Of Course, Flies Anyway
4. Gave Away The Ending
5. Wow, Pretty Dark
6. Excellent New Slogan
7. You Need To Rethink
8. A Strange New Respect
9. Poor D.C. Sports Fans
10. The Best Thing
11. It's Awesome
12. Pay It Now
13. Episode 1
14. There's No Chance
15. Delays Both Ways
16. Heavy Metal
17. #Harambe
18. How Bow Dah?
19. A Lot Of Feelings
20. Welcome
21. RIP
Simply put, a whole lot of people responded to this new, firmly serious-sounding slogan with jokes galore ― more than one person compared it to late-career George Lucas dialogue, which is not exactly a ringing endorsement. Although some, like investigative journalism outfit ProPublica, clearly received it well.
For what it's worth, a great number of Trump supporters have also derided the slogan in non-humorous terms, viewing it (perhaps correctly) as a statement about the president and his well-demonstrated disdain for press scrutiny, and voicing anger over it. Unfortunately for those people, however, they don't have any say-so over the content of the paper's masthead, nor are such criticisms likely to dim the Post's penchant for critical reporting.