22 Of The Best Women's March Sign Ideas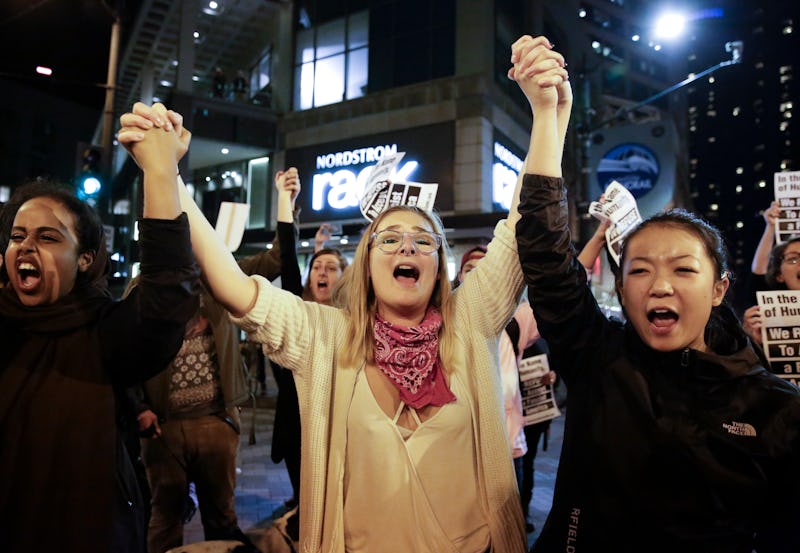 JASON REDMOND/AFP/Getty Images
Headed to a march this weekend? Want to make a sign, but not sure where to start? You're not alone. Thousands of people will be heading to Washington, D.C. to participate in the Women's March on Washington on Jan. 21, while thousands of others will be joining sister marches in cities closer to home. For many, these demonstrations are a critical time to express their feelings of outrage, hope, resistance, and/or solidarity.
In marches and protests, signs are the quickest way to share your message with others in attendance, people bearing witness from afar, individuals with the power to create real change in political spaces and government institutions, or all of the above. If you want to bring a sign to the Women's March but are having trouble deciding on a direction to follow, there's plenty of inspiration out there to help you decide on a sign that is true to your personal perspective and intentions. Here are just some of the millions of excellent sign ideas to be found. In the end, let one question guide you as you begin to make your sign: "Why am I marching?"
Keep It Simple
Don't feel pressure to spend time you don't have on your sign or suddenly transform into a graphic designer. Short, clearly written messages on pieces of cardboard or paper work just fine. And sometimes, the more plain the sign, the more impact it has.
Keep It Short
Use Bold Fonts
Bold typography is an eye-grabber, and just as achievable with scissors and glue or markers as it is with the latest version of Adobe Illustrator.
Express Yourself
Listen to the thoughts and feelings that are inspiring you to march, then let your imagination run wild with them.
Go Pro
Artist Daniela Gilsanz's Women's March on Washington poster comes in two versions and is available for free download online.
This and other political posters are available for download from WokeGiant.com.
Signs like this one are available for download for a small donation at Hello!Lucky.
Get inspired by your favorite artists, or get some help from the many artists and designers who are sharing their women's march designs for free.
Look For Inspiration From The Past
Honor Someone You Admire
Famous quotes that resonate with you are also good options to put on a sign.
Or Call Out Someone You Don't Like
Think Outside The Box
Just because your paper is square doesn't mean your sign has to be.
Tell Your Story
No matter where you're marching, be sure to check out the rules for signs and banners before you go. For example, the Women's March on Washington in D.C. does not allow signs on wooden posts or attached to anything that can be used or construed as a weapon. Have fun with your sign or be serious with it. Put as little or as much time into it as you want. But no matter what you decide to broadcast at the march, make sure the message is true to you.