Twitter Called Out United Airlines By Creating New Slogans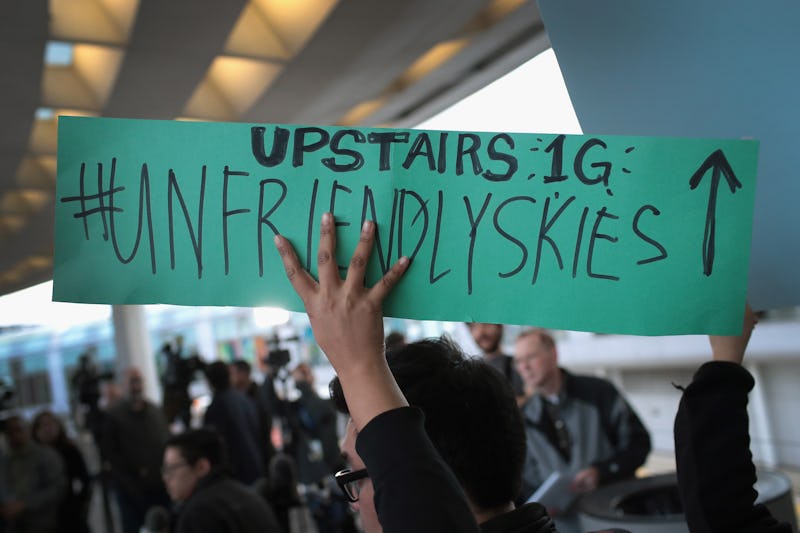 Scott Olson/Getty Images News/Getty Images
Over the weekend, United Airlines got into some hot water over a video that went viral on social media showing a passenger being violently dragged off a plane by security. The video understandably shook viewers and has caused quite a controversy. On Tuesday, Twitter users posted some brash suggestions for the airline's new slogan with the hashtag "United Airlines New Motto."
According to United, on Sunday, Flight 3411 had completed boarding when four United crew members approached gate staff explaining that they needed to be on the flight to Louisville, KY in order to make a downline connection there the next day. The staff asked the seated passengers for four volunteers to de-board the plane in return for compensation from the airline.
When no one volunteered, the staff picked four random people to give up their seats. Three passengers complied, but one, David Dao, refused to leave. Chicago Department of Aviation security officers were called to remove him, and ended up dragging him through the cabin after he refused to get up. He sustained injuries to his face during the incident.
On Monday, United CEO Oscar Munoz released a statement about the incident, but didn't touch on the injured passenger. And in a message to United Airlines' staff, he maintained that "our employees followed established procedures for dealing with situations like this." On Tuesday, however, Munoz released a second statement, saying, "I continue to be disturbed by what happened. I deeply apologize to the customer forcibly removed and to all the customers aboard. No one should ever be mistreated this way. We are going to fix what's broken so this never happens again." He pledged that a review of the incident would be made public by April 30.
The video itself is pretty disturbing, and it's no surprise that people were immediately horrified by the footage. The entire incident has led to some pretty harsh criticism from Twitter in the form of the hashtag.
1. "Hands On Customer Service"
2. "Just Kidding"
3. "Drag And Drop Feature"
4. "We'd Rather Lose Market Value ... "
5. "Drag Me To My Destination"
6. "Fight Or Flight?"
7. "You Should See What We Do To Your Luggage"
8. "Putting The Hospital In Hospitality"
9. "Enjoy Your Fight"
10. "Express Checkout Service"
11. "Everything Is Your Fault"
12. "Don't Make Me Re-Accomodate You"
13. "Board As Doctors, Leave As Patients"
14. "Your Seat No Longer Exists"
15. "We Need Dragging Room"
16. "If You Weren't Afraid Of Flying Before..."
17. "You Carry On, We Carry Off"
18. "We Have An Offer You Can't Refuse"
19. "We Overbooked But You Pay The Price"
20. "The Rules Are Made Up And The Tickets Don't Matter"
21. "Getting Dragged Down The Aisle: Priceless"
22. "You Can Run But You Can't Fly"
Obviously, the United Airlines' treatment of Dao is a serious matter, and the safety of passengers on flights is the most important thing, regardless of whether Twitter users decide to find humor in it.