23 Hilarious "Easy D" Memes & Tweets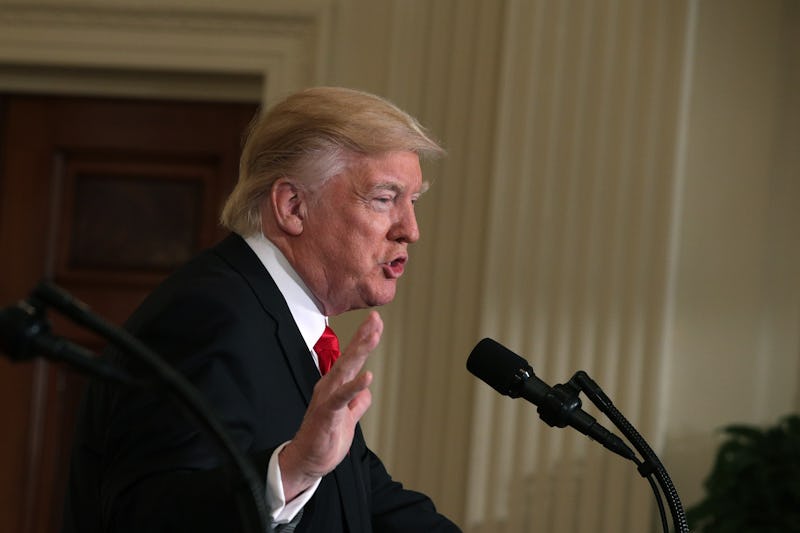 Alex Wong/Getty Images News/Getty Images
Another day, another tweet. That's how it goes under President Donald Trump, who on Feb. 8 took to his favorite social media platform to criticize his nation's foreign policy. The tweet, which reads "Big increase in traffic into our country from certain areas, while our people are far more vulnerable, as we wait for what should be EASY D!" is likely in response to a federal judge halting Trump's executive order barring people from majority-Muslim nations from immigrating to the United States. Now, people are using social media to skewer the president for using the vague but suggestive term "Easy D" in a slew of tweets and memes.
As for Trump's claim that there has been a "big increase in traffic into our country from certain areas," it's not so easy to fact check. The size and time period over which this "big increase" has happened or is happening is unspecified, as are the "certain areas" he mentions. Even the meaning of "Easy D" is up for debate, with some speculating that the "D" stands for "decision" while others are focusing on the fact that the letter is most often used as a sexual innuendo.
Trump and his team have yet to address the confusion around the tweet, but thousands of his followers already have, many in hilarious fashion.
What Does "Easy D" Really Mean?
Many, many people wanted an answer.
Some Think They Know Exactly What "Easy D" Means
And I think you can guess what that meaning is.
"Easy D" Personified
Because "Easy D" could most definitely be a person.
Some Immediately Thought Of Trump's Staff In This Hard Time
How did they let this happen and how are they going to explain this one?
Others Threw In Some Culture References
And Still Others Took "Easy D" Freestyle
Who knew how versatile "Easy D" could be?
In a time where the political climate seems as charged and high-stakes as ever, "Easy D" jokes online are showing that people are taking any opportunities for levity and humor that they can get. "Easy D" jokes will likely continue even after Trump tweets again or comes out to explain what he meant. But for someone who is already redefining what the word "presidential" means, he is still full of surprises of how far outside the box he will go when it comes to his public online statements. Until the next one comes along, "Easy D" lives on.