Brilliant Counter-Protest Signs At Alamo Square That Shut Down Hate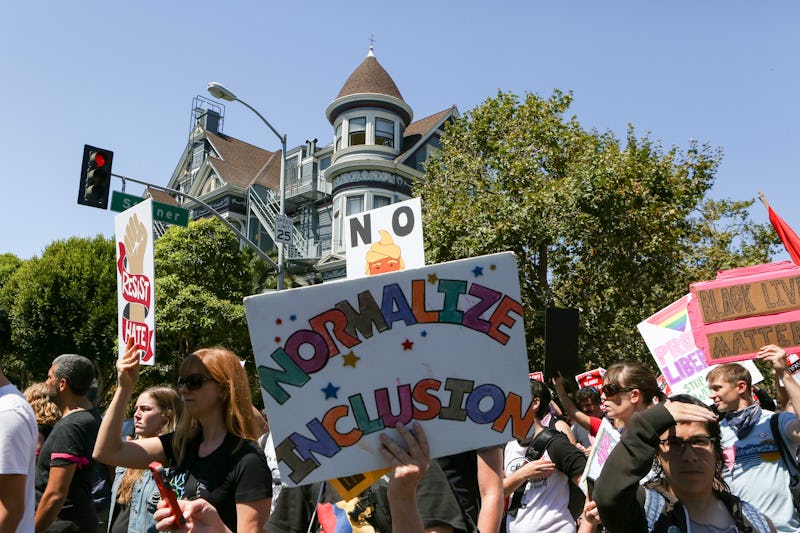 AMY OSBORNE/AFP/Getty Images
Even though the rally they were protesting was canceled, thousands of counter protesters showed up at San Fransisco's Alamo Square Park on Saturday and brought their very best artwork with them. The signs at the San Fransisco rally might be some of the best you've ever seen, so check out these photos below.
The original event was a "Freedom Rally" organized by Patriot Prayer, a right-wing group that claims it's all about promoting free speech. However, with political tensions currently at a high after the white supremacist rally in Charlottesville, thousands of San Fransisco citizens promised to descend on the streets and disrupt the rally.
Patriot Prayer doesn't have a history of being overtly racist, but it has been tied to some white supremacist groups and hate crimes. The white nationalist group Identity Evropa attended one of Patriot Prayer's rallies earlier this month, and back in April, the man who stabbed two people on the train in Portland after they stood up to him for bullying a woman with a hijab attended one of the group's events as well.
The counter-protesters in San Fransisco came out to let the world know what they stand for, and they did a great job. Many of these protest signs are true works of art, which inherently means they have the power to change the world. Take a look at some of the best ones here.