24 Gun Control Laws That Have Failed Since Sandy Hook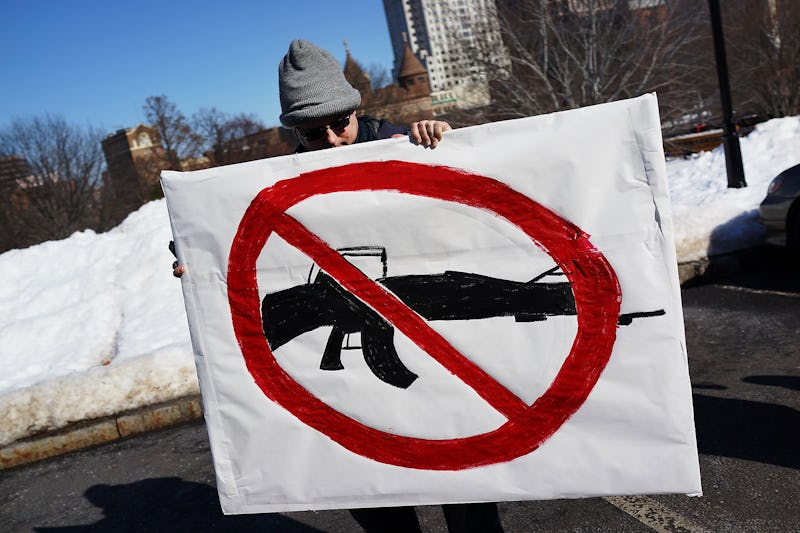 Spencer Platt/Getty Images News/Getty Images
Thursday, Dec. 14 marks the five-year anniversary of the Sandy Hook tragedy, when a gunman opened fire at a Connecticut elementary school, leaving 26 dead. In the wake of the massacre, the United States found itself asking what could be done to prevent another similar mass-killing. Initially, the answer seemed obvious: gun control laws. But they've failed. Even Sandy Hook, years later, has not been enough for Congress to pass meaningful measures. A quick look into congressional archives reveals that, in fact, many more gun control bills are introduced than are even formally discussed.
Immediately after the shooting, President Obama signed a list of Executive Orders, most of which sought to investigate gun deaths or increase communication about existing firearms-related legislation to people like health care providers, law enforcement, and related bureaucratic bodies. In addition to his executive actions, he also issued a list of proposed congressional actions, which encouraged goals like the reinstitution of an assault weapons ban, limiting the type of ammunition available to civilians, and expanding mental health programs.
In reality, dozens upon dozens of pieces of would-be gun control legislation have never seen the light of day, frequently dying in committee. When gun-control bills are voted on, they are almost always struck down, often along party lines. (Democrats tend to support gun control legislation; Republicans tend to oppose it, usually because they believe the legislation at hand stymies the Second Amendment.) Regardless, legislators have continued to propose similar legislation again and again, be it a bump stock ban or a law that would require universal background checks.
Here are some of the bills, aimed at protecting American residents, that never moved forward since Sandy Hook: