24 Million May Lose Their Insurance With GOP Plan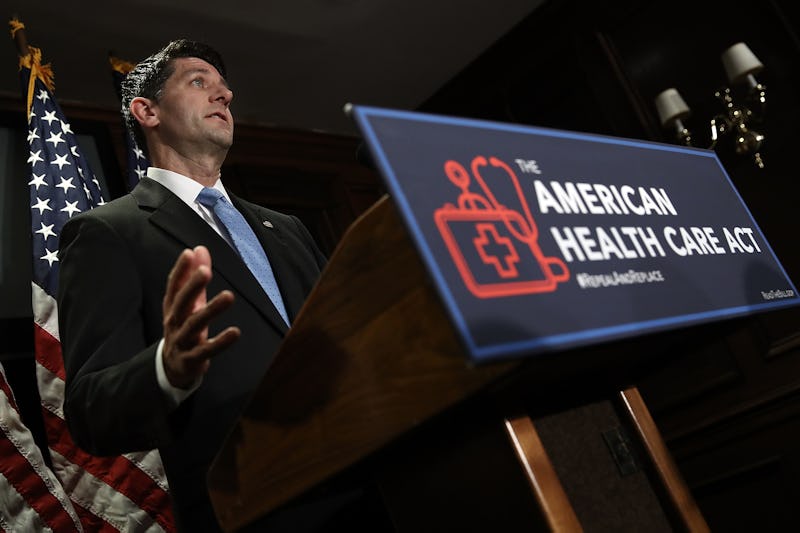 Win McNamee/Getty Images News/Getty Images
On Monday, the nonpartisan Congressional Budget Office (CBO) published a report predicting that 14 million Americans could lose their health insurance under the GOP's proposed Obamacare replacement plan in 2018. The report said 24 million could lose their coverage by 2026. The high rates of insurance loss are "even larger than many analysts had predicted," according to The Hill. The Congressional Budget Office report also predicts that the new plan will increase average premiums for the elderly but decrease them for younger people.
The proposed GOP plan, known as "Trumpcare," "Ryancare," and the American Health Care Act, would repeal many major aspects of Obamacare, including the expansion of Medicaid and the insurance mandate, and would also penalize consumers who allow their coverage to lapse.
Under the current law, around 28 million Americans are uninsured; according to the CBO, Trumpcare would cause that number to increase to 52 million.
The CBO report may bolster arguments against the highly contested bill, which is already opposed by many Republicans for a variety of reasons. The CBO analysis also puts GOP officials in a tricky spot: as the conversation about repealing the Affordable Care Act (ACA) intensifies, its popularity rises. Town halls held by Republican lawmakers across the country turned contentious as supporters of ACA demanded that politicians not vote to repeal their health coverage.
Some Republicans were quick to dismiss the CBO's report. In advance of the CBO release, Wisconsin Congressman and House Speaker Paul Ryan vowed to continue to push the GOP plan. On Monday afternoon, Ryan released a statement highlighting what he saw as the positives in the CBO report:
This report confirms that the American Health Care Act will lower premiums and improve access to quality, affordable care. CBO also finds that this legislation will provide massive tax relief, dramatically reduce the deficit, and make the most fundamental entitlement reform in more than a generation. These are things we are achieving in just the first of a three-pronged approach. It's important to note that this report does not take into consideration additional steps Congress and the Trump administration are taking that will further lower costs and increase choices.
On Monday afternoon, Health Secretary Tom Price sharply criticized the CBO assessment, saying the Trump administration disagreed "strenuously with the report that was put out." That response is unsurprising consider that this week, White House Press Secretary Sean Spicer preemptively dismissed the CBO report as inaccurate — though, as the New York Times noted, the CBO's estimates generally are relatively accurate.