256 Women & Girls Are Accusing Larry Nassar Of Abuse — And There Are Probably More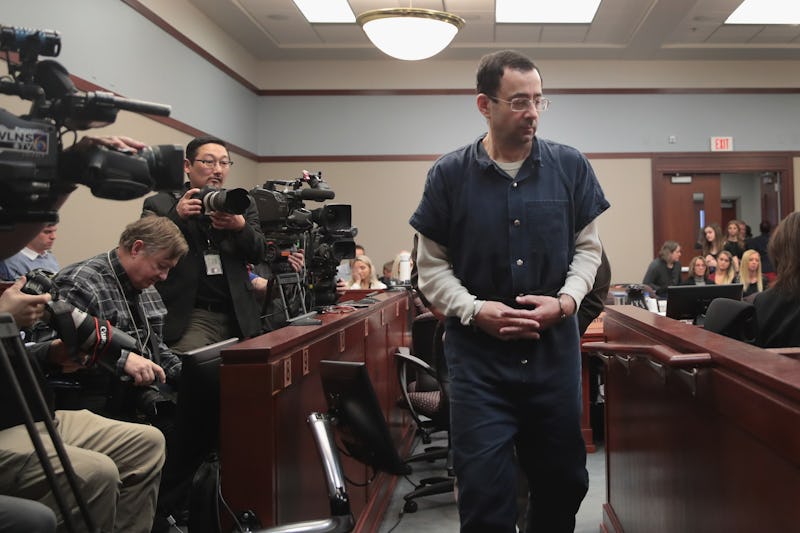 Scott Olson/Getty Images News/Getty Images
Dozens of women lined up in a Michigan courtroom last week to tell Larry Nassar he's a monster. As the former Team USA Gymnastics and Michigan State University doctor began his third criminal sentencing on Wednesday, the judge overseeing the hearing revealed that a total of 265 women have accused Nassar of sexual abuse. That's quite possibly the highest number in the history of U.S. criminal sexual assault cases.
Nassar pleaded guilty to 10 charges of criminal sexual conduct in November, but since his sentencing hearings kicked off, women have continued speaking out about the abuse they say he disguised as normal medical treatment. It all began with Rachael Denhollander, who became the first person to publicly accuse Nassar of abuse in 2016. Last week, she concluded the 156 victim impact statements given at Nassar's sentencing for seven sexual misconduct charges in Ingham County, Michigan. Judge Rosemarie Aquilina sentenced Nassar to 40 to 175 years in prison, telling him, "You do not deserve to walk outside a prison again." Aquilina told Denhollander she's "the greatest person I've ever had in my courtroom."
A final sentencing hearing began Wednesday for the remaining three sexual assault charges in Eaton County, Michigan, and at least 57 more women are expected to give victim impact statements, CNN reports.
The only recent case that compares to Nassar's is that of Jerry Sandusky — the former Pennsylvania State University assistant football coach convicted for molesting young boys. Though Sandusky faced more criminal charges than Nassar, his case involved 10 survivors. That's not to say there weren't more: in fact, child abuse expert Patrick Perion said in a CBS Chicago op-ed that serial sexual abusers abuse about 117 children on average, speculating that the number of children Sandusky abused could be as high as 250. However, Nassar's case is the first time we've seen that many survivors show up to face their abuser.
Key differences in the two cases could have contributed to the disparity, namely that Sandusky was convicted for molesting boys and Nassar for molesting girls. Studies show that men are less likely to disclose that they've been sexually assaulted. There's also the cultural moment to consider: Nassar's hearings happened to take place in the midst of a tidal wave of women speaking out about sexual harassment and assault as part of the #MeToo movement. It's no longer taboo to openly talk about these issues with friends, and seeing so many other brave women speak out about abuse across industries is certainly empowering.
The shocking number of women who say Nassar abused them over the years shed light on how institutions often ignore survivors and protect abusers. Both MSU and USA Gymnastics staffers reportedly learned of complaints against Nassar years ago, yet he remained in a position to abuse young athletes until 2016. Two-time Olympic gymnast Aly Raisman demanded in a letter to the U.S. Olympic Committee last week that any USA Gymnastics staffer who contributed to Nassar's continued employment should be fired.
"Many of the 'shocking and tragic stories' shared by the survivors have directed blame at people who are still working with or for USAG," Raisman wrote. "Some of the survivors spoke about these things for the first time at their sentencing hearings. I suspect there are others who may still come forward, and still others that won't. Regardless, unless you ignore what these survivors are saying, it is clear we still don't know the full extent of the problem or everything that contributed to it."
Regardless of what happens in Eaton County, Nassar looks to be spending the rest of his life in prison. Still, the systemic problems that enabled such widespread abuse remain unaddressed.