27 Valentine's Day Gifts You Can Get For Under $10 That Still Feel Thoughtful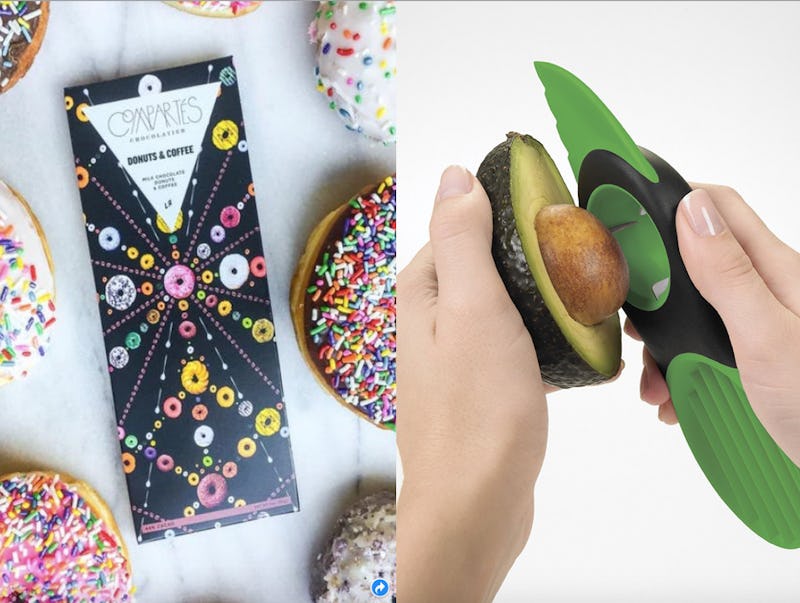 ShopSpring / Amazon
If you're like me, the idea of snagging your loved one(s) Valentine's Day gifts for $10 or less fills you with an odd mix of guilt and glee. Glee because let's be real, the money is tight and the student loan bills are many. Guilt because society tells us that the more money you spend on someone, the more you love them, and therefore $10 doesn't seem like a whole lotta love.
But that's just not true. I've been embracing the beauty of $10 gifts for a couple of years. My spouse and I had on multiple occasions agreed not to buy each other anything for Valentine's Day because it was better for us financially to spend the money we would have spent on gifts by treating ourselves to dinner, or getting something we needed for the house. While this was possibly the most low-pressure version of low-pressure holidays, I missed my Gift List — the tiny notebook I kept in my wallet to mark down things my spouse pointed out at stores throughout the year.
Finally we discovered the happy medium: Setting a spending limit. And though $10 might not seem like a lot, you'd be surprised just how far it can stretch — and how many cool, thoughtful gifts are actually that affordable.
1. Design A Tea
The Design a Tea shop lets you buy a huge canister of custom-blended tea for just $9, and you can choose from flavors like amaretto, passionfruit, pomegranate, and maple to mix into your oolong, black, green, or rooibos base.
2. Chocolate
Donuts & Coffee, $10, Shopspring
While not many items on this list are traditional Valentine's Day gifts, chocolate definitely is, and this gourmet bar "features donuts from the best Los Angeles donut shops broken up and mixed into the most creamy delicious milk chocolate you will ever taste."
3. Daily Essentials Starter Kit From Dollar Shave Club
The Daily Essentials Starter Set, $5, Dollar Shave Club
This toiletry set comes with one of Dollar Shave Club's executive razors, replacement cartridges, and a few of the Club's most essential products. And if your S.O. likes these products, the Club also offers $10 gift cards.
4. An Actual Tree
Bonanza offers packs of bonsai tree seeds for $9 that are perfect for letting your loved ones grow their own tiny, desk-sized trees.
5. A Mixtape
This gift is totally free — Stayed Up All Night lets you build a mixtape with songs from YouTube and Soundcloud, then lets you digitally decorate it so it looks just like a handmade mix from a '90s romcom.
6. Cat Entertainment
Lurvig Cat House, $6, IKEA
This tiny cat house fits on bookshelves, under the kitchen table, in the bathroom cabinet — aka, all the places where your S.O.'s cat isn't supposed to be, but somehow always ends up.
7. PopSockets
Blue Nebula, $10, Pop Sockets
This iPhone grip attaches to the back of your phone and can pop out for a better hold when you're taking selfies — all the better to help your loved ones not drop their phone on their face during those late-night texting sessions.
8. 3-in-1 Avocado Slicer
OXO Good Grips 3-in-1 Avocado Slicer, $10, Amazon
OK, I know there's a joke in here about millennials, but honestly, prepping avocados is hard work, and this tool is super useful for anyone who likes guac or plain ol' avocado toast.
9. TisBest
If your loved ones are more charity-minded, TisBest is a perfect option — it lets you "shop" online for charities in need of donations, and with tons of charity partners, TisBest will let them donate to a cause they're truly passionate about. Gifts cards start at just $10, and your recipient can split that donation between three different charities.
10. AquaNotes
We all have shower thoughts. AquaNotes is a $7 waterproof way to preserve all your watery epiphanies — or shopping list additions.
11. Mug Warmer
Home-X Mug Warmer, $8, Amazon
Cold coffee is the devil's brew, but luckily this inexpensive little warmer can keep your partner's coffee hot as the moment it was brewed.
12. Phone Camera Lens
Universal Phone Camera Lens, $10, Amazon
This easy-to-use lens clips to any phone and has wide-angle, fish eye, and macro lenses. Perfect for the person who takes all your Instagrams anyway, ahem.
13. Survival Tool
SE MT908-5 11-Function Stainless Steel Survival Pocket Tool, $9.58, Amazon
Okay, that sounds ominous. But this survival tool is incredibly useful for making the everyday a little easier, with functions like a can opener, a ruler, and a four-position wrench.
14. Bath Bombs
Intergalactic Bath Bomb, $8, Lush
Everyone needs bath pampering once in a while. LUSH offers a huge range of bath bombs for under $10.
15. Wine Rack
Hutten 9-Bottle Wine Rack, $10, IKEA
Whether your loved one is a wine aficionado or wants to show off their olive oil collection, this compact little countertop rack will be right up their alley.
16. Gift Cards
OK, OK, hear me out: Gift cards can be impersonal, but if you tailor your gift card-giving to what your loved ones like, and pair the gift card with a note letting them know why you chose the shop you did, they can also be a sign you're paying attention to what they like, whether that's Starbucks or stock.
17. Fidget Fob
Fidget Fob, $10, Think Geek
This key fob is a discreet fidget toy that (hopefully) will also make your loved one's keys a little harder to lose.
18. Cactus Candles
Cactus Tealight Candles, $10, Amazon
These cactus candles are just irresistibly cute, TBH.
19. Wax Seal Set
Vintage Capital Letter Initial Wax Seal Stamp Paper Gift Set, $8, Etsy
This is a legit letter-sealing kit personalized with your loved one's first initial, and it comes with three different waxes.
20. Crystal Cherry Tree
Crystal Growing Cherry Tree, $10, Amazon
Perfect for those of us who never outgrew grade school science experiments.
21. Reusable Shopping Bag
BAGGU Reusable Shopping Bag, $10, Amazon
This brand's sleek reusable bags are pretty much the ultimate in practical gift-giving.
22. Glow-In-The-Dark Phone Case
MiniInTheBox offers tons of glow-in-the-dark phone cases for less than $10, so if your loved one always ends up doing the 3 a.m. hunt for the phone they fell asleep with, this may be your solution.
23. Endless Coffee
Arabica Coffee Tree, $6, Amazon
The ability to produce endless coffee is a pretty great snag for $6 — and no worries if your S.O. isn't the best plant caregiver. Arabica trees are super easy to care for.
24. Red Wine Stain Remover
Red Wine Stain Remover, $8, Uncommon Goods
Literally one of life's necessities.
25. Love With Food
Love With Food marries a foodie's dream with do-gooding — for $7.99, you can subscribe your loved one to a box of "mystery better-for-you snacks," and a portion of the proceeds from your box will go to charities that fight hunger.
26. Artist Palette Coaster
Artist Palette Coaster, $10, Fishseddy
This coaster is china, and though you only get one for $9.95, it's so beautiful it's worth it.
27. At-Home Movie Night
And, of course, there's still the good old stay-at-home Valentine's Day gift option. Offer to cover a date night, rent a movie for cheap on a site like Amazon, dig into some dollar store popcorn, and cuddle up on the couch.
These gifts prove you don't have to spend a lot of money to get personality-tailored presents that will show your loved ones you love them.