'Bachelor' Stars Took Over Coachella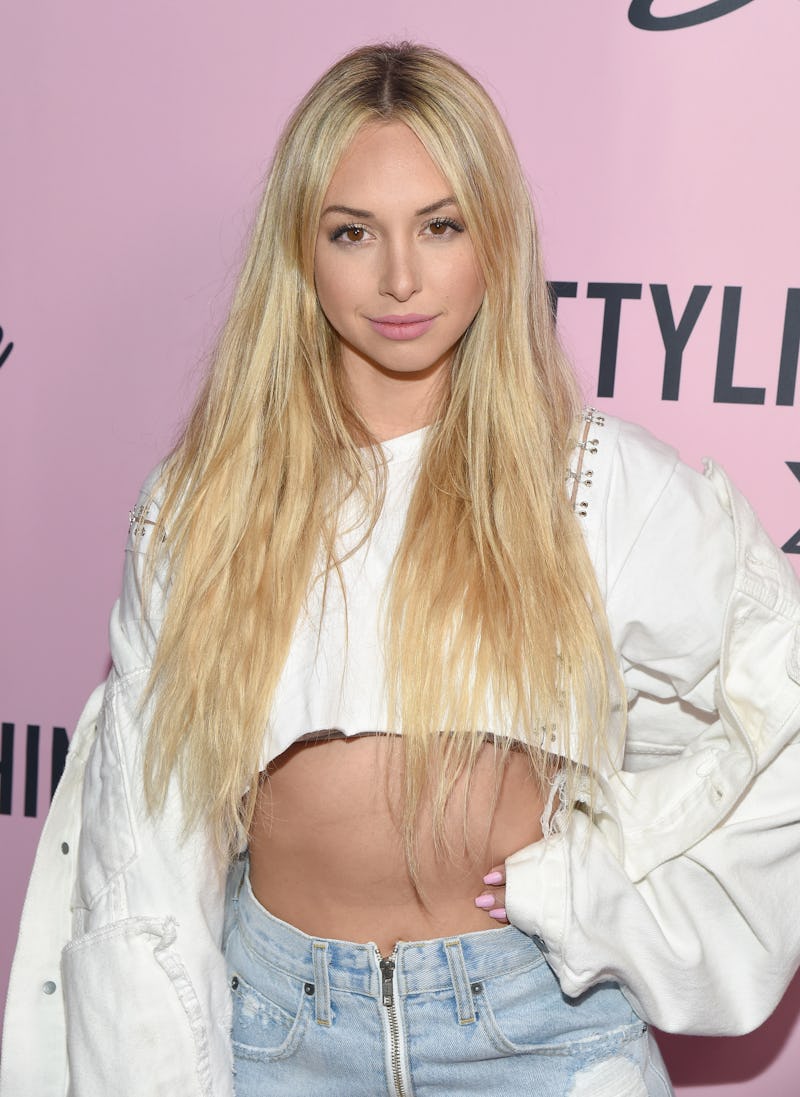 Matt Winkelmeyer/Getty Images Entertainment/Getty Images
At this point, it's hard for me to tell if people attend Coachella to check out the music or if they do it for the potential Instagram posts. But I now have another reason to check out Coachella: There are so many Bachelor alums there go to Coachella.
I will always be fascinated by which Bachelor alums make an effort to hang outside the show. Now that they're not competing to date the same guy, I'm curious to know which ones are really friends. Plus, I want to see what they're all wearing, how they styled their hair, and which musical acts they were excited to see. I kind of wish I went to the music festival this year just so I could "accidentally" run into them, see what they're really like, and (hopefully) take a photo with them. Now that would be a fan's dream come true.
A lot of the ladies from Nick Viall's Bachelor season and even Nick himself made appearances at Coachella. Unfortunately, I have not seen any documentation that Nick actually hung out with or even ran into the ladies he dumped, but he did hang out with his fiancée, Vanessa Grimaldi, of course.
Unfortunately, I was not able to partake in Bachella, but I feel like I was there thanks to all of the Instagram and Snapchat posts.
1. Becca & Robert Giving Us All #RelationshipGoals
Based on Instagram, I feel like Becca Tilley and Robert Graham are always doing the coolest things, so it's not at all surprising that they were at Coachella.
2. Corinne Enjoying Coachella In Between Naps
I actually have no idea if Corinne actually napped at the music festival, but it's a safe bet. Either way, she looks adorable in this photo.
3. Vanessa Sitting On Nick's Lap
Vanessa Grimaldi captioned this photo with Nick Viall with "PG lap dance." Oh.
4. Ladies From Nick's Season Hanging With Corinne's Little Sister
I love how all of these ladies are friends. Now, I just want to know what they all talked about.
5. Amanda Sporting Glitter In Her Hair
Amanda Stanton looked angelic with glitter in her hair.
6. Becca Having Fun At A Party
Becca wore a very Coachella outfit to this festival party.
7. Nick & Vanessa Rocking Their Festival Ensembles
I never expected to see Nick or Vanessa wearing outfits with so much edge, but I guess they were getting into character for the weekend.
8. Corinne, Danielle L., & Jasmine Hanging With Shay Mitchell
Pretty Little Liars star Shay Mitchell fit right in with the Bachelor ladies.
9. Corinne Waiting For The Weekend To Start
We might as well rename the weekend Cornchella. Once again, Corinne made an event her own.
10. Jasmine & Danielle L. Brunching With Nicole Richie
I wonder if Nicole Richie watches The Bachelor.
11. Raven, Sarah, & Whitney Reuniting At A Party
Raven Gates, Sarah Vendal, and Whitney Fransway looked happy to be back in action at a Coachella party.
12. Corinne & Her Sister Striking A Pose
It would be amazing to have Corinne as an older sister. Taylor Olympios is so blessed.
13. Raven, Kristina, & Whitney Enjoying The Festival
Raven gave Kristina Schulman a piggyback ride while Whitney stood by for support.
14. Corinne Showing Off The Team Corn Gear
Of course, Corinne rocked multiple Corinne-themed outfits at Cornchella... I mean, Coachella.
15. Taylor Spending Time With Her Friends
It's safe to assume that everyone in this squad has emotional intelligence if they're hanging with Taylor.
16. Corinne Hugging Girl With No Job
Corinne had nothing but love for Instagram celeb Claudia Oshry aka Girl With No Job.
17. Jasmine & Danielle L. Holding Hands
Jasmine Goode and Danielle Lombard were the epitome of BFFs in this sweet photo.
18. Corinne Looking Cute (As Per Usual)
There's no such thing as too much Corinne.
19. Raven, Kristina, Whitney, & Sarah Channeling The Spice Girls
The Bachelor alums did their best to reenact the Spice Girls with this pose on the steps.
20. Danielle L. Taking A Private Jet To The Festival
Danielle L. knows how to travel in style.
21. Raven Getting Her Hair & Makeup Done
Raven is just such a queen.
22. Making Coachella Corinne Again
Slay, Corinne. Slay. Slay. Slay.
23. Whitney Lounging On The Couch
Whitney is always picture perfect, even when she's just laying down on a couch.
24. Danielle L. Smiling At The Festival
Danielle L. was killing the game this past weekend with all of her looks.
25. Jasmine & Doninique Napping
Jasmine and Dominique pulled a Corinne with a nap session.
26. Corinne Spending Quality Time With Her Sister
The Olympios sisters had a blast at Coachella.
27. Danielle L. Serving Up Some Fashion Inspo
Danielle L wore a zillion outfits for this one weekend, but I don't blame her. I wouldn't know which look to exclude, they were all too cute.
28. Corinne Having Fun At The Festival
Queen Corinne was living it up at the festival.
29. Danielle L. Rocking An Outfit Change
I can't hate Danielle for all the outfit changes. She really had a lot of good looks. She had to show them off.
I never had a desire to go to Coachella, but maybe I'll look into it next year if there's a chance that I could hang out with some Bachelor alums.