3 Adventurous Women Who Will Inspire You To Think Outside Of The Cubicle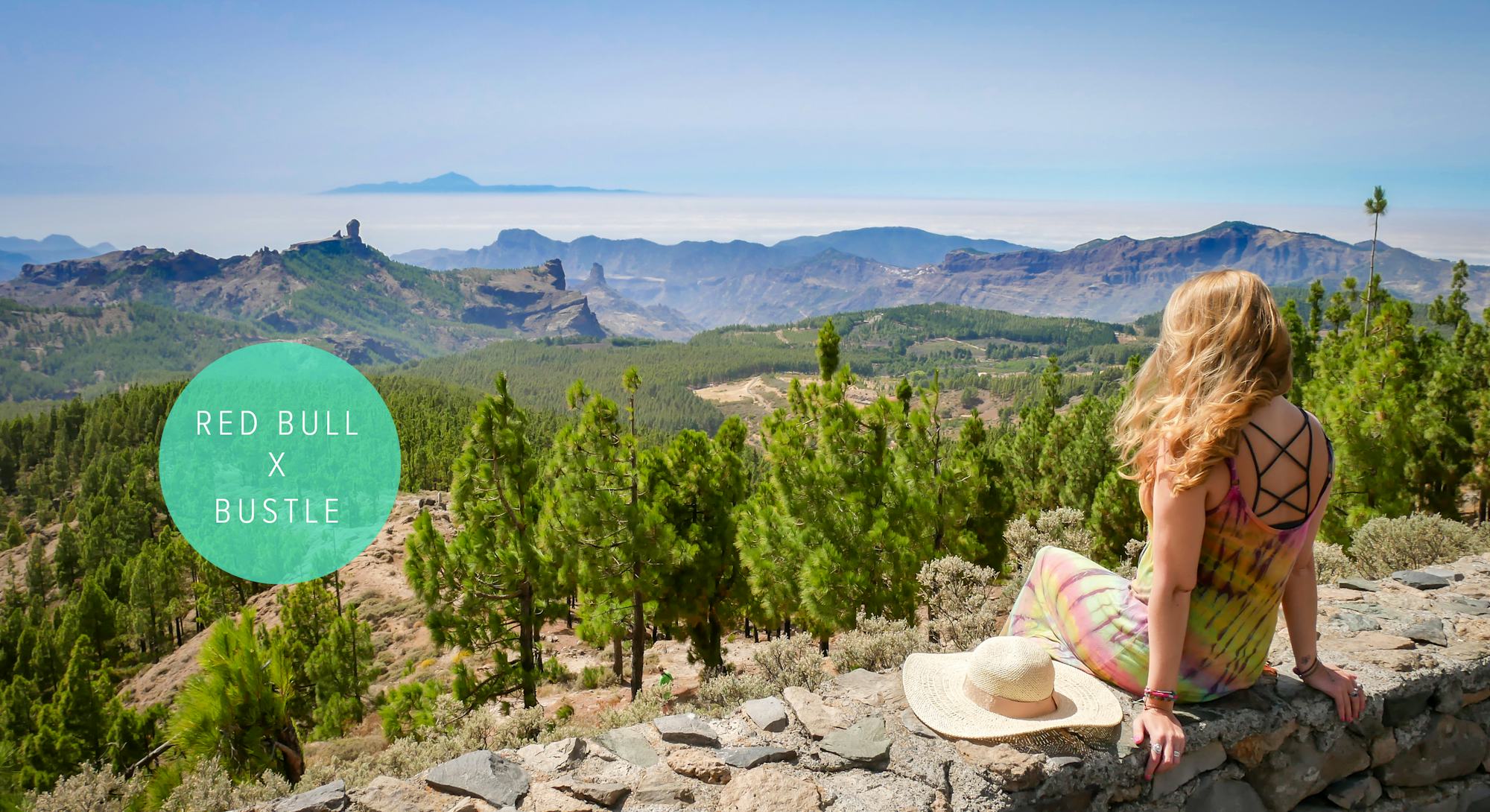 Photo: Jenny Lachs | Design: Mary Blount/Bustle
"What do you want to be when you grow up?" is probably one of the most common questions asked in grade schools throughout America. As a kid, I remember wanting to be an animal trainer. To me, the job seemingly entailed playing with animals all day, which was something that, at the time, sounded like a dream come true. (Okay, it still does — but what I didn't know back then was how much I would grow to love writing in college, or that I would fail miserably at teaching my family's dog, Candy, to "heel").
My point is that as children, we often choose our dream careers based on what we like, what sounds fun and exciting, and what piques our curiosity. We don't think about needing a "steady job," or the years we'd have to spend in school to get there, or the importance of growing a 401k. Unfortunately, these kinds of "responsible" adult thoughts are what often lead individuals to work in jobs they find boring and unfulfilling.
To remind employees everywhere to keep being curious and infuse fun into their workdays, we've teamed up with Red Bull. Together, we found three women who do their jobs in exciting, unconventional work spaces while embodying a "work hard, play hard" mentality. These women prove that you can pay your bills, meet your deadlines, and fulfill all those "boring" adult duties while living out an adventure straight from your childhood fantasies.
Erin Sullivan: Adventure Blogger, Photographer & Retreat Leader
Sometimes, you have to fail hard to succeed. Perhaps no one understands this as well as Erin Sullivan. Today, the adventure blogger, photographer, and retreat leader works as a freelancer, giving her the freedom to travel to picturesque places such as Costa Rica, Greece, and Alaska, and spend as much time outdoors as possible — her true passion. But her current, flexible status is only possible because of an unfortunate event that took place two years ago: She got fired from her job.
The good news? Today, the 27-year-old calls her firing "the biggest blessing, ever."
"Once I got fired, I had two options: Get a 9-to-5 job working in the adventure travel industry, or I could go freelance," she says. She went with the latter. "I started working as a production assistant, blogging for free, and picking up a camera. Over the next six months, it became clear that I could do all these things as a job, and that's what I've been doing ever since — following the trail of breadcrumbs, trying to be super-creative, and seeing what's next."
Sullivan's assignments range from leading service retreats to destinations like Costa Rica and Greece, to being on the opposite side of things and photographing a service trip in Kenya. When she's not traveling, she provides one-on-one coaching services, partners with brands to work on content marketing, and curates content for her own website. To find balance within her nomadic lifestyle, Sullivan tries to give herself a routine to avoid overworking herself.
"I'm constantly figuring out [how to create] balance in my life," Sullivan says. "I don't want to get burnt out, because I love what I do. It's important to create boundaries in my schedule so I have time to work and time to play, and do both of those things with a lot of passion and energy."
In the future, Sullivan hopes to continue what she is currently doing, but on a bigger scale, in addition to inspiring people to live adventurously.
"The biggest question I get is, 'How did you start?'" she says. "It's really important for people to not get caught in the question of 'How?' and just begin. Follow your hunch and just keep going."
Melise Edwards: Scientist and Skilled Rock Climber
Melise Edwards is a woman of many talents. On the weekend you might find her scaling a giant boulder or side of a mountain in the great outdoors. But on a weekday morning, you're more likely to find her applying her undergraduate research experience to her day job as a research associate in a brain science facility.
Though part of her 9-to-5 job requires desk work, she isn't scared of getting her hands dirty. In past jobs, the former biology major might have found herself catching rattlesnakes and relocating them away from hiking trails, or identifying odonates (a type of carnivorous insect) along the Blue Ridge Parkway.
"Each day feels really dynamic, and I never feel bored in such a stimulating environment," she explains. "The energy and motivation you get from seeing so many different scientific projects going on at once is extremely inspiring."
Science and rock climbing aren't typically interests you might associate with one another, but for Edwards, the combination invigorates her. As an ambassador for several climbing companies and a board member of Vertical Generation, a nonprofit that promotes a growing generation of diverse climbers based in Edward's hometown of Seattle, she trains 15 hours a week in addition to hosting teaching clinics, writing articles on the sport, and even competing.
"Balancing a hobby like rock-climbing with a career can be both challenging and really motivating," Edwards says. "I'm the type of person who thrives off having multiple interests to focus on. If I only climbed 100 percent of the time or only read neuroscience papers 100 percent of the time, I don't think I'd feel very happy."
Of course, she is careful not to let herself get overwhelmed balancing her two passions, and plans for down time when she feels she is spreading herself too thin.
"We live in a society that praises being busy, working yourself into the ground and always doing or achieving something," Edwards says. "I try to give myself days with nothing planned and nothing to achieve except for total relaxation."
Jenny Lachs: Freelancer and Founder of Digital Nomad Girls
Jenny Lachs is on her second life. In her first life, she was a chemist, earning her bachelor and master's degrees in her hometown of Munich, Germany. It wasn't until she traveled to London to pursue her PhD that she realized her love for the new city, and her passion for exploring. A 2010 solo trip to Israel ignited a spark in Lachs that never really faded, eventually leading to where she is in her second life, today: living as a digital nomad in Las Palmas de Gran Canaria, in the Canary Islands of Spain, freelancing herself, and leading the online community Digital Nomad Girls.
While she enjoys her flexible situation, it wasn't an easy journey to get where she is today. For Lachs, a digital nomad is a person who is location independent — or essentially, a person who can live and work from anywhere there's a Wi-Fi signal. After spending a lifetime in the chemistry world, her skills did not lend themselves well to the remote positions that serve people who travel. She also received a lot of doubt from friends and family who questioned her decision to leave chemistry.
Regardless, Lachs was persistent. Instead of picking one skill frequently listed as a "top" job for digital nomads — like writing, social media management, and web development — Lachs decided to try them all, documenting the experience (and how much money she was making) on her blog. Once she established herself as location independent, living in various countries mainly in Asia and Europe, she started Digital Nomad Girls to help other women find their way.
"While I was working in Thailand [at the onset of my digital nomad journey], I realized I was one of the only women in the co-working spaces there," Lachs says. "I wanted to meet people who were more like me, to ask questions, connect, and learn from each other. I started the Digital Nomad Girls Facebook group, and began organizing local meetups. Later, other women started organizing them in different places, too."
Today, Digital Nomad Girls hosts retreats in exotic destinations (the next one will be in Javea, Spain!) that act as networking and educational experiences for both novice and experienced digital nomads. Individuals can share and get feedback on their business ideas, projects and goals, and remote working experiences in general.
While Lachs has focused much more of her attention lately to planning and leading these retreats, she also continues to work as a freelancer herself. To strike a balance between work, play, and exploring her city, she tries to maintain a daily routine, and uses her experience with traveling as inspiration for content. She also ensures that the company she keeps is that of a supportive, inclusive community — and recommends others looking to follow in her footsteps do the same.
"When you're trying to do something new or change your direction in life, it can be very hard to get support. Find people who you don't have to justify yourself to, and people who will cheer you on."
Main Image: Jenny Lachs | Design: Mary Blount/Bustle