3 California Avocado Smoothies To Make Based On Your Mood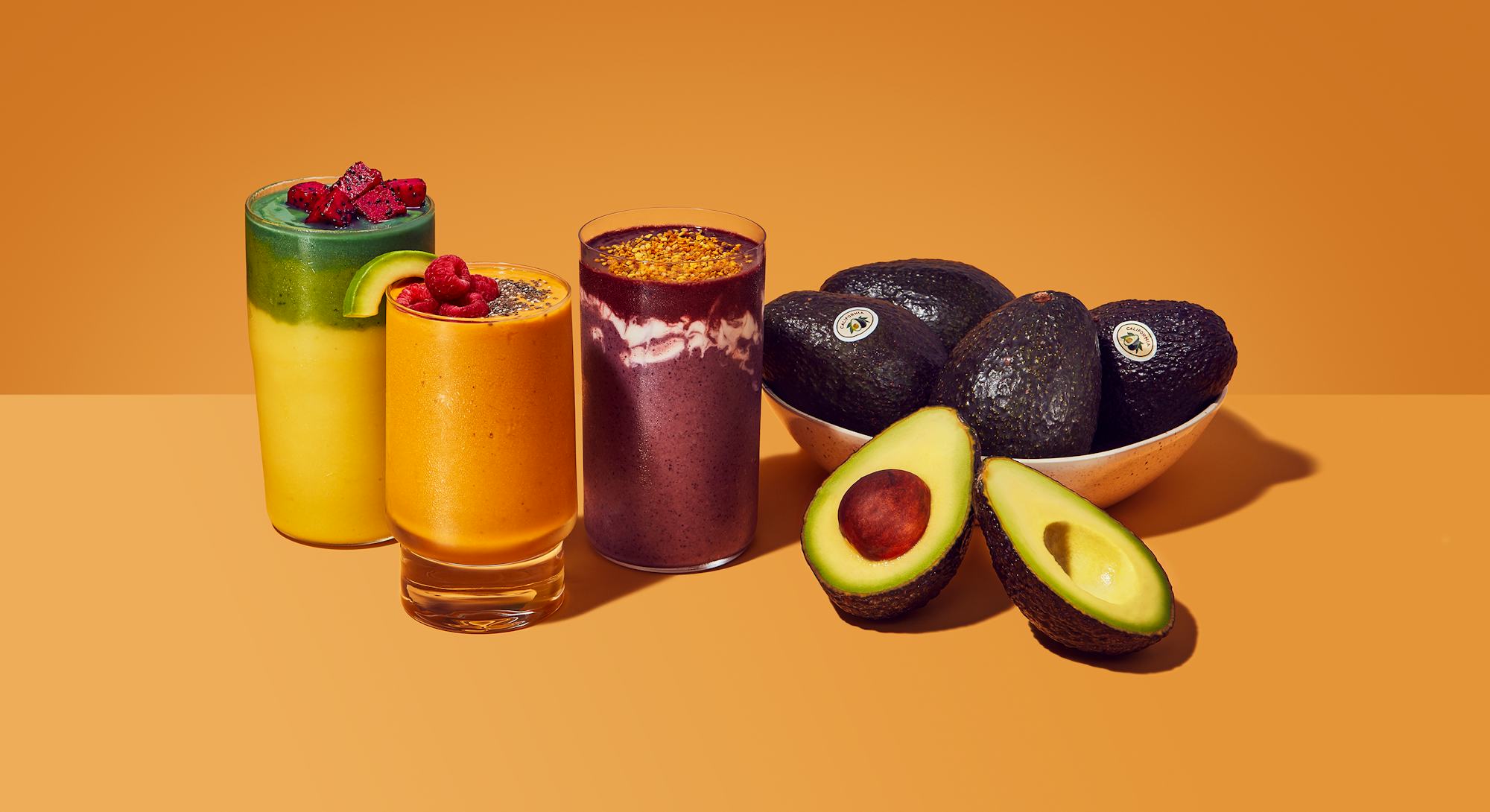 Will Styer/Bustle
Fact: Our mood influences pretty much everything we do, whether or not we're actually aware of it. The choices we make when it comes to music, clothing, even the people we hang out with — they're all inspired by the way we're currently feeling.
So, shouldn't the same mentality apply when it comes to the smoothies we make?
Hear us out: We believe that if there's one thing that has the power to boost our mood in an instant, it's an icy, fruity drink. Whether we're feeling down in the dumps, completely frazzled, or craving some self-care, the right smoothie can make everything better. That's why we teamed up with California Avocado Commission to bring you a guide to smoothie-making based on whatever ~vibes~ you're currently feeling.
And pro-tip: California Avocados are in season through the summer, so when you go shopping for smoothie ingredients, look for "California" on the avocado label to ensure that you're purchasing fresh, locally grown, and in-season California Avocados.
Tapping into delicious ingredients like juicy fruit, natural sweeteners like honey and maple syrup, and of course, plenty of fresh California Avocados, we tested recipes until we found the perfect combinations to complement the three moods we find ourselves in most often: stressed, indulgent, and just plain bored.
The result? Three out-of-this-world West Coast-inspired concoctions that are sure to put a smile on your face.
Ladies and gentlemen, start your blenders.
When you're feeling stressed...
Instructions:
In a high speed blender, add all the yellow layer ingredients
Blend on high for 2 minutes, then pour contents into a glass
Add all the green layer ingredients to the blender
Blend on high for 2 minutes and pour half of the contents over yellow layer, reserving the other half in the blender
Add the teal layer ingredients to the blender and blend
Top the smoothie with the teal layer, garnish with dragon fruit chunks, swirl together if desired, and enjoy!
Serves 2
We've been there more times than we can count — stressed out over a jam-packed schedule that's showing no signs of letting up. While you may not be able to wipe your calendar clear of obligations, what you can do is find yourself a mini moment of zen in the midst of your hectic life.
Combat your anxiety by mixing up this absolute dream of a smoothie — with its gorgeous layers, tons of fruit, and sneaky spinach addition, the Tropical California Avocado Smoothie is bound to chill you out and instantly transport you to a beachside cabana on the California coast. It doesn't hurt that it's pretty to look at either.
When you're feeling in the mood for self-care...
Instructions:
Add all ingredients to the blender
Blend on high for 2-3 minutes
Pour into a glass, top with chia seeds, and enjoy!
Serves 1
Finding yourself in a laidback mood is the *perfect* excuse to practice a little self-care. Take advantage of this rare moment of peace and make it last as long as possible by indulging in the California Avocado Ginger Turmeric Smoothie.
The mellow flavors of the fresh California Avocado and turmeric help offset the sweet and spicy boldness of the ginger, carrot juice, and honey to make an anti-inflammatory drink that'll help you achieve the ultimate good-for-you treat yourself moment. Think of it as a restorative yoga class in a glass.
When you're feeling bored and uninspired...
Instructions:
Soak açaí pouch in warm water to slightly defrost while prepping other ingredients
Add California Avocado, blueberries, blackberries, dates, 1⁄4 cup yogurt, coconut milk, honey, and hemp seeds to a high speed blender
Blend on high for 2 minutes
Add contents of blender to a glass
Layer with reserved 1⁄4 cup yogurt
Blend açaí pouch and pomegranate juice in the blender
Top yogurt layer with açaí purée
If desired, top smoothie with bee pollen, and enjoy!
Serves 1
In those moments when you're stuck in a rut, it can be tough to figure out how to pull yourself out. Our favorite surefire way to combat ennui? By jumpstarting our system AND our mood with this berry blast of a smoothie.
The Triple Berry California Avocado Smoothie has not one, not two, but THREE variety of berries, so you don't have to scrimp on flavor OR color. Coconut milk, Greek yogurt, and fresh California Avocado add a major dose of creaminess, and nutrient-rich pomegranate juice and hemp seeds make this drink a treat for body AND mind.
This post is sponsored by California Avocado Commission.
Photographer: Will Styer; Art Direction: Julie Vaccaro; Food Stylist: Jen Beauchesne; Prop Stylist: Stephanie Yeh; Production: Samantha Ulban