People Are Apparently Downloading 3-D Printed Gun Blueprints & It's Not Even Legal Yet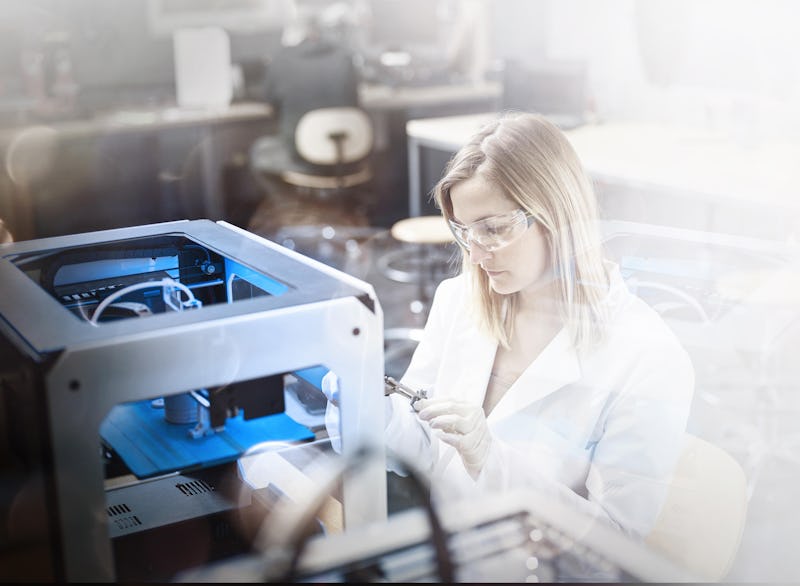 Christian Vorhofer / imageBROKER/Shutterstock
President Trump tweeted on Tuesday that he was "looking into" the sale of 3-D guns, but it looks like those blueprints are already out and available for download. According to HuffPost, Texas-based company Defense Distributed shared the blueprint for 3-D guns on its website on Tuesday — prior to the date initially agreed upon in its settlement with the State Department. Federal judge Robert Lasnik in ordered a temporary block on the release of the schematics for 3-D printed guns on Tuesday, but HuffPost reports that "tens of thousands" of downloads have already happened.
Update: CNN reported that founder of Defense Distributed, Cody Wilson, said Tuesday that the website has suspended downloads after the court ruling until he sees Judge Lasnik's order.
Earlier: Lawmakers and senior law enforcement figures filed a lawsuit against Defense Distributed in an attempt to block the blueprint-enabled proliferation of 3-D printed plastic guns. The last-minute lawsuit scrutinizes Defense Distributed, Second Amendment Foundation, and the State Department for allegedly undercutting public safety. Massachusetts Attorney Gen. Maura Healey described the aforementioned entities as "betraying the national security" to The Washington Post.
The lawsuit argued that Defense Distributed, owned by Cody Wilson, was violating United States export laws by spreading accessible and downloadable blueprints for 3-D printed guns. Wilson's company responded by claiming its First Amendment was being violated.
In its settlement with the State Department, Defense Distributed said it would temporarily halt uploading the schematics until Aug. 1. On Tuesday, however, the company's blueprints for seven types of firearms, compatible with both Windows and Macintosh operating systems, were already online.
The company's owner has pushed against Parkland shooting survivors' call for better legislation around firearms access. While speaking to Wired in July, Wilson said, "All this Parkland stuff, the students, all these dreams of 'common sense gun reforms'? No. The internet will serve guns, the gun is downloadable. No amount of petitions or die-ins or anything else can change that."
According to the settlement with the State Department, Wilson's company would release "CAD files that can be used to manufacture a variety of weapons, including AR-15 frames and a 3-D printed pistol known as the 'Liberator' as well as a 'computer-controlled milling machine' called the 'Ghost Gunner,' which is designed to allow its owner to carve gun parts out of aluminum" on Aug. 1.
"CAD" stands for computer-aided design, which can help the well-versed to manufacture their own product. In this case, it would be a potentially untraceable firearm.
Among those who filed the lawsuit against Defense Distributed was Washington Attorney General Bob Ferguson, who minced no words as he slammed the Trump administration for "allowing dangerous criminals easy access to weapons." Ferguson added: "These downloadable guns are unregistered and very difficult to detect, even with metal detectors, and will be available to anyone regardless of age, mental health, or criminal history."
For now, it looks like Defense Distributed's blueprints are already popular online. The most searched-for type of gun is the aforementioned "Liberator" — a .380-caliber handgun, according to HuffPost. The second most-downloaded blueprint is for the AR-15. It's hard to say how this will turn out, but for what it's worth, Daily Beast reported that these guns, no matter how alluring they may be to firearms enthusiasts, tend to burst in the hands of the users before they even reach their target.