'3 Generations' Director Stands By Casting Elle Fanning As A Trans Boy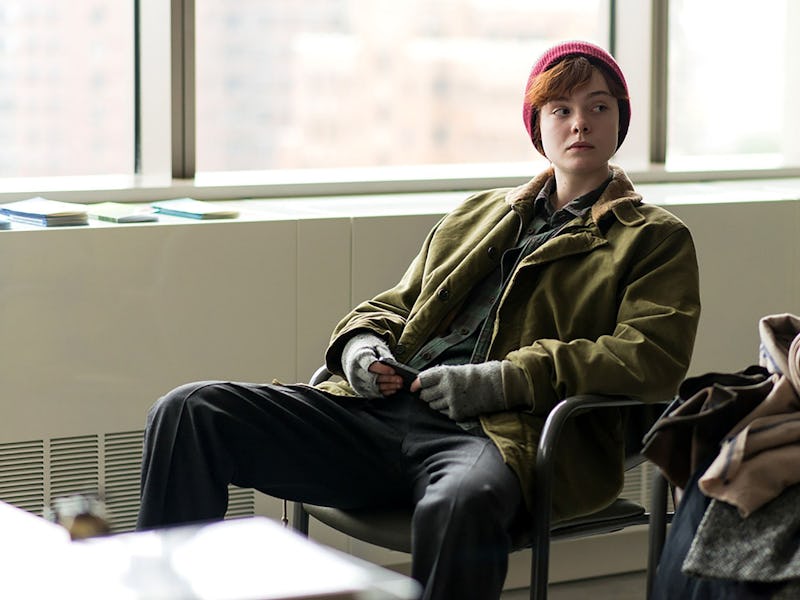 The Weinstein Company
When it was first announced that a new film, 3 Generations (originally called About Ray), would focus on the life of a trans boy hoping to begin his transition, many people were thrilled, considering how few movies or TV shows feature trans protagonists. Yet the news that a cisgender woman (Elle Fanning) would play the lead role irked many, especially when the film's director, Gaby Dellal, referred to Ray as "a girl" and seemingly used female pronouns to describe him in a 2015 Refinery29 interview. The pushback was severe, with many people frustrated by the filmmakers' choices — but two years later, with 3 Generations' May 5 release approaching, Dellal tells me she doesn't regret either the movie's casting or the comments she made about Ray.
"I stand by casting Elle Fanning," the director says, speaking via phone in mid-April. "She's an amazing actress, and as you've seen, gives an amazing performance. I didn't find or know of a trans actor who could play the role in the same way that Elle could."
Dellal adds that while she "totally" understands people's "frustration" over the casting and her comments, she believes her comments were misconstrued. "I never, never misgendered," she says. "When I did that Refinery29 interview, it was because I was talking about Elle Fanning as an actress, and I kept referring to her as she. But the character of Ray is a he — whether he's had surgery or started hormone treatment, he's a he, and he's a trans boy. But I feel that I was misunderstood, and I totally understand how that can happen."
The backlash Dellal and the film received didn't go unheard ("yes, I have learned," she says of the responses she received), but she also believes that misgendering isn't necessarily cause for outrage. "But also in my film, a lot of people misuse the pronouns and it just humanizes them... and the trans friends I have, I remember when I first got to know them, and I would misuse the right pronoun, and no one had ever been outraged by it, because they see the genuine f*ck-up, basically... Believe me, I wouldn't do it anymore, because I've got too much experience now, but I do think that most trans people are very gracious with people, as long as they believe their hearts are in the right place."
In 3 Generations, misgendering is a frequent habit of Ray's mother (Naomi Watts) and grandmother (Susan Sarandon), but both women try their best to refer to Ray correctly and show their support for his transition. Neither woman finds it easy to accept Ray's identity, but they both want him to be happy and safe, and to be able to express his true gender. And while some critics have argued that a trans boy should've been cast in the role, rather than Fanning, Dellal says that she believes her movie is impactful all the same.
"It's sad that trans actors haven't been cast in roles that are particularly for them," she tells me. "It's a great shame... but I really hope that our film finally coming out will continue the conversation, and open everyone up to being more accepting of the trans community and take fear out of people. People don't understand the trans community, and so the more stories we tell where we normalize, accept, encompass, and include the trans community without sensationalizing them in any way, the better."
A mother of three sons, Dellal says that she intends 3 Generations to be an accessible story for all, in which any viewer could relate to the idea of a family dealing with unexpected challenges. Her own lack of knowledge about being trans or raising a trans child ("it was very much about something that I initially didn't know much about and didn't have firsthand experience of," she says) led her down a road of research; she spoke to doctors and met with several trans teens, who, she says, educated her on the subject. Now, with the movie's release, Dellal hopes that the film will inspire any viewers who might be as unfamiliar as she was to educate themselves, too.
"I want to demystify and not make it a taboo subject," Dellal says. "I hope people who are not very knowledgeable and think this will never happen to be more openhearted… to have a conversation and say, oh my god, I know a kid like that. Maybe I can help, maybe I can not treat them in a way where they might feel not welcome."
Hopefully, despite the missteps of both the movie's casting and Dellal's comments, something good could come out of 3 Generations after all.