3 Holiday Makeup Looks To Try When You're Sick Of Your Usual Smoky Eye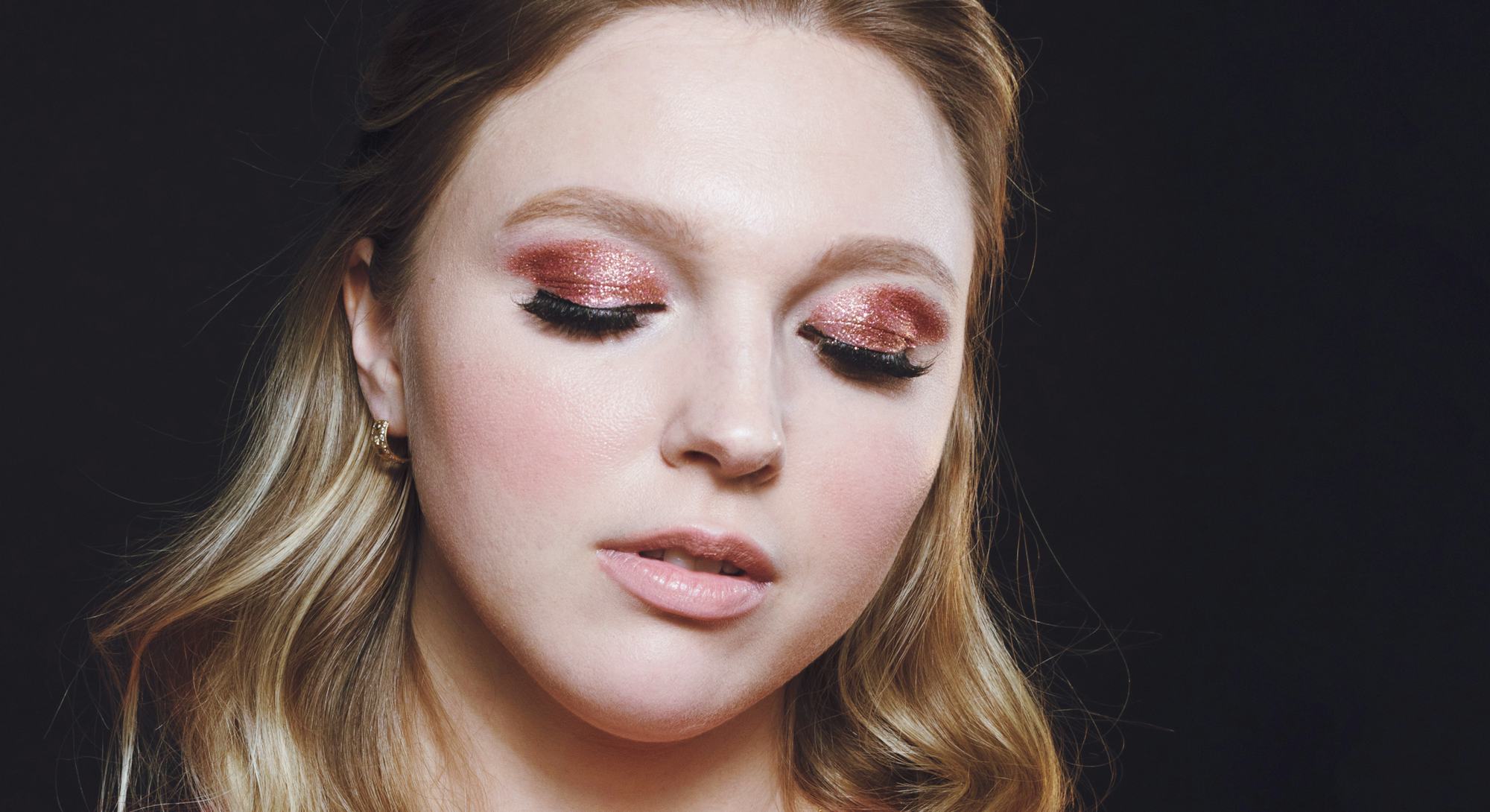 Ashley Batz/Bustle
Bustle and Coveteur are working together to bring you the best mix of the season's hottest releases, shopping tips, and gifting ideas in ways that are both inspirational, and attainable. Check The Holiday Edit channel weekly to see what we're up to.
'Tis the season for parties: friend parties, family parties, work parties, all-of-the-above-but-for-your-S.O.'s-circle parties. With all this feteing to do, you're probably going to need some holiday makeup inspiration to get you through to the new year.
There's nothing wrong, of course, with throwing on your go-to red lipstick or signature smoky eye for every single soiree, but the glittery nature of the holidays makes it the perfect time to experiment with looks that might be a little bit outside of your day-to-day norm. To help spark some inspiration for your own festivities, makeup artist Rachel Toledo gave three Bustle editors the seasonal party do-ups of their dreams. From rose-gold glitter eyes, to burgundy lips and glossy lids, to a glamorous way to do red and green, there's likely something on this list that'll strike your festive fancy.
Olivia: Glitter Eye
Olivia wanted to go with a glittery "pink/copper/rose gold eye look" paired with a toned down lip, natural brows, and a subtle highlight.
1. Create The Base For Your Glitter Eye
Toledo says that if you're going to do a glitter eye, that should be the first thing you start with, after applying your moisturizer. "No foundation, nothing — that way you can clean up the fallout later," she explains.
Chanel Ombre Première in Lilas D'Or, $36, Chanel
For Olivia, Toledo used a shimmering soft pink creme shadow (Chanel Ombre Première in Lilas D'Or, to be exact) in a half-moon shape to create the base of the eye look. Then, she patted Make Up For Ever Starlit Powder in Golden Pink on top of the cream.
Make Up For Ever Starlit Powder in Golden Pink, $21, Sephora
2. Add The Glitter
To ensure your eyes stay sparkly all night long, pat your eyelid with eyelash glue, then put the glitter on top. Use a Q-tip dipped in makeup remover to clean up the edges of your wing, and pull any fallout on your cheeks up with Scotch Tape.
3. Finish The Rest Of Your Face
For the ~most drama~, Toledo recommends adding a pair of false lashes — Olivia's wearing Velour Lashes in "Girl, You Crazy." Blend them into your real lashes with mascara, then add a small wing with liquid liner.
Charlotte Tilbury Moon Beach Beach Stick, $45, Charlotte Tillbury
Finally, you get to add your foundation! Apply as you normally would, then add any highlighter and blush that your heart desires. Olivia's wearing Charlotte Tilbury Moon Beach Beach Stick, plus a mix of White Sand and Snow from the Anastasia Beverly Hills Ultimate Glow Glow Kit for highlight.
To create a lip look similar to this, first prep your lips with ointment, then apply a nude satin lip color — like Colourpop Lippie Stix in Skimpy.
Amanda: Glossy Lids & Dark Lips
Amanda's ideal holiday makeup look includes dewy skin, glossy eye makeup "that somehow stays all night," a dark wine lip, and lush false lashes.
1. Prep With A Facial Massage
To get a truly glowy look, you've "gotta start with a face massage!" Toledo says. "It gets the blood flowing to create a naturally glowing base."
Apply your favorite facial lotion, then follow these steps for a relaxing, pre-makeup ritual.
2. Prime, Add Foundation, & Do Your Brows
MAC Strobe Cream, $33, MAC Cosmetics
Use an iridescent primer like MAC Strobe Cream as a base for all your makeup. Apply your favorite foundation (Amanda's wearing MAC Studio and Body), then swirl a stipple or blush brush all over your face to help bring out the iridescence in your primer.
MAC Studio and Body, $29, MAC Cosmetics
Next, do your eyebrows as you like 'em. Toledo used Anastasia Beverly Hills Brow Gel to give Amanda's a little more fullness.
Anastasia Beverly Hills Brow Gel, $22, Sephora
3. Create A Base For Your Gloss
Use a creme eye primer to create a base for your eye look, then apply a dark brown shadow all over the lid and blended into the crease. "Part of the look is that it's supposed to be a little grungy," Toledo explains, so don't worry about doing anything too precisely.
Mally Evercolor Shadow Stick Extra, $25, ULTA Beauty
Under the eye, apply a slightly sparkly stick shadow or liner (like Mally Evercolor Shadow Stick Extra) in a dark brown, then layer the same brown eyeshadow you used on your lids on top. Apply waterproof mascara before putting on false lashes — Toledo says it gives them a base to grip to, plus a waterproof formula will hold up better to a gloss.
MAC Lip Pencil in Burgundy, $17.50, MAC Cosmetics
At this point, you can also apply your dark lip. Amanda's wearing three products to create this color: MAC Lip Pencil in Burgundy and Sacha Cosmetics Velvet in "The It Color" all over, plus Obsessive Compulsive Cosmetics Lip Tar just at the center of the lips to give some shine.
4. Add Some Blush & Highlight
Apply your favorite blush and highlighter to your cheeks, then spritz on a makeup setting spray before you add the final gloss to your eyes.
5. Get Glossy
Elizabeth Arden 8 Hour Cream, $22, ULTA Beauty
Amanda's wish for glossy makeup that "somehow stays all night" is, unfortunately, impossible. However, Toledo says Elizabeth Arden 8 Hour Cream is "by far" the longest lasting way to get the glossy effect. Use your fingers to gently pat it on top of your lids.
Gabrielle: Green Eyes & Red Lips
Gabrielle wanted an over-the-top eye look — within reason, so it could work for a variety of holiday parties. So, Toledo played with a festive set of reds and greens.
1. Create Your Green Eye Look
Just like with Olivia's glitter, you'll want to start with the eyes for this look since there will be lots of fallout. Layer on a couple green, shimmery shadows; Toledo used Make Up For Ever Star Lit Powder in 20 Green and 21 Jade Green. Apply some black eye shadow to your crease with a skinny brush.
2. Do The Lower Lid, Then Your Face
Bobbi Brown Skin Foundation Stick, $46, Sephora
Apply the same green shadows along your lower lashline, then blend in some black liner. Add your favorite mascara.
MAC Deep Dark Blot Powder, $28, MAC Cosmetics
Next, you can move on to your face. Toledo emphasizes that, aside from the shimmery eyes, this whole look is pretty matte. She used a Bobbi Brown Skin Foundation Stick and MAC Deep Dark Blot Powder to create Gabrielle's base, then added MAC Powder Blush in Raizin to her cheeks.
MAC Powder Blush in Raizin, $23, MAC Cosmetics
3. Finish With Your Lips
MAC Ruby Woo, $17.50, ULTA Beauty
The final step is just to apply your lipstick: Gabrielle's red is a mix of MAC Ruby Woo and Sacha Lip Velvet in "Life Of D Party." Toledo finished the whole thing off with Sacha Fix-It Spray to keep the matte look going all night long.
Want to see what looks Coveteur's Editors chose? Head to Coveteur.com.
Makeup: Rachel Toledo
Hair: Corey Tuttle
Add'l Bustle Team: Senior Fashion Market Editor: Gabrielle Prescod; Booking/Production Manager: Guillermo Perez; Art Director: Brit Phillips