3 Moments In Your Life That Are Better With Ranch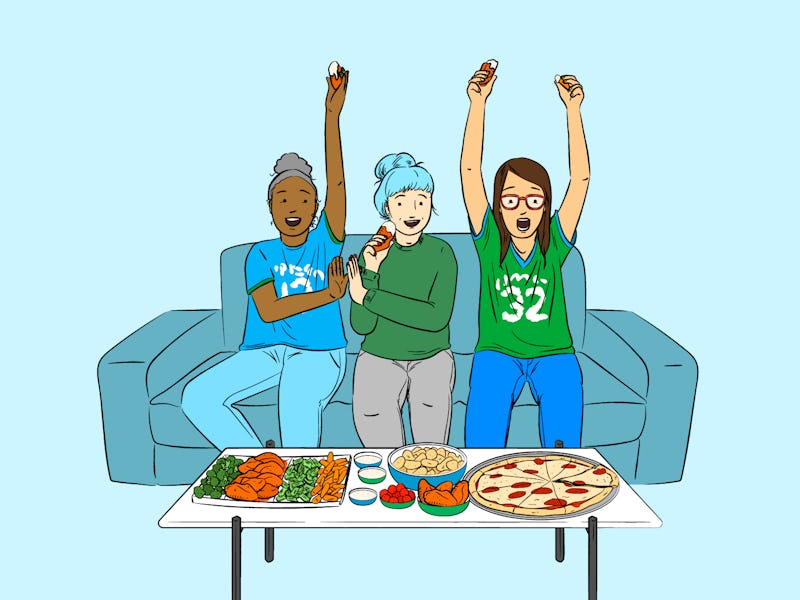 Alison Gore / Bustle
In simple terms, being an adult is awesome: You get to pick your own bedtime, treat yourself to dessert whether or not you finished all of your vegetables, and wear whatever you want — whether or not your mom approves. On the other hand, part of adulthood is also doing things we don't want to do, with people we don't want to do them with. From attending a very, very distant relative's bridal shower, to getting stuck on a work conference call on the same night as a big awards show, there are certain inevitable obligations that come with being a grown-up, and having grown-up responsibilities.
The good news is, with the right attitude, you can make any tough situation better. And one surefire way to create a glass-half-full type of outlook is simply by adding a little bit of flavor to your scenario. That's why we're partnering with Hidden Valley® to help even the most insufferable situations improve. Our solution? Just add Ranch!
Think about it. Ranch is a powerful dressing with the ability to improve even the saddest desk salad, or provide refuge from the dreaded viewing party of an event you just don't care about. Here are three situations where you definitely need to #RanchOut.
The Big Game
Without Ranch:​ Part of being an adult means going to your fair share of social gatherings that aren't your first choice, such as going to a friend's place to watch the big game even if you don't care who wins. But just because you're not a sports fan doesn't mean you can't be a good sport. After all, your friends who are yelling at the screen are the ones who come to your annual awards show party without fail. Still, sitting through four quarters — or worse yet, nine innings — can feel like an eternity if you don't love watching people chase a ball.
With Ranch:​ As long as a party's snack game is on point, it doesn't really matter what's on TV — you're a fan! Wings, dip, and sports are all things that are better with Ranch. You might not know the difference between a field goal and a touchdown, but you can cheer for the home run in your mouth.
Sad Desk Lunch
Without Ranch: Hour-long lunches complete with three courses and cocktails are a thing of our parents' generation. Lately, at our fast-paced jobs where you're expected to answer emails around the clock, you're lucky if you even have a chance to grab a pre-made deli salad before racing back to your desk.
With Ranch: Pro tip from a Ranch lover with a full-time job: Keep a bottle of the good stuff in the office fridge (and put your name on it!) to zest up any meal instantly. It'll help you dress up a salad, a wrap, or any snackable side, like banana chips or pita wedges. Tell your co-workers no trades-ies!
A Bad Date
Without Ranch: We'll all been there: You're out on a blind date, and you're not exactly impressed with the company or the bland food at the restaurant your date picked out. Don't you owe it to yourself to at least enjoy your dinner?
With Ranch: You carry backup shoes and a pen in your purse in case of emergency — why not a bottle of Ranch to take your mind off a dating emergency? It might not make the dude sitting across from you any more interesting, but crack open a bottle and #RanchOut on your own!
This post is sponsored by Hidden Valley®.
Show us how you ranch out your favorite foods with a dip, dunk or drizzle of Hidden Valley® Ranch. Snap a picture of your Ranched Out dish, and then visit RanchOutLoud.com to enter. You can also enter by sharing it on Instagram or Twitter with #RanchOutSweeps.
Illustrations: Alison Gore