3 Women Running For State Legislature Explain Why Local Races Deserve Your Attention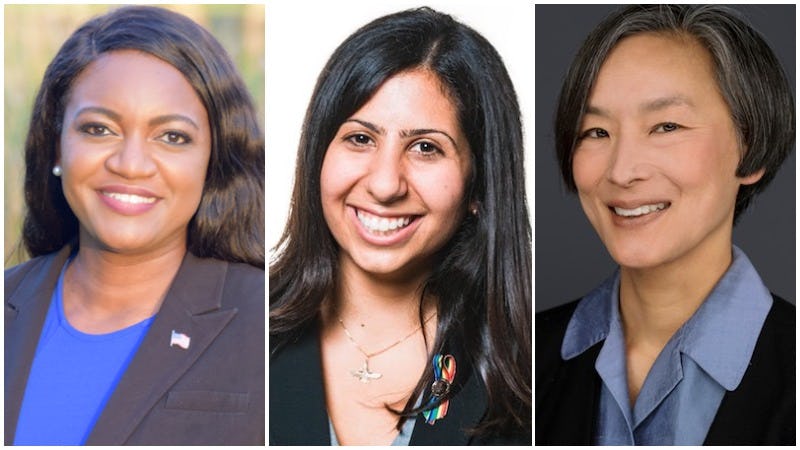 With less than a week to go until Election Day, many Democrats are laser-focused on just 23 seats that are up for a vote in Congress. That's the amount of seats the party needs to flip in order to gain the majority in the U.S. House of Representatives. But across the country, Democrats are working to flip seats in state legislatures as well — and to get voters to pay attention to these vital, if unglamorous, races.
"There's this huge lack of awareness on how important state politics are," Catherine Vaughan tells Bustle. Vaughan is the CEO and co-founder of Flippable, an organization dedicated to flipping seats in state legislatures from Republican to Democratic control.
She founded Flippable to address the unequal resource allocation among political races after working for Hillary Clinton's 2016 campaign in Ohio. While a huge amount of money and attention goes into presidential campaigns like Clinton's, local races are often overlooked by both political parties and voters. Yet state-level politicians both directly impact people's daily lives and have a major influence over future elections, including at the federal level. After the 2020 U.S. Census, state politicians will be in charge of literally changing the shape of congressional and state legislative districts.
"This is where the maps will be drawn for all other races after the U.S. Census," Anna Eskamani, a Democratic candidate for Florida state House District 47, says. "It is so critical that we have strong fighters in the legislatures at a local level who potentially will also decide the impact of other elections."
Eskamani, 28, is one of the approximately 130 candidates Flippable has endorsed this year. About three-quarters of those candidates are women; according to Vaughan, "we just found that all of these incredibly strong candidates who were running and winning their primaries ended up being women."
The daughter of working-class immigrants from Iran with a background in advocacy, Eskamani says she decided to launch her campaign after Donald Trump won the 2016 election "on the backs of women, people of color, immigrant communities, disability community members." She initially hesitated to run because the district she lives in is currently represented by a moderate Republican. But after thinking on it, she concluded the district deserved strong Democratic leadership.
"I mean, this is home to Pulse nightclub, and the 'moderate Republican' continues to work with the National Rifle Association," she says.
State-level politicians have an opening to step in with their own legislation on issues where Congress does not act, including guns and protections against discrimination based on gender identity or sexuality. They also determine how funds are allocated for schools and infrastructure.
Beyond impacting the day-to-day lives of their constituents, local politicians can also inspire the next generation of public servants. That idea has driven Fentrice Driskell, a 39-year-old candidate for Florida's state House District 63, ever since she became the first person in her public Florida high school to get into Harvard. She recalls how teachers, counselors, and superintendents helped her get more scholarship money; while she was at Harvard, she became the student government's first black female student president.
"That's something that other young people looked up to, so [I thought], how could I encourage them in their leadership journeys or college application journeys or careers?" she tells Bustle. "I feel honored and humbled and blessed by the opportunities I've had, and it just seems the right thing to do to then try to pay it forward."
As a partner at a law firm, Driskell didn't necessarily need to upend her life to run for the state legislature. But she says she didn't "feel like we're getting the representation that we deserve" and "thought I could offer voters a better alternative."
Helen Tai, meanwhile, has already seen first-hand what offering voters an alternative can accomplish. Tai, 54, was elected to the Pennsylvania state House in a special election in May and is now running for re-election. As the daughter of Chinese immigrants, Tai knew she was literally changing the face of the state legislature.
"If you look at our state government, we have 42 women out of 203 seats," she tells Bustle. "That's [21] percent. So women make up half the population, and only [21] percent of the legislature. People of color: Similar numbers. We have about 40 people of color out of 203. That's not representative of the population."
As Tai sees it, "representing the population" means getting a mix of perspectives into politics. In August, Tai hosted a public hearing on #MeToo, in part so that her fellow legislators could hear from women about sexual harassment.
"For so long — forever, really, in this country — our government has been run by men," she says. "There's nothing wrong with men — they have different perspectives — but they need to also understand perspectives of women so that when they're voting they can be more informed."
While Tai has been able host such a public hearing and increase transparency through communication with her constituents, she's found it nearly impossible to pass legislation that's important to her because the opposing party controls Pennsylvania's legislature. This is a political reality that Vaughan wants to change by electing more Democrats to state legislatures through her work with Flippable.
She explains that last year in Virginia, Flippable supported several of the 15 candidates who flipped state legislative seats, bringing the makeup of the state government close to an even split between the two parties. Thanks to that shift in representation, Medicaid expansion passed and was signed by the governor, providing health care to hundreds of thousands of residents in need.
"Even getting close to 50-50 or a majority helped us pass a really critical policy that now 400,000 people get to benefit from," Vaughan says. Come Tuesday, she hopes to see her work similarly pay off in other states across the country.
CORRECTION: The percentage of women in Pennsylvania's legislature has been updated to reflect the proper number.
This article was originally published on