3 Women Who Never Thought They'd Work In Tech Reveal How They Switched Careers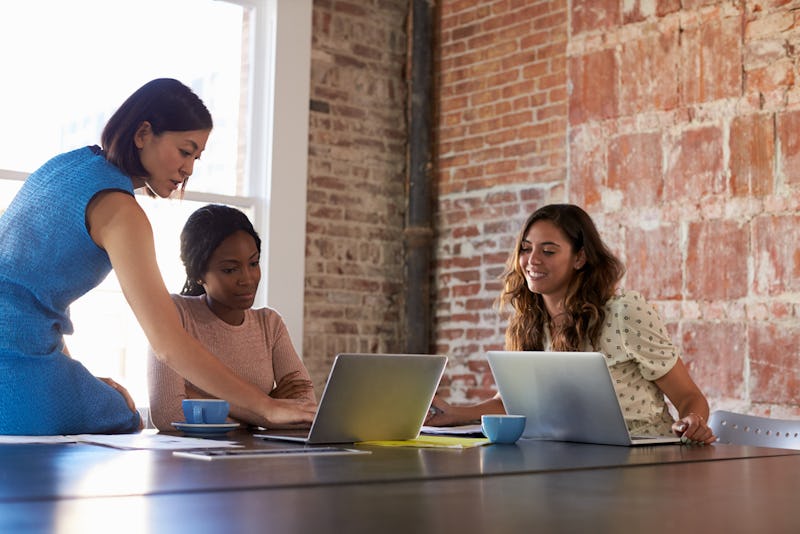 Monkey Business Images/Shutterstock
In this day and age, changing careers isn't as unheard of as it used to be. In fact, it might even be more common than you think. According to a study conducted by Future Workplace, 91 percent of millennials expect to change jobs every three years — meaning that millennials can have anywhere from 15 to 20 jobs throughout the course of their careers.
Women may choose to change careers for a variety of reasons. Perhaps you're looking for a job with more flexibility, or maybe you're just feeling stuck or burnt out by your current situation. Whatever the reason is, it's crucial that women are able to have access to resources that can help them make the big jump — no matter how scary it may seem.
Bustle spoke to three women who decided to head back to school and work toward a major career change, all for numerous reasons. All three of these women were students at Flatiron School, an outcomes-focused coding bootcamp with career coaching and job placement support to students around the world, and took software engineering immersive courses to help prepare them for their next steps toward a brand new career in tech.
Flatiron School has long worked to close the gender gap in tech and coding. In 2017, Flatiron launched the Women Take Tech initiative, which has provided more than $1M in scholarships to date to support women looking to launch their career in tech. Flatiron also regularly hosts panels and events focused on women in tech and women's study sessions designed to build an inclusive community.
If you're thinking of switching careers, read on for some words of wisdom from women who have done just that.